Dave Wilson
Posts by Dave Wilson
This may well be the worst example ever seen of an attempt to defraud motor insurers. Purely in terms of execution it would be hard to surpass the poor quality of this Russian pedestrian's attempt to extort money.
Equipped, we presume, with a skinful of vodka and with all the acting skills of a Crossroads extra, he meanders along the middle of the road, waiting for his attempted victim to 'hit' him. Unfortunately this kind of thing is so common in Russia that dashcams are pretty much standard issue for the honest motorist, so the entire escapade is caught on camera. Once the bemused driver has let the 'victim' know he's on camera, he trudges off dejectedly.
Criminal fraudsters here in the UK aren't always so obvious, but dashcams can help insurers detect dodgy behaviour and save you from the costs of a fraudulent claim. That's why Adrian Flux can offer great discounts of up to 15% to drivers who fit an approved dashcam, such as a ChilliBongo.
If you've seen a more egregious dive than this (that doesn't involve Luis Suarez), let us know in the comments.
I love a bargain banger. In fact the last two cars I bought each cost me less than £800 and, touch wood, they have cost me considerably less to run than the 'sensible' purchase I have run alongside them for the last three years. They have also been a lot more enjoyable, and the patina of age has given them personality.
But am I doing this wrong? Perhaps so. What if you could get a bargain banger, clean it up, maybe do a bit of work on it and swap it for something nicer? And what if you repeated the process with the car you got in return? If you rinse and repeat a few times, could you end up with something really nice, like, say, a supercar?
Well, wonder no more, because Mike Brewer, off of Wheeler Dealers, is putting all of his car trading nous to the test in Trading Up, a new series on the Discovery Channel this evening. Starting in India with $3,000, Mike will be travelling the world over the next six weeks as he attempts to turn that initial investment into a genuine supercar. Along the way he promises to show us some used car dealer tips and tricks that can make a car worth more.
Here's a sneak preview, but you can catch the whole series on Discovery HD tonight at 9pm. Set your Sky+
Edit: The video says 10pm. The Discovery website says 9pm, so does the Sky guide. 9pm is the correct time, so make sure you don't miss it!
Christmas should be the time of good cheer, festive fun and happy family get-togethers. Unfortunately Christmas also brings with it an increase in accidents in the home and the festive decorations can sometimes provide more than just a little extra sparkle.
Accor
ding to ROSPA about 1,000 people end up visiting hospital after accidents involving Christmas trees and another 1,000 are hurt either by decorations or while putting them up while 350 are injured in accidents involving Christmas tree lights. The Government warns that people are 50 per cent more likely to die in a house fire over the Christmas period.
Adrian Flux Insurance Services has put together seven star tips on Christmas safety.
Remember Christmas decorations are not toys. They are not produced to the same safety standards as toys and can have loose parts and trims that can cause a choking hazard to younger children.
Try to avoid trailing wires across the floor. It may well take a bit more planning to site the tree or other electrical decorations nearer the power socket, but it will save the time and anguish caused if someone trips over and gets badly hurt.
Clear away unused decorations and boxes as these cause more tripping hazards and can easily be accessed by children and pets.
If you are putting up high level decorations make sure you use a step ladder or have someone to hold the bottom of a regular ladder. Position the steps or ladder so that you can reach without stretching. Serious accidents can occur by falling awkwardly from even a short height.
Candles cast a lovely warm festive light but never leave them burning unattended and make sure that they are not near any overhanging decorations or curtains.
Safety standards on Christmas tree lights are constantly being upgraded so if your lights are quite old it might be time to buy some new ones. If the lights are to be used outside check they are designed for this purpose. Always turn off the lights before going to bed or going out.
Make sure the Christmas tree is placed in a stable position before starting to decorate. It's worth taking time to get this right as it can get pretty hectic during the festivities and a slight nudge from an over-excited child could be disastrous.
When buying home and contents insurance homeowners often tend to forget to add the value of the tools, ornaments and furniture they've got in their gardens onto the policy. Winter is a good time to assess the what is out there, list any special items and check with your insurance broker what security measures are necessary.
Winter also tends to be a time of inactivity in the garden. Many people lock up their sheds, retire to the house for a few months and don't think about the garden again till the spring. But, that's the time when everyone else starts in the garden again, so the Household Insurance Team of Adrian Flux Insurance Services has put together six tips to help householders keep ahead in the gardening game.
1)     Now is the time to check over your lawn mower.  If it needs servicing book an appointment straighaway, don't put it off till the Spring – or you'll be joining a long queue. Lawn mower engineers are less busy over the winter months and this way your machine will be ready to tackle the grass as soon as it starts to grow again in the new year. The winter months are also a good time to buy a new mower as many suppiers will have stock clearance and end of line bargains.
2)     Look at all your tools and replace and repair. There are kits around for sharpening shears and damaged spade and fork handles can easily be mended.
3)     Spend some time looking at your garden. Now the vegetation and blooms have died down you can view at it objectively and see what needs improving. Look though plant and seed catalogues for inspiration and ideas.
4)     Move garden ornaments inside to protect them from frost damage. Visit garden centres and online sites if you fancy a change, as many will be having sales at this time of year
5)     The colder weather is a great time to tackle any larger construction jobs such as leveling or digging out areas so the ground is ready for spring planting. But don't leave this kind of work too long or else the ground will get hard and frozen.
6)     Before the frost starts in earnest get rid of slimy patches on patios that could become slippery and dangerous in frost. A pressure washer and a broom work the best for this job.
It's great to be prepared in the event of getting into car trouble when on the road. There are many kits and gadgets that can help you out in your time of need. But equally you don't want to weigh the car down with an endless supply of unnecessary tools.
Although most cars come with a basic toolkit on board, car insurance specialists Adrian Flux has put together a list of useful extra tools that might prove invaluable.
Tools for break downs
The chances of a break down may seem unlikely, but it is worth storing RING's portable jump-starter and compressor in the car. It takes up little space and it could save you time rather than waiting for a recovery team. It includes a battery, DC power sockets, air compressor and emergency work light.
A multifunctional tool, such as the Leatherman Super tool is the gadget man's dream. It contains 19 different tools all in one, and the manufacturer is so confident of its durability that it even comes with a 25-year warranty.
Some other useful things to have handy should the car break down include water, duct tape, a wind-up LED torch and hand wipes.
Tools for tyres
Having tyres that are properly inflated can save you fuel and can prevent premature tyre wear. By using a RaceX tyre pressure gauge you can ensure that they are filled to the correct pressure.
It is advisable to always have a spare tyre and car jack on board in case of getting a flat tyre, most new cars come fitted with these as standard. Often wheel nuts are difficult to get off without damaging them but the Dynomec locking wheel nut remover has a protective steel shroud to minimise rubbing.
If you don't have the time or the inclination to change a tyre, Holt's Tyreweld Emergency puncture repair formula fills the tyre, inflating it and then sealing the puncture. It even has gloves to keep your hands clean. These type of kits get you back on the road within minutes.
Tools for adverse weather conditions
To make sure you're not caught out on a frosty morning, always have an Ice Scraper Mit handy. You can even keep your hands warm and dry while clearing the windows.
When you're in a hurry it can be infuriating waiting for the car heaters to kick in to demist the screens. This demister from Homebase is a cheap, simple and easy solution. It will leave the screens with a smear-free finish so that you are ready to drive straight away.
A small folding shovel available from tooled-up.com is a great tool that could help you dig your way out of snow, mud and sand and can even be used for last minute beach excursions. The Draper folding shovel is compact so will fit nicely into the boot ready for when or if it's needed.
The real tip for buying Christmas presents is to think about who you are buying for; what are their interests, their likes and dislikes and their phobias! It seems obvious, but with a well targeted present you can get away with spending less and in today's climate of cut-backs that's got to be a bonus. What's more, when it comes to the office Secret Santa no-one wants to part with too much money.
Here at Adrian Flux the presents in the Secret Santa sack naturally tend to have to have a motoring bias. Here are five of the most viewed items in a motorist's Secret Santa trawl.
The Insurance Fraud Bureau have released a new report on the growing menace of crash for cash scams, where fraudsters either target innocent members of the public or simply fabricate accidents involving their own stooges.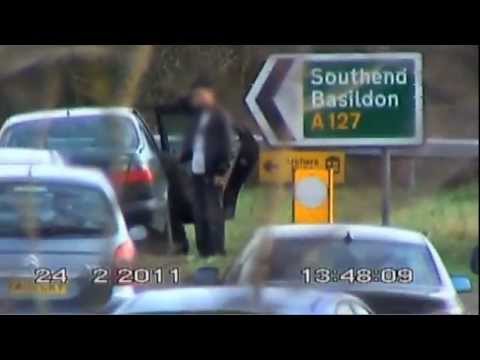 It's worth familiarising yourself with the techniques involved, as a little knowledge may help you in the event that you are targeted, and you may even be able to avoid an incident if you know what to look out for.
Spotting a Crash for Cash Scam
Here are some of the scenarios that frequently come up in relation to crash for cash scams.
The vehicle in front pulls away from traffic lights or roundabouts, and then slams on the brakes without warning.
A car in front of you stops suddenly without an obvious reason, e.g. at an empty zebra crossing, or claiming that something ran in front of the car, when there was no sign of this being true. Some gangs employ a second vehicle to drive erratically in front of the first, and 'cause' that car to slam on the brakes. The second car will not stop.
Brake lights are frequently disconnected to reduce warning time to other motorists.
The fraudster's cars are usually fully loaded, so as to maximise the amount of personal injury compensation they can claim. Sometimes, to save time, the criminals have already prepared their insurance details and list of 'victims'.
The gangs target particular types of driver and car. They are looking for the cars that are most likely to have insurance, and where the driver of the car is least likely to cause a scene. For this reason, they cynically target mums with children in the car, older drivers, nice, well-maintained cars and cars with private plates. They also target commercial vehicles from large fleets.
The criminal gangs target particular areas, especially inner cities. The top 20 hotspots are:

Birmingham (B)
Sheffield (S)
Manchester (M)
Nottingham (NG)
Cardiff (CF)
Liverpool (L)
Newcastle-upon-Tyne (NE)
Leicester (LE)
Bristol (BS)
London South-East (SE)
London East (E)
Coventry (CV)
Glasgow (G)
London North (N)
Peterborough (PE)
Leeds (LS)
Brighton (BN)
Reading (RG)
Guildford (GU)
Portsmouth (PO)
Top Ten Crash for Cash Tips
So what can you do to protect yourself?
First, drive cautiously, particularly in high-risk locations, or at danger spots such as roundabouts.
Be especially alert for cars being driven unusually, or if brake lights don't come on when you would expect them to. Family cars and people carriers fully loaded with grown adults are not that common, so be extra vigilant around any you spot.
You can buy an in car camera, such as a ChilliBongo, which will automatically record your driving, and save footage of any accidents or incidents you may have. Footage from these cameras can be invaluable in exposing crash for cash schemes, which is one of the reasons that these devices can save you money with discounts of up to 15% available.
In the event of an accident try to remain calm. You shouldn't make any admission of blame at the scene. Swap insurance details, and try to obtain names and contact details for all the occupants of the car. Make a note of the number of occupants.
Report the incident to the police as soon as you can – if you feel unsafe in doing so, you may wish to say that you are calling a relative or friend.
If you can, take photos of any damage, as well as the location and context of the accident. Members of gangs won't wish to be photographed, but if they end up in shot as you are photographing the damage, it may be useful…
If there is any indication of an injury, even if it seems slight, call for an ambulance. Fraudulent injuries have a tendency to become more serious
Try to get contact details of any impartial witnesses. Be aware, though that some gangs plant their own 'witnesses' in the area, so exercise caution if somebody seems too eager to help.
Report the accident to your insurers as soon as possible. Let them know straight away of your suspicions that the claim is fraudulent.
Report the incident to the Insurance Fraud Bureau's Cheatline on 0800 422 0421, or visit https://www.insurancefraudbureau.org/report/ You can report all types of insurance fraud, and if you suspect someone you know is committing an insurance fraud, your report can be completely anonymous.
You can read more about insurance fraud in the IFB's new "Cash for Crash" report.
Top tips for winter car boot essentials or how not to be a shovel short
Although the UK does not suffer the severe winter conditions associated with other parts of the world, there can still be cold snaps or bouts of heavy and sudden snowstorms over the winter months. Because the UK's weather is so changeable motorists are often caught out by a rapid transformation of climatic conditions and find themselves stranded without the proper equipment.
As an insurance broker Adrian Flux Insurance Services is used to thinking ahead, juggling with 'what if' scenarios and advising motorists on safer driving. Here Flux has put together a realistic list of what the motorist should put in their boot for winter driving.
Most important is a torch. It's no use being well-equipped if you can't see what you are doing or where you are going. A head torch enables you to keep your hands free.
A shovel and a scraper are essential to remove ice and snow from windows and under the wheels. There are fold-up shovels on the market that can remain in the boot year round and may even come in handy in the summer for beach use.
Although some think de-icer is ecologically unsound, it is still the most efficient way of clearing ice off the windscreen and a necessary item in the winter car boot essentials. Halfords offers a Winter Kit that saves shopping around.
If you want to venture far from the car for help or to help others then an old thick, waterproof coat and a pair of wellies will keep you warm and dry. As the light is usually poor at this time of year a high visibility vest to put on over your coat could be a life saver.
Sometimes motorists are stranded for hours on end so some emergency non-perishable rations such as yummy bars of chocolate and high energy snacks will be sure to fend off the hunger pains and lift the spirits. Don't forget to put some bottles of fresh drinking water in there as well.
A snuggly thermal blanket (or two) for warmth is essential if you're carrying young children as it is not always feasible to keep the car engine running for long periods of time.
Finally a length of rope could come in handy if you need to be towed or want to climb up a slippery bank.
Flux emphasises that this list is just a guideline and that there are plenty of other things to consider when driving about in the winter such as trying not to drive with less than half a tank of fuel in case you want to run the engine to keep warm when stuck.
With 2012 being a European Championship summer, Adrian Flux Insurance Services brings you four of the most special cars to be brought to us by some of the favourites.
Ferrari Enzo. Brought to us by Italy, whose only success in the Euros came in 1968, but who are nonetheless perennial favourites. The Ferrari Enzo Italian supercar is built using F1 technology. Only 400 Enzo's were ever built. The V12 engine produces a staggering 660 bhp, reaching 60mph in just 3.4 seconds.
Bugatti Veyron. France, winners in 1984 and at Euro 2000, are renowned for producing cars with va-va-voom. The Bugatti Veyron is no exception. The Veyron is produced in Alsace, France and named after the French racing driver Pierre Veyron. Described by Top Gear's Jeremy Clarkson as "utterly, stunningly, mind-blowingly, jaw-droppingly brilliant", the Veyron was also named 'Car of The Decade' (2000-2009) by BBC's Top Gear. With 1000bhp, a top speed of 253mph and 0-60 in 2.5sec………. Need we say more?
Benz Patent Motorwagen. European Championship winners in 1972, 1980 and 1996, Germany produced what is widely regarded as the first ever automobile. Built in 1885, the Benz Patent Motorwagen was a three-wheeled automobile with a rear-mounted, two-stroke piston engine.
Mini. England have never lifted the European Championship trophy, but were beaten semi-finalists in 1996, the same year we hosted the tournament. The original Mini is an iconic English car and was voted the second most influential, international Car of the 20th Century.
Very few dads don't have at least some love of cars and it's often difficult to separate a man from his motor. Father's Day is the ideal time to treat the petrol-head pop in your life with a car related gift. Here are some ideas for motor-related gifts to bring a smile to your dad's face this Sunday.
Gifts for under £20
1)     A personalised notebook is perfect for reminding your dad that you care and is a practical gift too. Handy for home and office, this notebook can be tailored to suit. With a number of dream cars to choose from on the cover just find his favourite and personalise the number plate with his name, nickname or even a short message.
2)     If you don't mind his dancing, but think his CD co
llection could do with updating, why not opt for some driving music. There is a vast array of driving compilation CDs on the market designed to make even the longest or most boring journeys more interesting, like the latest Top Gear double CD Full Throttle, featuring favourites past and present.
3)     Why not combine your Father's love of cars and fine wines by giving him a gear stick bottle stopper. This stylish bottle stopper fits all wine and port bottle sizes and makes a lovely present accompanied by his favourite tipple. Obviously this product is not intended for use while driving…
£20 and over
4)     If you've more money to spend, a track day gives dad a once in a lifetime experience and memories too. Ranging from stock car racing to supercar track days, or even stunt driving, there is sure to be a day perfect for your special dad. He can even drag the family along to watch. Make sure you take a camera to capture those treasured moments.
5)     If your dad likes to plan his own route rather than stick to the track, then classic car or sports car hire may be right up his street. There are companies across the country and loads of cars to choose from, your dad could spend the day cruising around in the car he's always dreamed of driving.
£Free!
If those ideas don't tickle your fancy or finances are tight, you could always give your dad's car a good clean, or, if you're feeling lazy, car cleaning vouchers to be redeemed in the future. If your dad is of the tinkering persuasion you could volunteer a days labour giving his car some TLC – I can't think of a better way to spend some quality time together.