Archive for
September, 2011
It's hard to believe as we bask in 80C and glorious sunshine, but it's nearly winter and it might snow next week…
So it's clearly time to protect your pride and joy against the worst the winter months can throw at your classic.
We have compiled the definitive 10 top tips to make sure that your classic is thoroughly protected through the least hospitable months of the year.
It might take you a while, but it'll be worth it when you wheel your motor out again for the first flushes of spring sunshine:
The ideal place to store your classic is in a garage with a de-humidifier or corrosion inhibitor in the room. Garages are often damp, which will accelerate the problem of rust. Remember that ventilation is the key to avoiding any build-up of condensation – open the garage doors and windows on fine winter days if you do not have a de-humidifier.
Always store your classic car after it's been cleaned and don't forget to wash the undercarriage which is where your car is most likely to fall victim to rust. Make sure you wax the bodywork carefully, not forgetting the underside of doors, the bonnet and the boot.
Wind down the windows, leaving a 3cm gap to prevent the interior from becoming musty and damp. Chrome fittings can be protected with a layer of chrome polish and leather seats kept supple by wiping down with warm soapy water before applying a generous coat of saddle soap.
Drain down the cooling system and, before refilling, flush out the system to remove any sludge which may have built up and be affecting your classic's efficiency. Refill with a solution of antifreeze.
Before your car hibernates for the winter, make sure you change your oil and oil filter, which will protect the internal parts of your engine against the hydro-carbons and contaminates that can lurk in old oil. Similarly, fill your fuel tank up before the winter – it will help to prevent moisture from condensing inside the tank and, as an added bonus, you'll avoid the inevitable petrol price hikes and be ready to hit the road in the spring.
Remove the battery and keep it on a permanent trickle charge, or alternatively charge it in the normal way once a week. Store the battery at as close to room temperature as possible and off the floor so that it doesn't discharge.
Remove the car's bulbs and cover the contacts in a protective layer of petroleum jelly to prevent oxidization and soak all the locks and hinges with a spray lubricant to stop them seizing through lack of use.
Ensure you leave the handbrake off to prevent the brakes from seizing. Inevitably, rust will build up on the drums, but you can prevent this from becoming a problem by spinning the wheels occasionally.
If you use a car cover, ensure you place it on the car when it is clean and dry to protect it against scratches, dirt and dust and never cover your car with plastic or a tarpaulin. These will trap moisture and cause the paint to bubble and rust to form. You can use soft blocks to raise the cover off the car itself as a precaution.
Protect yourself and your car – even though you may not be using your classic, don't let the insurance and MOT expire, especially the former as any problem with the vehicle, such as theft or fire, could leave you unprotected. And if your car is texed for 12 months, it's a legal requirement to keep it fully insured all year round.
Kia's new advert features a man inexplicably taking photos of a getaway car, for which purpose, the criminals have, even more inexplicably, chosen a Kia.
But is there a more insane getaway strategy for a villain to choose than a new Kia? I decided to find out.
5. Robber with no Rubber
First up we have a chap who chose a getaway car entirely lacking in one important area. Tyres. He is driving his SUV at high speeds on its rims. Predictably, this does not end well for him.
4. Tickets, Please
Most criminals who can't afford a car simply steal a suitable getaway vehicle. Erick James Robinson of Austin, Texas, is clearly too concerned about his carbon footprint to do this though. After an armed raid, Robinson was caught as he attempted to make good his escape by boarding a bus, still carrying his swag and shotgun. In case you think this is an isolated incident, Norwich ne'er-do-well Darren Sewell attempted to convey his ill-gotten gains home on a number 10 bus. Given that he had stolen a TV, he was quite easy to catch. His own solicitor described Mr Sewell as "clearly a complete amateur" and a "particularly useless burglar".
3. Where Did We Park, Again?
If you're out on the rob, it makes sense to have the engine running for a speedy getaway. But there is a reason that, in most successful heists, the getaway driver has to stay with the car. This homeowner foiled his intending robbers by stealing their getaway van as they ransacked his house.
2. Mobile Wanted Poster
If police are looking for you, it is probably not a great idea to drive something as conspicuous as a Ford F-250, particularly if you have a well-known face, like that of BA Baracus / UFC champ Quinton "Rampage" Jackson. So when Mr Jackson went on a crazed Grand Theft Auto style, er, Rampage, through the backstreets of Orange County, the police soon tracked him down. Of course, they may also have had a little help finding him from the fact that a massive, over-life-size picture of Quinton "Rampage" Jackson appeared on both sides, and also the rear, of the truck.
1. You Lose, Snake Eyes
One of the principle criteria for a getaway car, is the ability to hold the stuff you are attempting to steal. Another is anonymity. Therefore our winning idiot is the guy who decided to use a bright orange, stolen Dodge Viper to conduct a house burglary. Unfortunately for Vincent Dijulio, he spent so long fiddling around in the victim's carport, that he didn't have time (not to mention space) to steal anything from the house before the police arrived, so he never got the chance to find out if the Viper's speed would make up for it's obvious shortcomings as a swag-hauler. But, still, he did get to drive a Viper.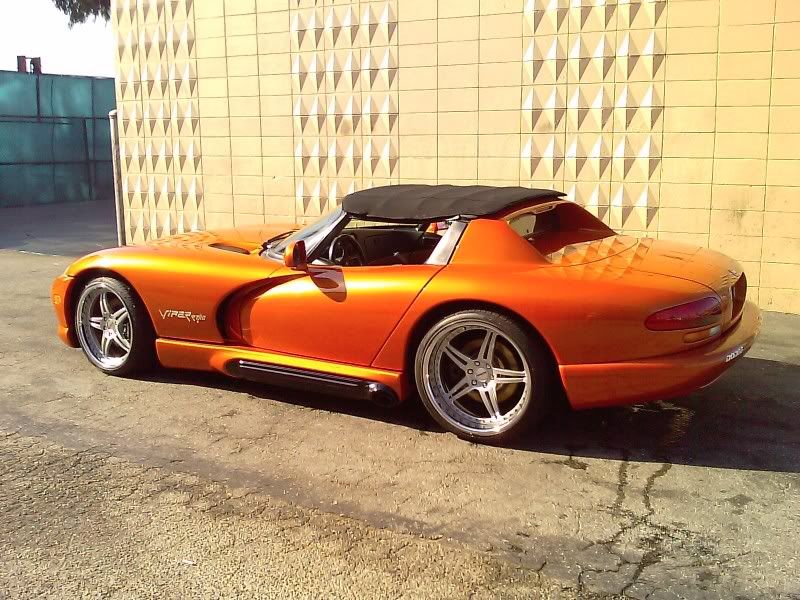 Just like the type of car you drive can reveal clues to your personality, you can tell a lot about an insurance broker from the types of car it covers the most.
The Insider's View blog recently posted a list of the 10 most popular cars quoted for in the UK, across the insurance industry as a whole.
Unsurprisingly the top 10 is dominated by family-friendly Fords and Vauxhalls, with a Peugeot 206, Fiat Punto and Nissan Micra thrown in for good measure.
Three different models of the Ford Focus, none especially sporty, occupy first, fifth and eighth, while its little brother, the Ka, is second.
So far, so predictable, and so dull.
But for specialist broker Adrian Flux, a list of the top 20 cars on the books includes a decent smattering of vehicles in keeping with its bold outlook.
Way out in front is the VW Golf, with a fair percentage of those the sporty GTi and VR6 models.
OK, the mundane Fords Focus and Fiesta, and Vauxhalls Astra and Corsa fill four of the next five places (but then there are a lot of those about)…and then it starts to get interesting.
The Landrover Discovery, like the Golf nowhere to be seen in the nation's top 10, sits at four in Flux's chart, with the VW Transporter just ahead of the Landrover 90 and the comparatively niche Mitsubishi Pajero 4×4 a healthy 12th.
The Beetle, Mini Cooper, variations of VW camper van, Landrover 88 and various incarnations of the Ford Escort round off an eclectic list of headline names concealing a wide array of standard, classic or modified motors.
Gerry Bucke, general manager at Flux, said if every broker published its top 20 insured vehicles it would give a pretty accurate indication of where you could get the best rates for different types of motor.
"The most popular cars are always going to come out near the top, for obvious reasons, but our top 20 shows that we've got some good rates for niche, or enthusiast, vehicles," he added.
"Many of the mainstream brokers will have a portfolio dominated by pretty standard vehicles, but high on our list, albeit just outside our top 20, is the Subaru Impreza, BMW M3, the Mazda Eunos import, Porsche 911 and MGB.
"I guess if Flux was a car it would be something like a slightly modified Range Rover sport, compared to the mainstream brokers' Ford Mondeos."
National top 10
| | | |
| --- | --- | --- |
| 1 | FORD | FOCUS ZETEC 16V |
| 2 | FORD | KA |
| 3 | VAUXHALL | VECTRA LS 16V |
| 4 | PEUGEOT | 206 LX |
| 5 | FORD | FOCUS LX 16V |
| 6 | VAUXHALL | CORSA SXI 16V |
| 7 | FORD | MONDEO ZETEC |
| 8 | FORD | FOCUS GHIA 16V |
| 9 | FIAT | PUNTO ACTIVE 8V |
| 10 | NISSAN | MICRA S |
Flux top 20
| | |
| --- | --- |
| 1 | VW GOLF |
| 2 | FORD FOCUS |
| 3 | VAUXHALL ASTRA |
| 4 | LANDROVER DISCOVERY |
| 5 | VAUXHALL CORSA |
| 6 | FORD FIESTA |
| 7 | VW TRANSPORTER |
| 8 | RENAULT CLIO |
| 9 | LANDROVER 90 |
| 10 | PEUGEOT 206 |
| 11 | FORD MONDEO |
| 12 | MITSUBISHI PAJERO |
| 13 | VW BEETLE |
| 14 | HONDA CIVIC |
| 15 | VAUXHALL VECTRA |
| 16 | LANDROVER 88 |
| 17 | FORD ESCORT |
| 18 | MINI COOPER |
| 19 | VW MOTORCARAVAN |
| 20 | AUDI A4 |