Some of us love many cars. Others only have eyes for one. For Pauline Jones, it just has to be an Austin-Healey Sprite… or four.
Blame it on the husband
"It started when I met my husband," explains Pauline, with vivid enthusiasm. "Within a few weeks of meeting him, he bought a 1971 Austin-Healey Sprite two-seater – in fact, we still have that car now.
"We used it for everything. From our honeymoon, to taking our son to school – everything. It would take us away on holidays, it would get us where we needed to be come rain or shine.
"It was, and still is, a wonderful little car and it definitely set something off within me. I just fell for its charms instantly."
That first 1971 Sprite [not pictured] has become a part of the family.
It's always a joy to find and own something you love, but sometimes one just isn't enough
It's always a joy to find and own something you love, but sometimes one just isn't enough.
"In 1980 I bought a 'frogeye' Sprite," says Pauline. "I loved that car. I rarely had the hood up and it was a great car to drive with its charming cheeky looks."
Pauline enjoyed it so much that she and her husband joined The Austin-Healey Club, so they could "get out and about with like-minded people and enjoy it as much as possible," and, since then, they haven't looked back.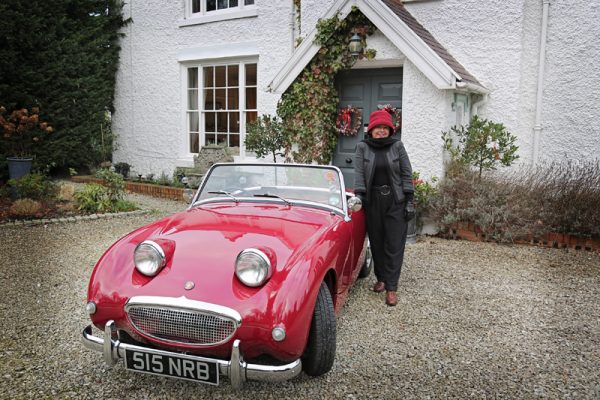 Business and pleasure
Pauline and her husband, Emrys, run a garage in North Wales. The usual clientele's needs range from MoTs to general repairs. But cars are a passion in the Jones household, so the spanners aren't only to be found in the workplace. At home the couple have an impressive collection of machines.
As well as four Austin-Healeys, Pauline and Emrys have an Austin A40, a Rochdale Olympic (complete with racing history harking from Switzerland and La Jog in the UK), an MG Midget (in which Pauline competes in hill-climb events, though it's also her daily driver), an Audi TT and a BMW Z3.
The 1971 Austin-Healey Sprite
Noticeable by its absence from these pictures is that first 1971 Sprite. As Pauline explains, it's currently receiving some much needed TLC.
"It's started to look a bit sad over the years, as old cars do," she says. "We're going to bring it back up to par with the others in the collection."
Pauline explains that they're going to do a "ground-up restoration" like the other vehicles.
"We never cut corners or do half jobs," she says. "If one of our cars is getting restored, it makes sense to do a nut and bolt restoration. You only end up having to do it again if you do it poorly first time, and that's not our style."
It certainly isn't, as their other glorious restoration projects show.
The 1960 Austin-Healey Sprite Mk1 'Poppy'
This car is rolling proof of what Pauline and Emrys can do. The conjugal team work together to get the engine into place, re-trim the interior, battle with wiring, strip, clean and refit parts.
"I love it," she states. "I love to look at the car and say 'yeah, I did that'."
In Nevada Beige with a Cherry Red interior and roof, it's quite the looker.
"It's originally from California," she says. "It was brought back to the UK and was a restoration project when we bought it. The previous owner just didn't have the time to do it. It might have been a blessing for him to let it go, as it was in a bad way. When we took the paint off we saw all kind of flimsy repairs. There was foam in the pillars, terrible bodged repairs, it was really sad to see it like that."
People suggested the couple use it as a 'donor car' but this pair love a challenge. Having had such an interesting life, it would have been a shame to break it.
"It won its class and came second in the 'people's choice' award. Then it won overall car of the event, which had never been done by a Sprite"
"Once it had been painted, we had just 10 weeks to get it put back together for an event in Scotland. We were working on it until the day before we were due to set off. In fact, we had to delay it by a day. While others were enjoying a champagne reception we were still building it! But as soon as it was done we drove – hood down – to Scotland and got there in the early hours. Mission accomplished."
By 9am the next day Pauline and Emrys were taking part in the event. They entered the Sprite into the concours class – which they had never done before – on the recommendation of some friends. Those friends helped clean and ready the car, "as it was filthy from the drive up".
"It only went and won its class," exclaims Pauline. "And then it came second in the 'people's choice' award. And then it won overall car of the event, which had never been done by a Sprite.
"We couldn't believe our little car had done so well. We made the most of the event and even took it to Knockhill, much to the chagrin of others, but that's what we built it for.
"It's such a special little car," she says. "It went to San Francisco and came back to be restored by us. My son lives in San Francisco, so it'll go there again one day."
The 1960 Sebring Sprite
This one is a bit special. It's a fixed-head coupé created by renowned race and rally driver John Sprinzel. The German-born Brit modified a Sprite in the 1960s and raced one of only six built – as did Stirling Moss and Pat Moss – subsequently recreated by Archers Garage in the 1990s.
The seats are trimmed with leather from the couple's old sofa. Talk about ingenuity
"We were initially just going to use it for hill-climbing, so it would have been quite a basic car," explains Pauline. "We ended up using it for road rallies so we improved its specification, including a nice leather interior."
Pauline and Emrys were clearly doing something right because, at its maiden event, it won Best Sprite & Best Interior trophies. It also won The Sebring Sprite Memorial Shield for best Sebring Sprite at the NEC in 2016.
The car never fails to turn heads with its striking green paint job and matching interior. In fact, the seats are trimmed with leather from the couple's old sofa. Talk about ingenuity.
Mechanically, this one is the beast of the bunch with its Eaton supercharger, SU carbs and low compression pistons providing 120bhp.
The 1958 Healey Sprite Mk1
In Cherry Red with a black hood, Pauline's 1958 car is perfectly standard – a nod to the marque's history. Immaculate from bumper to bumper, it's been in many a magazine, winning various awards. Pauline loves its purity and authentic originality and, although she loves driving all the cars, this is her favourite: "It just transports me back to my youth and my first MK1 Sprite in the 1980s.
"We love all classic cars, but Healeys are very special. I suppose it's the memory of owning them for so long. I love them with a passion, the way they handle, too – they're so positive.
"We love driving with other owners: the roar of the engines as they start en masse – it's wonderful. Plus, the 'frogeyes' make people smile… and that makes me smile. For me, that's what it's all about."
Pauline's classic car advice
Do it properly – don't cut corners on a restoration, do it once by doing it right.
Join a club – Clubs provide a great social scene to share your passion and make great friends along the way, surrounded by wonderful classic cars. It's also a great source of information.
Drive them as much as possible – they should be celebrated by you and not locked away in the dark.
If you love classic cars as much as Pauline, or simply want to keep your pride and joy protected, visit our dedicated classic car insurance page.
Photography by Blue Bug Photos
You May Also Like …