Daniel Craig reprises his role as 007 in the next James Bond movie No Time To Die — a film in which he takes off-roading in a Land Rover Defender X to new levels of daring and excitement.
The 25th film in Eon's James Bond franchise will be released on April 3, 2020, and it will be Craig's fifth outing as the world's most famous spy who drives the world's most exciting cars.
Bond films and novels are famous for hot leading ladies and even hotter cars – the high-speed chase scenes dovetailing seamlessly with the uber cool Mr Bond's steamy bedroom conquests.
Our hero has had the pick of the finest and fastest cars in which to battle his foes and many have been equipped with elaborate weapons and a plethora of espionage-related extras.
The car most associated with James Bond is, of course, the Aston Martin DB5 and many grown-ups of "a certain age" will recall with great delight their die-cast Corgi DB5 with pop-up rear screen shield, bumper fitted cannons and working ejector seat just like they had seen in the film.
Jaguar Land Rover has a long-standing partnership with Ian Fleming's leading man and the Bond film franchise, which began in 1983 when a Range Rover Convertible appeared in Octopussy with seven times Bond, Roger Moore.
Since then every Bond, from Sean Connery to Timothy Dalton has got behind the wheel of a Landie or Range Rover, when not cruising the strip with one of a bevy of Bond girls in his favorite Aston Martin, usually the DB5, the supercar most associated with the superspy.
To celebrate the imminent launch of the new film, the Double-O insurance experts at Adrian Flux have looked past the DB5 and the Defender X in No Time To Die, to provide a breakdown of the cars that keep them in 007th heaven. Each has a special place in the hearts of Bond lovers – either for their stylish looks, awesome power, incredible gadgets, fantastic crashes or iconic moments in the life and loves of the world's greatest spy. But which is your favourite?
James Bond began in a Sunbeam Alpine
The first Bond movie, Dr No, premiered in 1962. Our hero, on this occasion played by Sean Connery, drove the Sunbeam Alpine Series II having been lured to the apartment of Miss Taro, an enemy spy. As he drives up a mountainside for a "heart to heart" with Miss Taro, he's ambushed. Inevitably there is a car chase ending when Bond's pursuers tumbling over the cliff in a fireball.
A Toyota 2000 GT was used in You Only Live Twice which was released in 1967. The car used in the film was unique as the 2000 GT did not come as a convertible but at 6ft 2in Sean Connery couldn't fit comfortably in a standard model. With that in mind, Toyota removed the roof altogether and sent two adapted vehicles for the shoot.
The Bentley Mark IV was used in From Russia with Love in 1963 with Connery again taking the lead. Our man uses the car when picnicking with his latest lust interest, Sylvia Trench. He gets a call summoning him to headquarters but he delays his return by flipping up the convertible roof to conclude business with Miss Trench. The Bentley was an interesting choice for the film, it was 30 years old when the movie was released.
The Mercedes 250SE proved its remarkable resilience in Octopussy in 1983. After the tyres were ripped off by a "stinger", Bond, this time played by Roger Moore, drove along railway tracks in hot pursuit of a circus train. It was eventually hit and smashed into a river by another train coming in the opposite direction. It was later seen being hauled from the river covered in seaweed.
One of Bond's strangest car chases came in 1983's Octopussy when our hero takes to a Baja RE, a model of auto rickshaw known as a Tuk Tuk taxi. Bond (Roger Moore) wins a high stakes game of backgammon and jumps into a Tuk Tuk taxi with fellow agent Vijay. A gunman is spotted in the cab behind, and the chase is on. The rickety autorickshaw has been modified by Q branch and a powerful engine tilts the vehicle onto two wheels as it powers through the traffic and out of sight.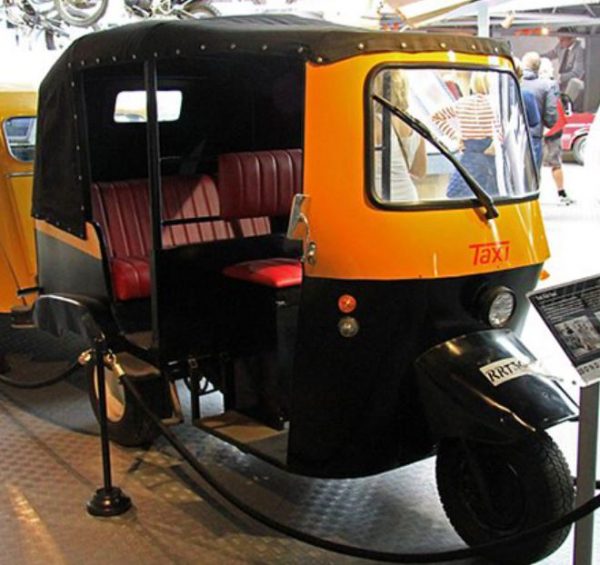 Moore once again as James Bond left his protagonist Karl Stromberg high and dry when he got behind the wheel on the Lotus Esprit in The Spy Who Loved Me in 1977. The Lotus, "Wet Nellie" transformed into a submarine equipped with an anti-aircraft missile system. The car sold for £550,000 at auction in 2013 and is currently on display at the National Motor Museum, Beaulieu.
And, talking of weapon systems, the Jaguar XKR used in Die Another Day (2002 starring Pierce Brosnan) was a car not to be messed with. It was kitted out with front grille machine guns, door panel missiles, rear mounted Gatling gun and boot mounted mortars. The James Bond Jag is also on display at Beaulieu.
The Rolls-Royce Silver Cloud II used in A View to Kill in 1985 was owned by film producer Cubby Broccoli. In this installment nasty May Day pushes the Roller into a lake with the dead body of one MI6 agent and an unconscious James Bond in the boot. He comes around in the nick of time and gulps in air from the car's tyre to swim under the water to safety. This was the last time Moore flexed his licence to kill as 007.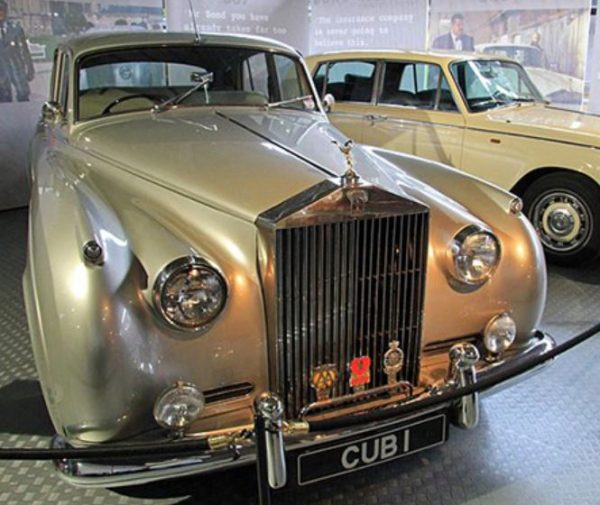 Harking back to the more genteel days of motoring and espionage for that matter, the first ever car driven by Bond on film has to get a mention. It was a Chevrolet Bel Air convertible in Dr No driven by Sean Connery and it was way back in 1957. The continuity team slipped up however. In a close-up of the Chevrolet's dashboard they actually showed the speedo from a 1957 Ford.
Bond doesn't normally drive cars like the Citroën 2CV but that's the vehicle he used to male his escape in For Your Eyes Only in 1981 – even stranger, for this chase he is driven by a woman, Melina Havelock. The 2CV overturns but villagers help push them back onto all four wheels again. By this time Bond (Moore) had had enough of Miss Havelock's driving and he jumps behind the wheel to make good their escape.
Even more unlikely, but no less dramatic, is the chase in Live and Let Die in 1973. This time 007 takes the wheel of a de-commissioned London bus, a 1947 AEC Regent III, to escape the clutches or arch villain Mr Kananga in the fictitious Caribbean island of San Monique. The drama culminates with Bond driving the double-decker under a low bridge and losing the upstairs section – Moore, incidentally did all his own driving stunts for the sequence after some intensive training from a bus driving instructor.
One of the best James Bond driving stunts was pulled off by the Ford Mustang Mach 1 in Diamonds are Forever which starred Connery in 1971. In the climax to a chase through the streets of Las Vegas the Mustang balances on two wheels to drive through a very narrow alleyway and make good the escape.
Packed with handy extras is Bond's BMW 750iL in Tomorrow Never Dies (1997 – Pierce Brosnan). Collected by Bond from an Avis rental station in Germany, the Beamer boasts missile launchers, tyre-bursting caltrops, self-inflating tyres, and armour-plated bodywork. The car can be remotely controlled and during a chase inside a multi-storey car park James Bond jumps out of the car and then drives it remotely to the top of the car park and off the roof. It crash lands in another Avis rental centre on the opposite side of the road.
For George Lazenby's only run out as Bond in On Her Majesty's Secret Service in 1969 our Double O hero is driven by his future wife – yes, shock horror, he got married back in the day – in her powerful Mercury Cougar. She navigates icy roads, dodges bullets, and even enters a stock car demolition derby in her bid to outrun the bad guys who eventually roll their car and it explodes in yet another glorious Eon Productions fireball.
James Bond — a challenge for the Adrian Flux Double-O team
Like Bond, the Double-O team at Adrian Flux like a tough assignment and they would happily try to find suitable cover for 007, despite his somewhat suspect track record with cars. Find out what happened the last time Flux ran the numbers for Bond's insurance on the DB7.
Which is your favourite James Bond car?
James Bond's Land Rover Defender — the X-factor in No Time To Die