Last Updated on
A little red Corvette autographed by Leonardo DiCaprio, Steven Spielberg, Angelina Jolie and a host of other Hollywood A-listers and Oscar winners is coming up for sale.
This beautiful 1961 Chevrolet Corvette Roadster dates from 1961, the first year of the "duck tail" rear end. Unusually, it also has manual transmission.
The Corvette marque is distinguished as one of the world's best-selling and longest-living sports car.
The little red Corvette cost €400,000 in St Tropez
The vendor bought the little red Corvette in 2015 for €400,000 at an auction in St Tropez organised by Hollywood superstar, Leonardo DiCaprio.
The purchaser not only got this iconic American sports cars, but also autographs from DiCaprio and 19 other Hollywood A-Listers on the passenger fascia.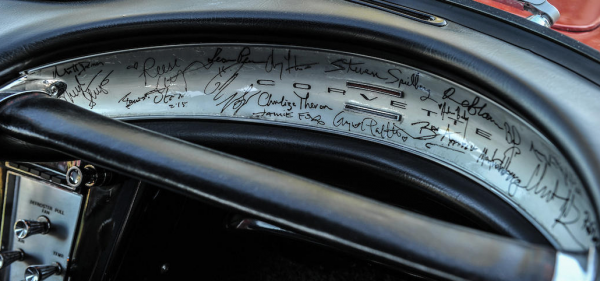 The event raised $40 million for the Leonardo DiCaprio Foundation which was set up in 1998 to protect the environment and vulnerable wildlife from extinction.
Picasso, Monet, Rodin and the little red Corvette
Other lots at auction included a portrait by Claude Monet, a bronze of Rodin's "The Thinker", a Picasso sketch, a portrait by Julian Schnabel, and a tennis match with Roger Federer.
For the record, the little red Corvette is also signed by: Ben Affleck, Christian Bale, Orlando Bloom, Adrien Brody, Matt Damon, Benicio Del Toro, Leonardo DiCaprio Robert Downey Jr, Jamie Foxx, Tom Hardy, Angelina Jolie, Gwyneth Paltrow, Sean Penn, Brad Pitt, Steven Spielberg, Meryl Streep, Channing Tatum, Charlie Theron, Mark Wahlberg and Reese Witherspoon.
Finished in two-tone red and white with black interior, this unique Chevrolet Corvette is offered with EU taxes paid and comes with customs document 846A.
You don't need an A-list car to want A-list insurance
You don't need to own an A-list car to want an A-list insurance policy to protect it.
Whatever your classic car, it makes sense going to the experts at Adrian Flux to find the right classic car insurance policy at a price that will put a smile on your face.
The little red Corvette is being auctioned in Paris by Bonhams on Thursday, February 8.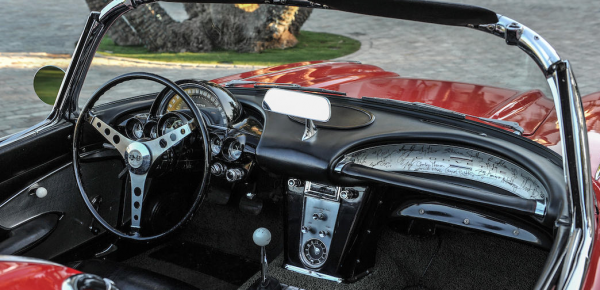 You May Also Like …