Any offers for this stunning Ghostbusters Ecto 1 replica based on the car from the 2016 movie featuring Melissa McCarthy and Kristen Wiig?
Although it looks like something from the '70s or '80s, this Ghostbusting recreation is in fact based on a 1991 Cadillac Fleetwood Brougham Hearse built by Superior Coachbuilders in the States.
The Ghostbusters Ecto 1 will be coming up for sale at Brooklands Motor Museum classic car sale on Saturday, May 19. There is currently no pre-sale estimate.
The Brooklands sales note says the Ghostbusters Ecto 1 has little more than 53,000 miles on the clock and it drives well.
Ghostbusters Ecto 1 "marshmallow" suspension
The notes say: "As the car was previously used as a Hearse in West Plains, Missouri it has been well cared for and is in good all round condition.
"The engine purrs quietly, the automatic gears change smoothly and the suspension is as soft as a marshmallow.
"Inside, the interior has the original blue brocade with electric windows and electric seats, which was a very high specification for a car from the early 90s."
The car has been professionally wrapped in white vinyl with full Ghostbusters decals and whitewall tyres on the original red steel Cadillac wheels, with modified chrome hub caps to match the original movie car.
Ghostbusters Ecto 1 "a real show stopper"
A brand new vinyl roof sets the car off and with a hand built roof rack, featuring all of the props, ladders, flashing lights and sirens, this Ghostbusters Ecto 1 is a real show stopper.
The car also comes with interior MP3 player and a PA system that can play music through an external speaker.
To top it all off it has a Ghost Emblem on the door and a ghost bonnet mascot.
The chassis number indicates the Cadillac was built at the Lansing, Michigan, plant in 1991 as a four-door saloon before a conversion by Superior Coach Company to a hearse.
"Great rental car for parties and special events"
The Ghostbusters Ecto 1 would make a good rental car for parties and special events.
Who you gonna call for insurance of this classic creation?
Its got to be Adrian Flux, who pride themselves on coming up with comprehensive car insurance policies for retro and classic cars. They also specialise in cheap quotes for modified vehicles.
They can also provide insurance if your vehicle is to be used as a company car.
If the Ghostbusters Ecto 1 doesn't quite float your boat check out the full Classics at Brooklands auction catalogue.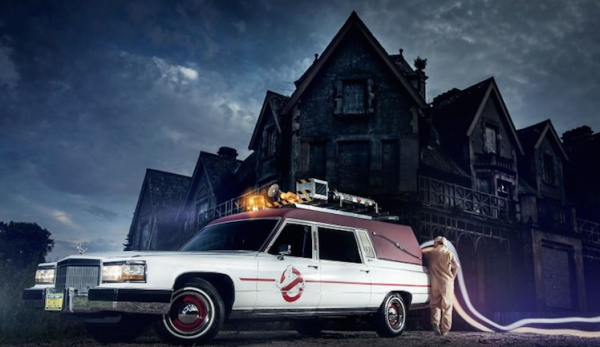 You May Also Like …
Who do Ghostbusters call at Hallowe'en? Adrian Flux of course
American hearse converted into Ghostbusters Ecto-1 for sale this Halloween