Newly weds Prince Harry and Meghan Markle shared the spotlight with another head-turner – a Jaguar E-Type Concept Zero – after their wedding on Saturday, May 19.
The stylish silver-blue Jaguar E-Type Concept Zero is a modern version of the 1968 classic E-type, complete with bespoke licence plate featuring the date of their wedding.
The royal couple, now the Duke and Duchess of Sussex, drove the £350,000 Concept Zero to their reception at the 17th century Frogmore House in the grounds of Windsor Castle on Saturday evening.
Jaguar E-Type Concept Zero – 0-60 in a flash
The open top Jag has an almost silent 220kW engine which can hit 60mph in just 5.5 seconds.
The Jaguar E-type has been turning heads since the first model was produced in 1961.
According to legend, even the hard-to-please Enzo Ferrari was impressed. He proclaimed it: "The most beautiful car in the world." And who are we to claim otherwise?
More than six decades later the Jaguar E-Type Concept Zero is based on a 1968 Series 1.5 Jaguar E-type. It combines the classic's breathtaking design with electric power for the first time.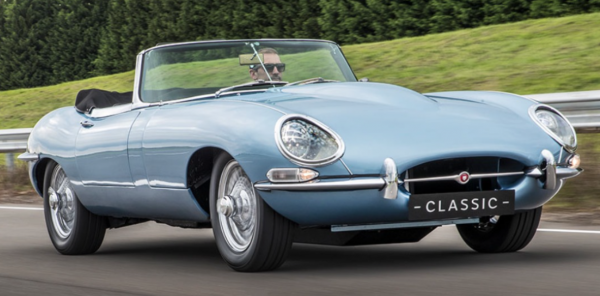 Jaguar E-Type Concept Zero "future-proofs" classics
The Concept Zero shows how Jaguar can future-proof the world's most famous cars using cutting-edge electric powertrain to give a second life to existing vehicles which may be otherwise beyond repair.
Tim Hannig, Director of Jaguar Land Rover Classic, said: "Concept Zero combines the renowned E-type dynamic experience with enhanced performance through electrification. This unique combination creates a breathtaking driving sensation.
"Our aim with Concept Zero is to give Classic Jaguars a sustainable future in changing environmental and economic conditions."
The Concept Zero's lithium-ion battery pack has the same dimensions, and similar weight, to the XK six-cylinder engine used in the original E-type. It sits in precisely the same location as the XK engine.
The electric motor (and reduction gear) lies just behind the battery pack, in the same location as the E-type's gearbox. A new propshaft sends power to a carry-over differential and final drive. Total weight is 80kg lower than the original E-type's.
Jaguar E-Type Concept Zero drives like the original E-type
Using an electric powertrain with similar weight and dimensions to the outgoing petrol engine and transmission means the car's structure, including suspension and brakes, has not changed, simplifying the conversion and homologation. It drives, handles, rides and brakes like an original E-type.
Hanning added: "We could use this technology to transform any classic XK-engine Jaguar."
In his choice of wedding car Harry was clearly following his older brother's lead. Prince William who chose another drop-head drop dead gorgeous ride to whisk his bride away when he and Kate were married in April 2011.
They travelled from Buckingham Palace in an Aston Martin DB6 owned by his father, Prince Charles. The car was given to him by the Queen on his 21st birthday back in 1969.
If you have a special car for a special occasion, it really deserves some special insurance. Talk to the experts in the Adrian Flux Cherished Cars team.
You May Also Like …
Barn find Jaguar E-Type – 'delightful sleeping beauty, perfect for restoration'