If you are looking for a practical commercial vehicle that will raise the street cred of your business, perhaps you should consider a classic van – and if you do this sparkling Fordson 10CWT could really fit the bill.
It is roomy, reliable, a stand-out looker and super stylish. In fact, it delivers everything and this classic van could really help put your business on the map.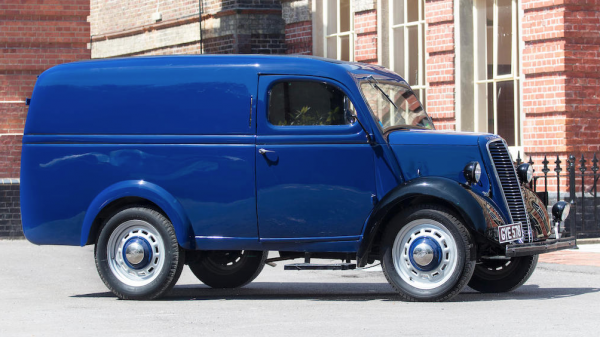 Fordson priced at £10,000-£15,000
The 1944 Fordson is coming up for sale at auction at Beaulieu in Hampshire.. Its presale estimate is £10,000 to £15,000.
Fordson was the nameplate under which commercial and agricultural vehicles were produced at Ford's plant in Dagenham, Essex.
The name was first used in 1917 for the Model F tractor, an influential design that remains one of the world's best-selling tractors.
Production-line methods pioneered on the Model T enabled Ford to offer the Fordson F at a knocked-down price, forcing many smaller specialist tractor firms out of business.
Facing a depressed market, Ford closed its US tractor plants in the mid/late 1920s and transferred production to Ireland and later to Dagenham.

Alongside cars and tractors, Dagenham produced light commercial vehicles such as the E83W 10cwt van.
Introduced in 1938, the Fordson van was also available as a pick-up or estate car, and in WW2 the model it was adapted to fulfil roles such as mobile canteens, fire tenders and ambulances.
Fordson primed for conversion to meet business needs
This van's interior is primed for conversion to all manner of commercial purposes.
The E93W was manufactured until 1958, latterly under the Ford Thames brand name, by which time over 188,000 had been made.

Originally used as a delivery van in North Wales, the Fordson coming up for sale has recently been on display at the British Engineerium museum at Hove in East Sussex.
Restored during 2016/2017, it has been used sparingly and remains in very good condition. Accompanying documentation consists of an old-style logbook and a V5 registration document.
The Fordson comes up for sale at the Bonhams sale at Beaulieu on Saturday, September 1.
Classic looks hark back to the era of good manners and personal service
The Fordson commercial vehicle harks back to the days when good manners, personal service and attention to detail were prerequisites in business. These are qualities held dear at Adrian Flux, the leading provider of commercial vehicle insurance, for both classic and contemporary models.
You May Also Like …