If you think the electric car is a relatively new phenomenon, think again. An electric car manufactured more than 100 years ago is coming up for auction in the United States next month.
This stunning 1917 Milburn Electric Model 27 Brougham built in Toledo, Ohio, was similar in design to many other electric automobiles of its era, often being built with a phone booth-shaped body, and steered using a tiller bar.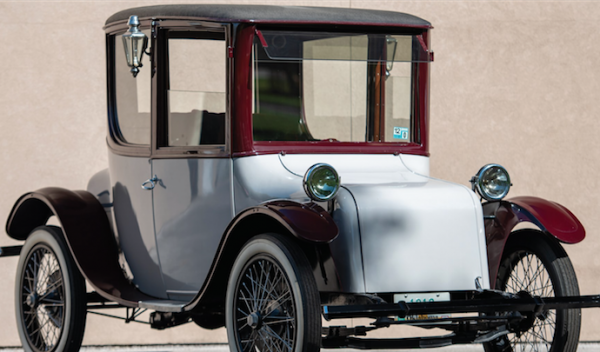 Classic electric car topped at 19mph
However, the design of this electric car – by Karl Probst, the industrial designer who went on to create the legendary Jeep – was unusually lightweight, enabling the Milburn to reach a top speed of 19 mph and cover 60 miles between charges.
With production of 4,000 cars between 1915 and 1923, the Milburn proved one of the most popular electric car incarnations of its era.
Survivors are tracked by an enthusiastic club and are always much admired whenever they are seen, either on a show field or gliding silently along a city street.
The Model 27 Brougham offered for sale has been part of the Richard L. Burdick Collection since the early 1980s.
Now converted to run on 12-volt batteries
It was restored by the collection's own mechanics some years ago in carmine and dove grey, with a conversion to operate on modern 12-volt batteries.
According to sale notes the Brougham "retains its original diamond tube bumpers and is the only known surviving Milburn with limousine-style carriage lamps, on the sides of the body; its painted wire wheels and whitewall tires are both authentic factory options".
The auctioneers add: "Charming and appealing as only a vintage electric car can be, this Milburn is ready to become the "greenest" automobile in another collection."
The Milburn is offered without reserve at the RM Sotheby's Hershey Auction in Pennsylvania on October 11 and 12.
Bespoke insurance for the classic and electric car
Whether you own a state-of-the-art ultra-green electric car or a classic car, even an electric classic like this marvellous Milburn, Adrian Flux will have a bespoke motor insurance policy to give you peace of mind and meet your specific needs.
You May Also Like …
The essential car maintenance you won't need if you buy electric