Petrolhead Mark Harrison has owned many spectacular cars including a Lamborghini, Ferrari, AC Cobra and GT40 — but none has generated the levels of interest as his latest supercar, an incredible Thunderbird 2 replica.
The Thunderbird 2, which has been shown up and down the country, everywhere from Goodwood and Silvertone to Birmingham NEC and London Excel, is an amazing construction.
Thunderbird 2 built around a Toyota Previa
The metal body is built around a 1994 Toyota Previa, boasting a 2438cc petrol engine paired with automatic transition — this Thunderbird is really ready to go.
Myriad specifications include Thunderbird green paint-job with yellow number "2s", coordinated dashboard and seats, and Thunderbird bed in the rear cabin with a roof mounted DVD system so you can watch your favourite episode of the 1960s scifi "electronic marionette" puppet show.
The biggest head turner on the road also has porthole side windows, rear view camera and built in sound system making the creation unique, a complete one off (after Gerry and Sylvia Anderson's real thing!).
Thunderbird 2's International Rescue pilot Virgil Tracy would have been proud to have set off in the jet's latest incarnation.
Even more so because it is taxed MOTed and completely road legal. In fact, it's a joy to drive as Mark explained: "The performance is very good as the Toyota 2.4 petrol engine has lots of torque, it cruises at 70mph in the motorway and I guess I get about 30 to the gallon which isn't bad."
'When I was offered Thunderbird 2 I had to have it'
Mark owns Total Headturners, a classic and replica car garage specialising in very rare models, so the Thunderbird 2 was a natural fit: "I love cars that are different and when the guy who built it offered it to me, I had to have it.
"I have owned it for around a year and used it for shows and promotional work and a few fun days out, it turns more heads than any other car I have ever owned and that includes the supercars.
"Reaction to the car from members of the public is unbelievable, in the high street it creates a party atmosphere as everyone comes over and takes pictures and talks about it with big smiles on their faces.
"You wouldn't believe the reaction until you see it for yourself. It mesmerises people, takes some of them back to their childhoods. I have seen people walk into each other as they stare in amazement at it driving past."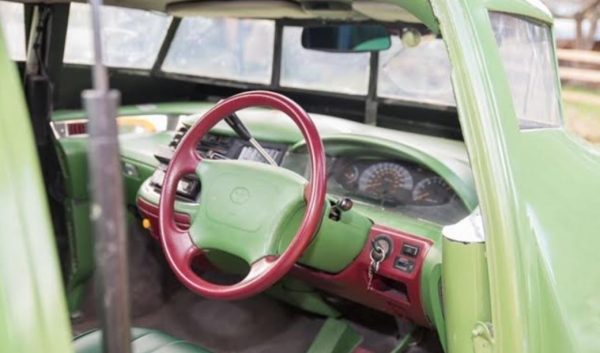 Next up? Perhaps Lady Penelope's pink limo
Mark, from Epping in Essex, has five children and they are devoted to the car too, though they don't get to ride in it too often.
He explained: "The Thunderbird is purely for fun. I drive a Range Rover for work and love driving an AC Cobra in my spare time." His dream car, meanwhile, would be a Bugatti Veyron.
And if he were to get another novelty car: "I would love a replica of Lady Penelope's limo complete with a lookalike of Parker the chauffeur and the famous FAB 1 number plate. But I doubt even that would be as much of a head turner as Thunderbird 2."
Insuring your Thunderbird 2 and other replica cars
Insuring something as unusual as the Thunderbird 2 probably wouldn't cost as much as you might imagine.
Because they are owned by collectors and enthusiasts who have invested lots of time and money in them, the modified car insurance experts at Adrian Flux realise they are going to take great care of them.
They can also make suggestions on how to make savings on the cost of cover by suggesting lots of ways to qualify for extra discounts.
Adrian Flux gave a sample quote of £400* a year for insuring the Thunderbird as a second car for an office worker in the postcode PE30, of 50 years of age and holding maximum No Claims Discount on their first vehicle.
*This quote is a guide only as prices will vary according to individual circumstances.
Ghostbusters Ecto 1 "show stopper" Cadillac Fleetwood up for auction