We asked 400 people which cars they thought would become the next generation of classics and compared the results with insights from industry experts
When asked to select the top five cars they think are destined to become future classics, 400 motor enthusiasts jumped at the opportunity. We then spoke to industry experts from a wide range of backgrounds to assess the results. With some hits and some misses, our experts told us what they made of the classic cars of the future – iconic, timeless and always fun to drive.
Whether you're wondering how to invest your money or just have a love for motors, keep reading for an exclusive list that brings together enthusiast and expert opinion on future classic cars.
1. Renault Clio V6 Sport (2001)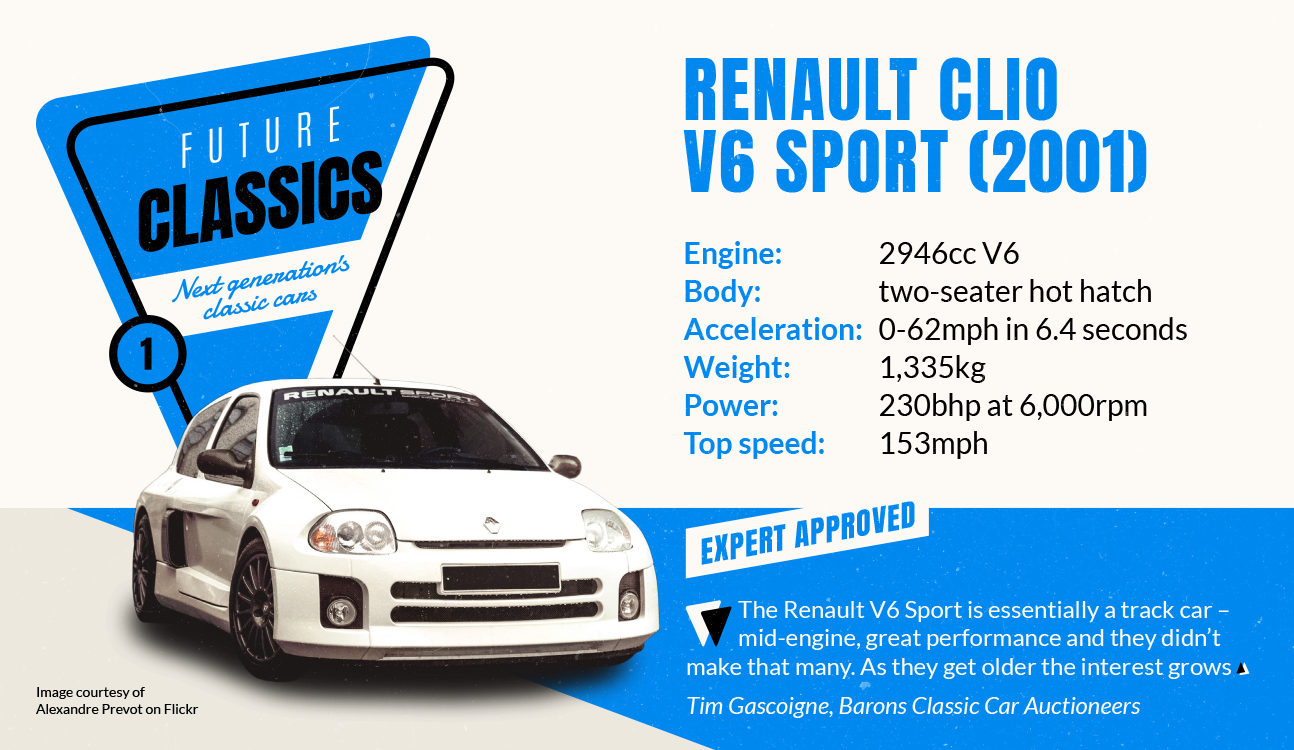 Engine: 2946cc V6
Body: two-seater hot hatch
Acceleration: 0-62mph in 6.4 seconds
Weight: 1,335kg
Power: 230bhp at 6,000rpm
Top speed: 153mph
Topping the list is the Renault Clio V6 Sport. Released in 2001, the car was considered a sportier version of the family favourite. An easier drive than previous models, Tim Gascoigne of Barons Classic Car Auctioneers deemed the V6 a "great performer". Evo magazine claimed the vehicle was 'the world's smallest supercar', so no wonder it won the votes of almost half of our respondents (47.29%) when they were asked to choose their stand-out modern classic cars.
Jonny Edge from Influx magazine considers the V6 to be "just the right amount of crazy. You won't see car manufacturers build cars like that anymore, with tougher and tougher safety and emissions laws." Chris Pollitt of Car and Classic has a similar sentiment: "The right recipe and a limited edition run ensure it's a classic, and the fact it's mental helps secure that."
The rear mid-engine and rear-wheel-drive vehicle could cost you between £23,000-£32,000 according to respected online price guides, after having originally been sold for £26,000. Manufactured in Sweden, the V6 has also been compared to the iconic Lotus Elise.
Gascoigne was unsurprised by the outcome of the voters: "Modern classics is becoming a more popular section, usually driven by the more interesting and sportier versions of existing cars and we see that here with the V6. Renault didn't make many units, so as the car gets older, interest grows."
2. Ford Focus RS (2002)
Engine: 2.0 L turbocharged Duratec RS engine
Body: four to five-seater hatchback
Acceleration: 0-60mph in 6.3 seconds
Weight: 1,278kg
Power: 212bhp at 5,500rpm
Top speed: 144mph
Despite its huge popularity, the Ford Focus RS was pipped to the post, landing itself in second position. The car is clearly well-loved, with the original Ford Focus being one of the most popular cars ever sold. But this could also be its downfall – has the RS become too mainstream to be a 'future classic'?
"I'm not sure about the Ford Focus – there's too many of them around," says industry expert Keith Riddington from Classicmobilia. Dave Vitty agrees, saying the car is "not for me", along with the Clio. However, our car enthusiasts disagree – with 43.6% voting the vehicle in their top five picks. So, while the Ford Focus RS might not be the best investment if you're hoping to retire on the profits, it's clearly a celebrated car.
New, this vehicle would have set you back £19,940. However, the Ford Focus RS is now being sold second hand for between £5,000-£10,000. The car boasts a five-speed manual gearbox, turbocharged engine and front-wheel-drive and has a price tag that could be deemed as quite affordable. With its blue-striped leather interior, the car is believed to be inspired by the Ford Focus WRC, which was built for the Ford World Rally Team.
3. Vauxhall VX220 (2001)
Engine: 2.2 L Ecotec Z22SE I4 petrol engine
Body: two-seater sports car
Acceleration: 0-60mph in 5.2 seconds
Weight: 870kg
Power: 144bhp at 5,800rpm
Top speed: 135mph
No one is surprised to see the Vauxhall VX220 feature highly in the ranking. Hitting all the requirements of a future classic car – sporty, sexy and well-received by Top Gear – the VX220 is a lightweight vehicle that makes a big impact. "For me, the Vauxhall VX220 isn't a surprise," notes Riddington. "A limited number were made and it's a fun car – you don't see many advertised."
Once featured on Top Gear's list of 'Bargain Heroes', the VX220 model was also named What Car?'s 'Roadster of the Year' for two consecutive years in 2002 and 2003. Vauxhall, the British manufacturer and Groupe PSA subsidiary, released the vehicle as the VX220. However, outside of the UK, the car is known as the Opel Speedster. Originally released for around £22,995, the car's price can now range from anywhere between £4,000-£18,000, depending on its condition.
For Edge, the Vauxhall car is not worth it. "It's a poor man's Lotus Elise – just spend a bit more and get the Lotus. You'll have more fun and more kudos with a Lotus keyring than a Vauxhall." However, more than a third (36.70%) of our voters would disagree. With deals available on cover for performance Vauxhalls, it could be much cheaper to insure, too.
4. Aston Martin V12 Vantage (2009)
Engine: 5.9 L AM11 V12
Body: two-door roadster
Acceleration: 0-62mph in 4.5 seconds
Weight: 1,760kg
Power: 510bhp at 6,500rpm
Top speed: 190mph
Despite mixed reviews, the Aston Martin V12 Vantage reached fourth position in our future classics list with 31.03% of the vote. The V12 was released as part of Aston Martin's Vantage series, offering a roadster alternative to the original V8's coupé style. Hand-built and assembled in the firm's headquarters in Gaydon, Warwickshire, the model has been compared to the Porsche 911.
Manufacturing on the V12 started in 2009, four years after the launch of production on the V8. Aston Martin also announced the V12 Vantage S in 2013 – a sportier update to the V12, which offered 565bhp at 6,750rpm from the new 5,935 cc V12 engine, dubbed the AM28.
According to Edge, "the Vantage is fine. You get to say, 'I've got a V12 Aston Martin' but it's not really their best work – it was an era of poor automatic gearboxes and it's not very special." So, if an automatic gearbox is not your style, it may be one to avoid. Car Write Ups' Tim Barnes-Clay was the only expert to defend the Vantage, saying "I can understand the Aston Martin being up there."
5. Alfa Romeo 8C Spider (2009)
Engine: 4.7 L (4,691 cc) F136 YC V8
Body: two-door roadster
Acceleration: 0-62mph in 4.5 seconds
Weight: 1,675kg
Power: 450bhp at 7,000rpm
Top speed: 180mph
Rounding out the top five, the Alfa Romeo 8C Spider won 29.06% of the vote. For Pollitt, it was "obvious" the 8C would feature. Introduced as the roadster version of the 8C Competizione – a coupé manufactured in 2007 – the Spider has been described as "the most beautiful car in the world" by Evo magazine. It has been considered a softer alternative to the original design but offers a slower acceleration time by 0.3 seconds.
Despite the slight drop in acceleration, the updated 8C has improved handling due to lateral and longitudinal cross-bracing, spring and damper recalibration and the introduction of carbon-ceramic brakes. One feature that has remained the same, however, is the double-wishbone suspension.
Italy's Alfa Romeo only manufactured 500 units, with only 35 brought to the UK. Brand new, the vehicle sold for £174,000, but has since gone up in value and is one of the few already appreciating cars on our list. As an investment piece, you can see why the Spider has landed itself in the top five.
6. BMW M3 E46 (2000)
Engine: 3.2 L S54 I6
Body: four to five-seater fixed-head coupé
Acceleration: 0-62mph in 5.1 seconds
Weight: 1,570kg
Power: 338bhp at 7,900rpm
Top speed: 155mph
"The quick M-spec BMWs have been popular for a long time," says Christopher Holmes from South Western Vehicle Auctions. Unsurprising, then, that the M3 E46 features in the top 10, with 28.33% of voters selecting it.
Production of the M3 E46 ran for six years from 2000 – during this time, BMW sold 85,000 units of the car. It was the manufacturer's most successful model in the M series, which could compromise its destiny as a 'future classic' – rarity often a desirable trait in both investment and sentimental buys.
According to Vitty, it was obvious the BMW was going to make the cut. "Right away, that's going to be a classic – they never made a bad M3 and that one just had everything right." Barnes-Clay has to agree, disappointed with the car's position in number six: "For me, the BMW E46 M3 should be first."
As the third generation of the M3 range, the E46 was updated to improve aesthetic and practicality. Compared to the other vehicles in the series, it featured widened fenders, special side skirts and a modified front apron – all designed to improve aerodynamics. The chrome-plated gills, originally designed to cool the engine but deemed unnecessary, were kept to add to the car's iconic look.
"The BMW M3 E46 Coupé took the hearts of real sports car fans by storm when it launched in 2000," states BMW. "With a low weight construction and the high-rev concept of its inline 6-cylinder engine, for many, it embodied a return to the virtues of the iconic BMW M3 E30." The car's original price was set around £40,000, but can now be found between £7,000-£32,000 for a standard version, expect to pay much more for GTR or CSL versions
7. BMW 1M Coupé (2011)
Engine: inline6 24V DOHV Turbo
Body: two-door coupé
Acceleration: 0-60mph in 4.8 seconds
Weight: 1,495kg
Power: 335bhp at 5,900rpm
Top speed: 155mph
"Many of the cars on the list are popular, good brands and good to drive, BMW included. Again, it's the sports range that drives the classics market," remarks Gascoigne. As well as being driven by the BMW brand, the 1M Coupé was well received for being an entry-level vehicle with all the trimmings. The second ever vehicle by BMW to feature a turbocharged engine – following the X6M car which used the S63 V8 – the 1M Coupé was designed with many parts from existing models in order to reduce costs.
The manufacturer had initially planned to produce 2,700 units, but ultimately 6,311 vehicles were created. However, only 450 were sold in the UK. Due to the smaller production figures in the UK, the car has managed to keep most of its value, depending on mileage. No wonder 25.12% voted it in their top five picks, placing it in seventh position.
It's not only our car enthusiasts who love this car – BMW's 1M Coupé received "Richard Hammond's Car of the Year 2011" award in Top Gear magazine, as well as ranking third in the "2011 Car of the Year (eCOTY)" awards by Evo magazine. The car also completed the Top Gear lap in 1:25.0.
8. Mitsubishi Lancer Evolution VIII (2003)
Engine: 2.0 L (1,997 cc) 4G63 I4 Turbocharged
Body: five-seater sedan with four doors
Acceleration: 0-60mph in 6.1 seconds
Weight: 1,410kg
Power: 261bhp at 6,500rpm
Top speed: 152mph
As the 10th generation of the Mitsubishi Lancer Evolution, this car has been popular since 1992 when production launched on the first model. Production continued to run for 24 years until 2016, proving that the vehicle must have been doing something right for drivers.
In our list, it was the eighth generation that was voted most destined to become a future classic car, which could be attributed to its success. The Japanese manufacturer sold so many units of the Evolution VIII, particularly in the US, that it launched four trims: GSR, RS, SSL and MR. The Evo VIII featured a five-speed or six-speed manual gearbox, depending on the trim.
Mitsubishi also launched the FQ300, FQ320, FQ340, and FQ400 variants of the Evo VIII in the UK – the FQ400 was tested on the Top Gear track and recorded a time of 1:24.8. The car's ability to race has been tested against the Lamborghini Murciélago, Audi RS4 and Porsche 911 Carrera 4S, beating the latter two.
Gascoigne thinks the vehicle's heritage could contribute to its 23.15% of the vote: "The Mitsubishi Lancer has a rally heritage – that can drive interest and desire." Barnes-Clay talks about a different kind of heritage attached to the Lancer swinging the vote. "The Lancer is probably there for the PlayStation generation when they get the chance to look back on their youth and the car they played with on Gran Turismo." However, Pollitt disagrees, saying "they're just for people called Terry who like to go fast."
9. Renault Avantime (2001)
Engine: 2.0 T I4 / 3.0 V6

Body: three-door shooting-brake
Acceleration: 0-62mph in 8.6 seconds
Weight: 1741kg
Power: 207bhp at 6,000rpm
Top speed: 137 mph
The Avantime seemed to surprise our industry experts the most. Despite having almost as many votes as the Evolution VIII (22.17%), the car was not well received. Originally priced between £23,895 and £28,295, the car was produced by Renault's French affiliate, Matra.
The Avantime was referred to as a "commercial failure" in a statement by France's Lagardere when it announced plans to cease production in 2003. Despite Renault's plans to sell 1,500 units per annum in the UK, the figures were closer to 150.
While the car has managed to maintain its value relatively well – considering its reception – due to rarity and curiosity driving customer appetite, our experts weren't convinced of its long-term prospects: "People-carriers and family cars tend not to hold their value," says Holmes. "I'm surprised to see the Avantime in the top 10 as it doesn't really tick any boxes. Maybe in 40 years when there aren't many left demand will creep up."
"When I saw the Avantime on the list, my immediate thought was, 'Is that what I think it is?' I don't think it's going to be a 20-30-year classic," adds Gascoigne. Pollitt agrees to an extent: "I love them – I want one myself! However, is it going to be a classic or is it just curiosity? I can't see someone storing one in their garage for a quick blast on a weekend."
10. Nissan 350Z (2002)
Engine: 3.5 L VQ35DE V6
Body: two-door hatchback coupé
Acceleration: 0-62mph in 6.0 seconds
Weight: 1446kg
Power: 287bhp at 6,200rpm
Top speed: 155mph
Finally, in 10th position is the Nissan 350Z, also known in Japan as the Nissan Fairlady Z. As the fifth generation in the Z family, the sports car initially launched as a coupé, with the roadster model introduced the following year. The coupé offered five trims – Base, Enthusiast, Performance, Touring and Track – whilst the roadster came in two trims – Enthusiast and Touring.
With 21.67% of the vote, the car is a confirmed future classic of both our enthusiasts and experts. "I agree with most of the list, especially the Nissan 350Z – it was limited and good fun," says Riddington. Gascoigne again commented on the car's rally history – bonus points in his eyes. Pollitt, however, couldn't agree less. "The 350Z? Not a cat in hell's chance that will make it as a classic."
The front-engine and rear-wheel-drive vehicle was designed by Diane Allen of Nissan Design America and was inspired by the Nissan 240Z concept model from 1998. Commended for its reliability and ease in performance, the 350Z firmly secured its position in the top 10 – being 6.15 percentage points ahead of the car in 11th place.
Final thoughts from our experts
What's exciting for us is that our final list of future classic cars ended up being remarkably diverse. With cars like the Renault Clio V6 Sport being well received by the experts and the Avantime sparking a lot of questions, some of our experts were also left wondering why certain models didn't make the cut. "I am surprised that the Audi TT is quite so far down, and that the BMW Z3 isn't in there at all," says Holmes. The Audi TT came in at an unimpressive 23rd place, being beaten by both the Mini Cooper (2001) and the Smart Roaster (2003).
For Gascoigne, he "expected to see the Bentley [Continental GT (2003)] and Porsche [Porsche Boxster 987 (2005)], but possibly lower down – not seeing a Porsche 911 at all was a surprise." He had not expected, however, to see the Jaguar XK (2006), which came in 12th with 15.02% of the votes. "The Jaguar S Type and X Type are just big saloons – basically just Fords with a Jaguar body on," he commented. "It was not a good decade for Jaguar – only recently have they started to create cool, desirable cars again, such as the F Type."
Gascoigne explains the what makes saloons less appealing: "It's easy to get very different takes on the modern classic sector, but generally four-door saloon cars designed to carry families don't become classics because they're practical. What people want from a classic is something fun to drive, something that'll turn heads. That's why two-seater and performance cars usually form the next generation of classics."
According to Barnes-Clay, this list has really brought the concept of what defines a classic car to light: "I think what this list does, more than just rank cars, is challenge the idea of a classic – what is simply classic, and what is a true classic car? Well, that's a discussion for another day."
"What people want from a classic is something fun to drive, something that'll turn heads. That's why two-seater and performance cars usually form the next generation of classics."
Ultimately, if you're looking to invest, industry experts are the ones to ask. But if you want a car that's popular with fellow enthusiasts, you may be happier to take a risk. Whatever you decide, Adrian Flux offers specialist classic car insurance policies tailored to your needs.
Our experts
Tim Gascoigne, Barons Classic Car Auctioneers
Tim Gascoigne is the Auction Manager at Barons Classic Car Auctioneers, based in Southampton. As the Auction Manager, it is Gascoigne's responsibility to direct event planning, business development, valuations and staff management. Having worked at Barons for almost four years, Gascoigne's industry knowledge has continued to grow.
Jonny Edge, Influx
As a regular columnist at Influx magazine, Jonny Edge's passion for cars is very clear. Currently based in the Czech Republic, Edge enjoys being able to travel in order to attend the latest motor launches and events and the opportunities to drive the most expensive classics to the cheapest roadsters – and everything in between.
Keith Riddington, Classicmobilia
Having been the Director of Classicmobilia for the past 10 years, Keith Riddington claims to have "unrivalled knowledge and dedication to the classic car market". However, the 10 years with Classicmobilia only make up part of Riddington's career, having spent almost 40 years in the automotive industry. Classicmobilia is a classic vehicle dealer based in Milton Keynes that promises to protect investment and offers services such as "Pre Purchase" and valuations.
Christopher Holmes, South Western Vehicle Auctions
Christopher Holmes is the Chief Executive New Business Director at South Western Vehicle Auctions (SWVA). Based in Poole, Dorset, the family-run business was established in 1971. Holding four classic car auctions per year, the firm offers valuation and delivery services, dispatching to seven European countries.
Dave Vitty, Former radio presenter and car enthusiast
As well as being a huge petrolhead and one of the most recognisable voices on radio, Dave Vitty also produces films and writes articles about rare, classic and niche motor vehicles. We asked him whether he agreed or disagreed with, or had any particular surprises from, the results.
Tim Barnes-Clay, Car Write Ups
Tim has tested pretty much every car of this Millennium under the moniker of Car Write Ups, from tiny electric city cars to the most extreme carbon-fibre-bodied V12 monsters around – he has an incredible wealth of knowledge of the automotive industry. He has presented and produced shows for ITV and has voiced and hosted a huge range of video reviews.
Chris Pollitt, Car and Classic
Chris Pollitt certainly knows his Ford Galaxy from his Seat Alhambra with decades in motoring journalism and creating the 'Not 2 Grand' website; and now acts as the editor of the resurgent Car and Classic website, an unprecedented source of classic car value data and trends. He knows all about good cars, bad cars and how the values can change over time.