Emma Balaam is living the dream. She's the hub of operations for the RS Owners Club and proud owner of an immaculate Mk1 Ford Escort Mexico.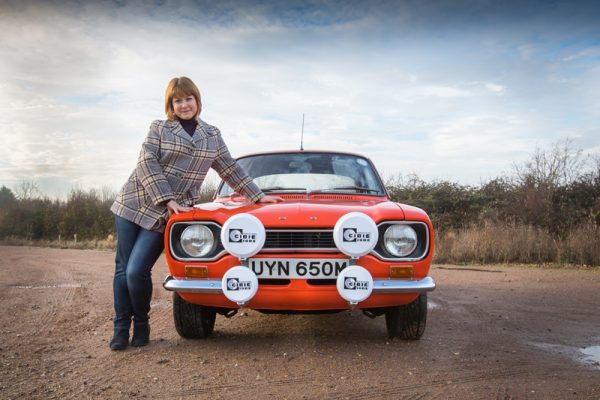 Ford: it's a family thing
"I've always been into cars, though it's been something that has ramped up," admits Emma before elaborating. "My Dad used to work for Ford – he was at Dagenham for 45 years – so that seed was sown pretty early on. My fondest memories are being picked up from school by my grandparents in their yellow 1100L Mk1 Escort.
Things got really interesting when I settled down and got married…
"As I got older I had lots of cars on Ford Options [a finance deal Ford once offered]. Nothing sporty or anything, Ka and Fiesta, not 'classic' stuff. It was never really a major passion, I was just a casual fan of the brand.
"Things got really interesting when I settled down and got married," explains Emma. "My partner had a lot of cars; he's been in the RSOC [Ford RS Owners Club] for 27 years now. My passion for cars grew alongside his existing interest; it comes from the support of two people sharing a passion. If you're both into something, it becomes that much more fulfilling."
The hot hatches cometh
Soon after they married, Emma got her own RS. And it was a corker: a car that is highly coveted these days.
"My first RS was an Escort RS1600i," she beams. "It was a restoration project for me and my husband to dive into, but it never came to fruition."
As so often happens, life got in the way and the RS took a back seat as new babies and car restorations seldom go hand in hand.
"I never drove it!" she exclaims. "It was nearly finished, but with a baby and the expensive restoration, it had to go. I just wanted something I could get into and drive, so we sold the RS1600i to someone who could give it the time and attention it deserved."
That wasn't the end of the RS dream though, as the proceeds from the RS1600i went towards buying another Escort. This time it was a Mk6 RS2000 4×4 – again, a car whose rarity makes it very sought after. But rarity wasn't going to stop Emma from driving it. People carriers be damned, Emma was going to use the RS2000 as much as possible. It became her trusty daily driver, shuttling her and the family around.
The RS Owners Club
Emma now works as the club administrator for the RSOC.
"I saw an advert for the role in the club's magazine Rallye News and thought 'this sounds interesting'. I made the calls, got the interviews and got the job. It was less money than my previous job at a bank, but I wanted something that reflected my passion, something that was a hobby, too. I've been here 10 years now and I love it. It's like a family.
"The club is international, so I'm dealing with all kinds of people," she says, her passion evident in her voice as she explains. "There's so much variety in my day-to-day work. We could be organising shows, or helping people track down hard-to-find parts, or just talking about the cars they own. Whatever it is, it's good to be at the hub of something people regard so highly. It's not just a job, it's a passion and a privilege."
However running something so vast has its challenges.
"My summers – especially leading up to National Day at Donington – are crazy. There are so many events to keep me on my toes. Other people have their day jobs as well as their voluntary roles but I'm the only employee so I get involved with everything."
Why Ford?
Ask others this question and they'll need a moment to ponder. Not Emma.
"It's the history, and the look of the cars," she states with vigour. "For most people, there was a Ford in the family at some point – that's what brings people in, the history and the heritage.
"The Mk3 Focus RS has a year's waiting list now; that's because of all these people who grew up with the brand. People desire the brand so there will always be people who live for Ford – and I'm one of them.
"A lot of people are catching up to their dreams," she adds. "Many people couldn't have them when they were younger due to cost or insurance, but they can afford them now. They've set up their lives with partners, kids and houses, but they can now get the car they always wanted. They can re-live their youth and their family can be a part of it too. And in so doing, another generation of RS and Ford fans is created."
Emma's Mk1 Escort Mexico
The RS2000 is a great machine, but Emma yearned for something older, something with a bit more heritage and, fundamentally, something more personal.
"I wanted a Mk1 really," she says. "But something sporty like a Mexico. I went to see one for sale and bought it on the spot. It's Sebring Red and completely factory standard, apart from electronic ignition, which gives me a bit more confidence in the car.
"I wanted one because of the memories of riding in one as a kid. Then there's the shape: I adore it, it's just a beautiful thing to look at. I'd have it in my living room if I could! But then we'd get into an argument about having the husband's Mk2 in there, too…
We got home at 4am, so it was obvious some work needed to be done
"Modern cars are all so similar," she continues – in her element. "The Mk1 comes from a time when cars were different. You bought them on their looks as much as for their specification. And mine looks incredible. From the Cibie lights on the front to the 'Ford' lettering on the back, it's just beautiful, it's delicious!"
But the path of love is never smooth…
"I bought it from a collector who didn't really drive it. It had been looked after – the body is amazing – but mechanically it wasn't great. A friend drove it back for me, with me in the passenger seat. We got home at 4am, so it was obvious some work needed to be done."
The Escort simply wasn't happy under its own steam after being holed up in a private collection for so long. Emma didn't trust it on the road as it was, and so the real work began.
Every time I put fuel in it or pop to the shop, I end up in full-blown conversation with a stranger about it
"In the end I did get the engine rebuilt," she explains. "I wasn't keen to drive it at first – I just didn't trust it. I do now though. In fact, I love it even more now; I smile from ear-to-ear when I drive it. I'm like a kid in a sweet shop; the smell, the feel, the noise of that engine – it's magical. "Driving it makes you wish there were more clear roads to enjoy. Living near the M25 isn't ideal, but when I do get out on the road it's an absolute joy. There's no other car like it."
And it's clear other people are enjoying the car too.
"Every time I put fuel in it or pop to the shop, I end up in full-blown conversation with a stranger about it. That'd fill your life if you drove it every day!"
It's clear that Emma is passionate about her work and her stunning Escort Mexico. But will Emma and her Mexican friend always be together?
"People ask if I'd sell it, but the answer is always no. No way. She'll be with us for many, many years."
Emma's classic car advice
Get out there and enjoy it. These cars should be celebrated, so never miss an opportunity to get out for a drive.
Join a club: "It makes finding parts easier, plus there's so much going on like meets and events. You'll get more out of your car".
Be confident. Spend the time and money to make the car how you want it. You want to enjoy it, not be worried every time you turn the key.
Choose Adrian Flux and access competitive insurance policies for your classic car.
Photography by Liane Ryan
You May Also Like …
Is this the world's best Fiesta XR2? Probably. What do you think?