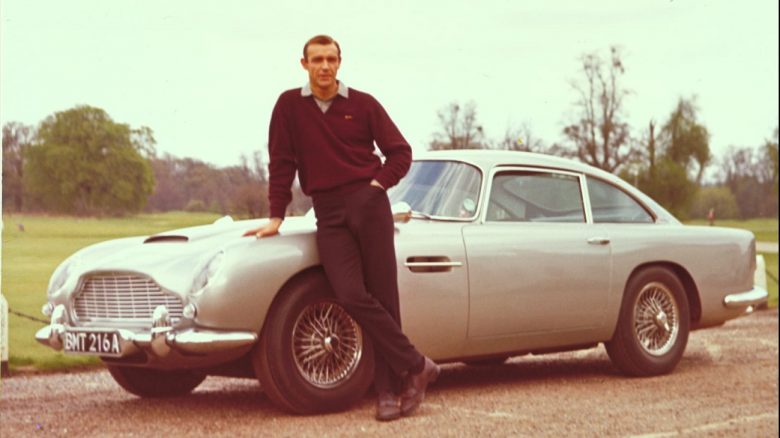 Never shaken but easily stirred into action, Sean Connery who died on October 31, 2020, was one of the nation's finest and favourite James Bond manifestations, here we look at the classic cars he drove during his tenure as Her Majesty's secret service agent 007.
Between 1962 and 1967, Sean Connery played 007 in five films produced by Eon Productions: Dr No, From Russia with Love, Goldfinger, Thunderball, and You Only Live Twice.
He didn't want to be type-cast as the womanising, super-smooth, superspy and departed the role before reprising it for a sixth film, Diamonds Are Forever, in 1971. Sean Connery took his last bow as Bond in Never Say Never Again, a 1983 remake of Thunderball.
Sean Connery "unfit to be Commander Bond"
Despite starring in seven successful films, Sean Connery was not the ideal choice for Bond as far as our hero's creator Ian Fleming was concerned.
He complained: ""He's not what I envisioned of James Bond looks. I'm looking for Commander Bond and not an overgrown stunt-man." He was a Scot, 6ft 2in, brutish and unrefined, the author added.
Despite that producer Albert "Cubby" Broccoli picked him for Dr No, and quite frankly, Connery's sexual charisma and magnetism in front of the camera convinced the Eon Productions team that it would be unwise to say "no" in the future.
Fleming himself was totally won over by his performance in Dr No and in his 1964 novel You Only Live Twice, he wrote that Bond's father was from Glencoe in the Scottish Highlands.
It was also during Dr No that the famous phrase "My name is Bond… James Bond" was first coined and taken to the hearts of those who came to adore the Eon Productions film franchise.
The cars driven by Sean Connery
But what of Sean Connery's catalogue of Bond super cars? Well it all started rather humbly in Dr No when he rolled on to screen in a rather modest Sunbeam Alpine. Naturally the two-seater sports drophead coupé was pushed to its limits and ended up coming to grief crashing into a crane during a chase.
Later in the same film Sean Connery went upmarket to take the wheel of the eponymous 007 car, an £80,000 Aston Martin DB5.
In his next film, From Russia with Love, the star car was probably the drophead 1935 Bentley 3½ Litre. It had been specially adapted for Bond by Q and featured a telephone in the glovebox which was quite groundbreaking back in 1963.
For good measure a couple of Chevrolets, Opels and Plymouths appear in Diamonds are Forever, but not with Bond behind the wheel.
Bond's lasting love affair with the DB5
Sean Connery can be seen putting the Aston Martin DB5 through its paces once again in Goldfinger. The DB5 was a sensation on screen and commercially — Corgi Toys produced a model Aston Martin DB5 following the film's release and it became the biggest selling toy of 1964.
The DB5 is Connery's car of choice in Thunderball and Eon Productions' faith in the brand ensured Aston Martins have now appeared in no less than 10 Bond films in the franchise.
Bond burned rubber in a Toyota 2000 GT in You Only Live Twice. The car had to be customised into a convertible because Connery was too tall to sit in the original.
Mustang stunt sparkles in Diamonds are Forever
In Diamonds are Forever Sean Connery's Bond famously leads the Las Vegas police department on a chase through the city leaving their patrol cars in a mangled heap in his wake. He made good his ultimate escape by flipping his Ford Mustang Mach 1 onto two wheels to get away down a narrow alley.
In Never Say Never Again Bond drives a black 1937 Bentley 4¼ Litre Gurney Nutting 3-Position-Drophead Coupe to the Shrublands health clinic. The porter remarks: "They don't make them like this anymore." and Bond replies "Right. It's still in pretty good shape", something he also says about his own body in the next scene.
Out of interest, the same car was used in the television series Magnum PI starring Tom Selleck.
How does the Sean Connery Bond compare?
Take a look at all the cars he has driven, and crashed, and see how he compares with damage caused by other Bond incarnations, such as Roger Moore, Timothy Dalton, George Lazenby, Pierce Brosnan and Daniel Craig, whose seventh Bond film, No Time To Die, is due to premiere in April 2021. You can watch a trailer for that here.
Whoever takes up the mantle of James Bond when Daniel Craig hangs up his licence to kill, with his claim and crash record and incredible lifestyle, he's going to have trouble finding affordable insurance.
That's why we recommend he goes to an expert team of brokers such as those at Adrian Flux, they have a licence to thrill when it comes to setting sensible insurance premiums. Call 0800 640 8709 for our best deals.