The MINI Electric has help strong positions in the top 10 lists for the best EV cars in 2020 in a number of prestigious automotive publications, including Autocar, Car magazine, Auto Trader and Top Gear. At Adrian Flux, we think it's fair to say that MINI is one of the world leaders when it comes to electric vehicles, which is why we're exploring how the brand is standing out in the EV industry.
MINI has kept true to its roots, keeping openness and diversity at its core
MINI has built the Electric model off the back of its predecessors, paying homage to the little car's original appeal and ensuring the car remains fully customisable.
Oliver Heilmer is likely the one to thank for this. In an interview with Man of Many, the Head of Design at MINI explained that he views the MINI marque as beating to the rhythm of the city, one that rejects monoculture and embraces diversity – or, as Oliver says, embraces "fundamental openness."
It is this culture of openness and self-expression that sets MINI apart from other brands in a lot of people's minds. Diehard MINI fans will know that the brand embraces quirky and unique styles, and its fanbase has been built on this, with many fans modifying and personalising their MINI vehicle.
That's why the MINI Electric is packed with customisable features, from external features like its main colour, wheel spoke design, and roof and cap colour, down to internal features like its four different driving modes, panoramic sunroof, and speakers. All you have to do is look at Halliwell Jones's page for the MINI Electric, which has three different levels for the vehicle and a wide range of customisable features in each tier, to realise just how customisable the Mini Electric is.
They're providing a holistic approach to sustainability
Image source: Adobe Stock
Whilst many companies tend to take a more devil may care approach to environmental issues and sustainability, MINI – and its parent company BWM – manufacturers have been working with a range of companies that support electrification in numerous industries.
This includes a partnership with Off Grid Energy. Here, the marque is helping the company find ways for EV batteries to be used sustainably when they're no longer efficient for use in cars.
MINI and BWM also put old batteries to good use by helping to store wind-generated energy at the manufacturer's Leipzig factory in Germany. This energy can then be fed into the public grid if there's a lot of demand.
They haven't stopped having fun with innovative ideas
MINI are continually innovating, with plenty of fun concept cars and prototypes being shared regularly on social media and through their website.
This includes the MINI VISION NEXT 100, which takes the idea of car-sharing and adds a MINI twist. In essence, the concept car is designed to be shared, but it changes according to your own personal preferences. This includes things like displaying a personalised message to you when you get into the car, changing the driving style depending on your preference, making instant pedal and steering wheel adjustments, and more.
Fun ride, with enjoyable handling
Fun driving is at the heart of the MINI brand, and they certainly haven't lost this with the MINI Electric – or the MINI Cooper SE as it's known in other parts of the world. The car has a maximum horsepower of 181 (131kW) and can go from 0 to 62mph in 7.3 seconds. Plus, its low centre of gravity makes cornering fun, with hardly any loss in momentum.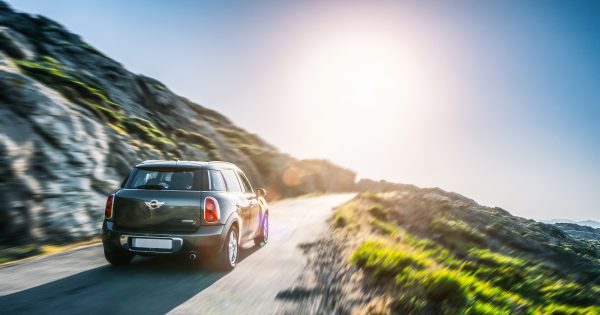 Image source: Adobe Stock
Whilst the car doesn't come with its classic motor-revving sound, the Electric has been created so it still makes a quiet whirring sound, which helps alert other road users to its presence.
In many ways, this is a feature that screams practicality, but many reviewers have likened it to the sound of an old-school remote-controlled car or bumper car, which adds a fun element to an otherwise normal feature. And with companies like the Express and Driving comparing the MINI Cooper SE to a go-kart, this adds an extra layer of branding fun that's in keeping with the brand's original style.
Seamless connection with various apps to improve driving experience
Searching endlessly for a parking spot – we've all been there. According to Inrix, drivers spend an average of 44 hours a year searching for parking, which amounts to a lot of lost days when totted up over a decade or two of driving. MINI has actually teamed up with JustPark, an online service that lets you park wherever and whenever you need it. This allows users to reserve parking spots through their dashboard, and choose from over 100,000 parking spots across the country.
There are plenty of other apps that can be connected to the vehicle in order to make your life easier, including Alexa and Spotify. You can even lock your car remotely and locate your vehicle via the MINI Connected app if necessary.
Urban innovation at its heart
Although the range for the MINI Electric isn't the highest in the world, at up to 145 miles, MINI has cleverly leaned into the fact that their latest edition to the family is a city car. Whilst its range might matter if you're driving from city to city, the average commute in the UK is around 62 minutes. According to SME News, the average commuting distance reaches a high of 31 miles in the East of England, which can more than comfortably be done multiple times over on one charge of the MINI Electric.
And at 4p per mile or £5.31 for a full charge, the Cooper SE is an affordable option. Of course, this is pretty standard for electric cars. However, at over half the average price of a petrol alternative, this is a great option for those wanting a car that looks, feels and drives like a MINI without the higher running costs and environmental impact.
Car insurance for your MINI Electric with Adrian Flux
If you're looking to insure your MINI Electric, look no further than Adrian Flux. As a specialist insurance broker, we can source more affordable MINI car insurance for you. What's more, all the policies we offer can be tailored to your needs, so even if you require keycare or breakdown cover, we can help.
Give us a call on 0800 369 8590 for more information, or fill in our callback form and we'll get back to you at a time that suits you.