The Mini is a symbol of British ingenuity, innovative design and our insatiable thirst for fun — but what do you really know about the car's evolution and the effect it had on the motoring public and of its designer Alec Issigonis?
Here the team at Adrian Flux reveal 15 weird and wonderful facts about the Mini, the little car that made such a big and lasting impact on Britain's motoring culture, and its creator Issigonis.
The Mini was designed by Alec Issigonis and produced by the British Motor Corporation (BMC) and its successors from 1959 until 2000. The original is considered an icon of 1960s British popular culture, while more modern Minis remain as the standard bearer of cool Britannia. But we all knew that didn't we? Now here's for some Mini stuff you probably didn't know.
1. Issigonis was well connected
Alec Issigonis was an Englishman born in Turkey, of Greek origin and through his mother's kinships, was a first cousin once removed to BMW and Volkswagen director Bernd Pischetsrieder.
2. Driven by oil crisis
The design and manufacture of the Mini was born out of necessity. Britain was crippled by the oil crisis in 1956 and the car driving public were crying out for a small economical car, they came no smaller nor more economical than the Mini and the Issigonis creation became a world beater.
3. Issigonis Mini a breath of fresh air
Issigonis put sliding windows into the vehicle to maximize space. The sliders allowed the driver to let air in without sacrificing the space taken up by normal descending crank window mechanisms.
4. Issigonis Mini the height of fashion
Fashion designer Mary Quant borrowed the idea of the Mini car to come up with the mini skirt. People associated the skirt with the car and her brand blossomed.
5. Mini record breaker
The largest official convoy of Mini Coopers was recorded by the Guinness Book of World Records in 2007 when 269 of them drove together in a stunt organised by the Vancouver Mini Club.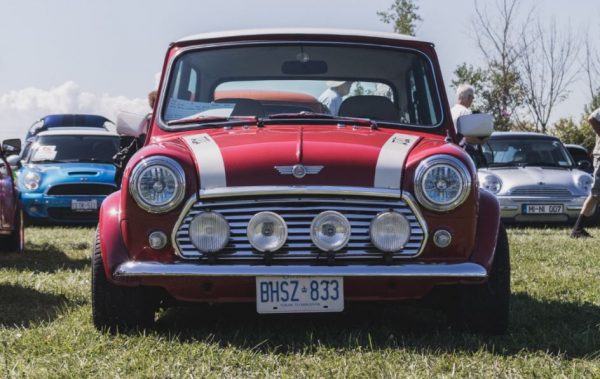 6. The Issigonis ashtray "a must"
Issigonis was a big smoker and as a result, he had a large ashtray installed in the original Mini in place of a radio. Music, he said, was unnecessary, but an ashtray was a must. Radios were eventually added in later models.
7. Gin's in
Issigonis liked a drink too and the extra space provided by the sliding windows was intended to hold a bottle of Gordon's gin, which was his favourite tipple.
8. And another Mini record
Twenty-eight female gymnasts from Sussex set a record when they all crammed themselves into a Mini Cooper at the Tower of London. As far as we know, it's still a record.
9. Some traffic jam
Around 5,500,000 Minis were produced, the last of which rolled from the production line on October 2, 2000. If they were parked bumper to bumper it would stretch almost 40,000 miles, about twice around the UK's entire coastline, that's some legacy of Alec Issigonis.
10. Something to reflect on
For the Mini's 40th anniversary London Design Museum held a contest for celebrities to customise their cars. David Bowie created a mirror-plated Mini, he liked the fact that anybody looking at the car would see their own reflection in it and then become part of it.
11. Stirling cross?
Racing driver Stirling Moss was banned from driving for a year in 1961 after being caught speeding while test driving a Mini for a Sunday newspaper.
12. A lot of nuts in an Issigonis Mini
We haven't actually counted them but we are reliably informed there were 3,016 screws, nuts and bolts in a typical Issigonis designed Mini and each car took about 30 hours to assemble. In the 1990s the Japanese could build a Nissan Micra in just six hours.
13. The Fab Four were Mini fans
All 4 members of The Beatles owned Mini Coopers. Ringo Starr's was modified to provide more boot space for his drum kit. Guitars owned by Paul McCartney, John Lennon and George Harrison fitted snugly on the back seats of their vehicles.
Ringo's Mini was adapted to accommodate his drum kit. Picture courtesy of Bonhams
14. Honours for Issigonis
Issigonis was knighted in the 1969 Queen's Birthday Honours and his life and greatest work is honoured by a road named "Alec Issigonis Way" on the former site of the Morris Motors factory in Cowley, Oxfordshire.
15. The ultimate Mini movie
The Mini was widely used on TV and in films and most famously in the 1969 gold heist caper, The Italian Job. Fourteen Minis were used in the film which was noted for its classic driving scenes up and down steps, from rooftop to rooftop and through the sewers of Turin (which was actually filmed in new sewers being laid in Coventry). The film starred Michael Caine and Noel Coward. It was Coward's final film, and not a lot of people know that.
Discounts for Mini owners club membership
Adrian Flux is a big fan of the little car. That's why we offer a generous discount on the cost of your Mini insurance if you are a member of an owners club — there are more than 450 clubs in the UK and half as many again elsewhere in the world.
We can arrange great value insurance cover for your Mini whether it's a classic Issigonis Austin Mini, Rover Mini Cooper S or even a brand new MINI One or Clubman.
Whether you bought your Mini as a first car, to take part in the exciting life of the Mini community, or simply a fun runabout, we understand the particular needs that Mini owners have from an insurance policy. Check out our Mini insurance cover or call 0800 369 8590 for a great deal.