If you've never heard of them, prefabricated homes – often known as prefab homes – are homes that are built off-site and then transported and assembled at their final destination. These types of homes tend to be cheaper and faster to construct than traditional building methods as builders don't need to spend as much time on-site building the house from scratch.
In spite of their affordable price, prefab homes are actually fairly sturdy and are a safe and affordable alternative to traditional brick and mortar homes.
The history of prefab homes in the UK
Image source: Le_Deluge
Following the housing shortage in the UK after the Second World War, then-prime minister Winston Churchill made prefabricated homes a major part of the push to build new homes quickly and affordably.
It was thought that the Blitz had caused approximately 450,000 homes to be either completely destroyed or uninhabitable. As a result, the Housing (Temporary Accommodation) Act 1944 was passed to help solve this issue. Churchill planned to build 500,000 prefab homes, each of which had a lifespan of up to 10 years.
… or so it was thought. In spite of their proposed 10-year lifespan, a number of prefabricated homes from the 1940s are still standing today. This is testament to the sturdy design and construction of prefab homes.
Not only this, but the prefabricated homes constructed in the UK after the Second World War were far from lacking. In fact, they included a number of innovations that made them seem positively luxurious by the period's standards.
Post-Second World War prefab innovations
The Ministry of Works, the government department in charge of the housing project, created a number of innovations to the home. Perhaps the most notable of these was what they called the "service unit" in the prefab home, which was where the kitchen and bathroom were placed back-to-back. This meant that all plumbing was in the same place so was very easy to install.
The service unit also included a number of items we take for granted now but that were a luxury in the 1940s. This includes a back boiler for central heating and hot water, as well as a built-in oven, fridge and water heater. These innovations were actually ahead of their time, with most traditional residential homes still depending on an outside bathroom and a coal fire with which to heat water.
Not only were the homes full of innovations, but their location was also something of a luxury. Many people who had been affected by the Blitz were used to cramped city conditions, but quite a lot of the new homes were developed next to green belts and parks. This was to help speed up construction, but it had the added benefit of giving the residents a taste of rural life.
A not so ordinary construction
Image source: Adobe Stock
These homes were made from a number of different materials. This included timber-framed designs and even aluminium, which was made from surplus aircraft materials.
Unfortunately, it was found that British prefabs were actually more expensive to construct than traditional brick and mortar houses in spite of careful research into America's success for keeping costs low while producing prefab homes. And as the UK economy began to recover, the cost of manufacture rose. This led to the construction of prefab homes drawing to a close.
Instead, the government turned to pre-cast reinforced concrete (PRC) homes. These were made from concrete panels and reinforced with steel and were quick to assemble and easier to build. Like prefabs, they were made in a factory, but they had a much longer lifespan: 60 years.
Pre-fabricated homes today
As mentioned above, many prefab homes survived long after their proposed 10-year lifespan. However, as many prefab homes were built with old materials and even asbestos, many have rust and decay issues and have had to be updated to meet today's standards.
As a result, many local councils choose to remove prefab houses completely in favour of newer housing developments. According to Wikipedia, the number of prefab homes has halved every year since 2000. Despite this, many residents still want to save their homes from demolition. Unfortunately, this seems to be a losing battle at the moment.
For example, the Excalibur Estate in Catford, Lewisham, was made up of 187 wooden-framed bungalows and a flat-roofed church. Despite residents attempting to save all the homes, pressure from the council has meant that now only six of the properties will remain and will be added as grade 2 listed properties.
Many homes are now being demolished in favour of newer builds, with a few examples of prefab homes being lifted from their site and displayed in museums.
Modern prefab homes: are they making a comeback?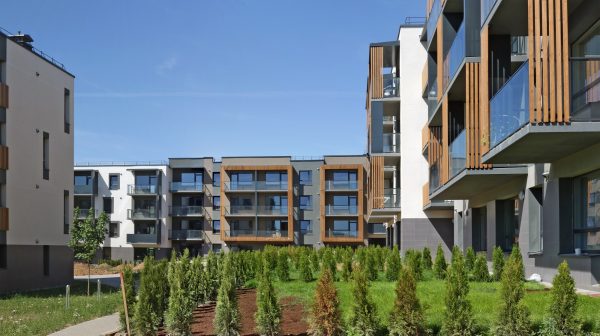 Image source: Adobe Stock
Although the post-WWII homes are structurally unsound by today's standards, modern prefab homes seem to be making a comeback – with many updates to ensure they are suitable for use. These are "factory-made" homes, but are made to run efficiently and to meet the safety standards we follow today.
In Wales, for example, there are plans to build 20,000 affordable homes, with £45 million being invested into modular housing. This includes prefab homes made from Welsh wood that are cheap to run – fuel bills are expected to be just £100 a year compared to the average UK bill of £1,350.
Issues with prefab home insurance
Although prefabricated homes come in all shapes and sizes and their modern equivalents are reportedly far safer than the post-war prefab housing, some homeowners still report issues with securing affordable prefab home insurance. Many insurers believe that prefabricated houses have non-standard risks. As a result, some insurers even refuse to insure these houses – or they hike up premiums.
Thankfully specialist insurance brokers like Adrian Flux can cover a wide range of prefab and modular homes. This includes self-built homes, listed buildings, post-war properties and modern kit homes. Give us a call on 0808 506 4257 if your home is a little out of the ordinary.