"Why are you asking that? You know the answer don't you? It's me of course," laughed Alex Riley.
One half of Adrian Flux-sponsored The Car Years' presenting team isn't talking about who is the best selector of cars – despite wiping the floor with Vicki Butler-Henderson in series one and dominating series two so far.
He's talking about who is the best dressed on the popular ITV4 show that evokes nostalgia aplenty for viewers through a carefully selected choice of clothes, vehicles and songs.
"What did you think I was going to say? 'Oh Vicki, she's got a lovely dress sense, doesn't she look great?' No of course I'm not, I'm the real dandy! I mean, did you see what she was wearing for 1978? Gold lame jacket, leopard print leggings – and a cap! I'm still having nightmares. Vicki hires everything – she has this costume person, and they cook up the outfits between them, but I live it – I own or buy all my own outfits so I can make sure they're spot on…and then wear them whenever I want after filming."
Judging by the state of his loft, where he keeps most of his boxes of clothes and thousands of old car magazines, he's got plenty to choose from.
Using attire from his Top Gear days at BBC Pebble Mill
Alex Riley sits astride a Lotus Esprit. PICTURE: WISER FILMS
Before his fame on The One Show and success with fronting Britain's Really Disgusting Foods and Secrets of the Superbrands, Alex's first job in TV was one that saw him working his charm in the background.
Like many of the crew on The Car Years, he was once part of the Top Gear team. That role as a researcher paved the way for his eventual presenting debut and the likeable comedian has never looked back since he got his big shot – and neither has his wardrobe.
"I love dressing up. I absolutely love it. Quite a lot of the clothes I wear on The Car Years are stuff that I've already got that I have accumulated over the years," said the winner of Celebrity Mastermind.
"I've got this amazing pigskin jacket that used to be my dad's. When we were kids and my mum and dad were going out for the night he would wear this amazing jacket and he had a lovely moustache at the time and looked so cool. I had my eye on the jacket since the mid-70s so I now wear it in every series.
"There was a suit I had when I was at BBC Pebble Mill working on Top Gear. We had this amazing BBC costume department, like a huge warehouse, and I borrowed this cream suit for some sketches for the Chelsea Flower Show I think. Pebble Mill made all of these 80s drama series for the BBC like Howards' Way and I have the fantasy that it's from that. When I took it back they said they were getting rid of everything and said I could keep it, so obviously I did.
"I've got my wedding shirt with big double cuffs and massive long collars and loads of vintage ties that I bought from Camden Market when I was going to get married, I've got half-a-dozen of those, and I keep using different ones. I love wearing stuff."
The challenges of filming during coronavirus lockdowns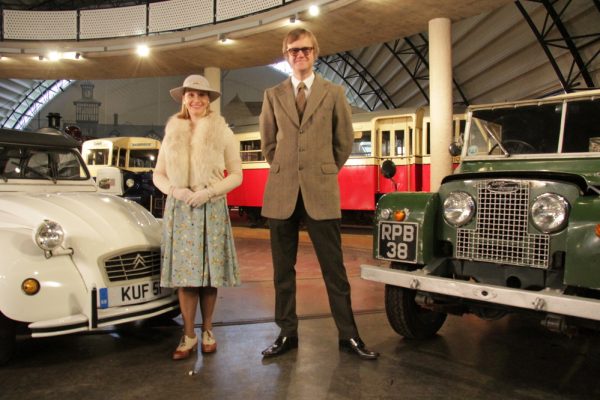 Vicki Butler-Henderson and Alex Riley in front of the cars from the 1948 episode. Picture: WISER FILMS
It wasn't easy sourcing extra garments for the second series which, once again, features a classic motoring year with presenters Alex and Vicki picking a car each they think is worthy of being crowned the best.
The all-important decision of which car wins comes down to the trio of judges on that show.
But before that, the vital calls came on eBay because the father-of-two "couldn't go to shops, charity shops, vintage shops or fancy dress shops" thanks to coronavirus lockdown rules so had to purchase extra clobber online.
Delivery dates hampered his search ahead of the late November 2020 ferry trip from Birkenhead to Northern Ireland to film – a journey that allowed him to squeeze in extra script writing once nervy Covid-19 tests had returned negative results and not scuppered hastily-arranged filming plans.
Alex was also very close to appearing on screen "looking like a scarecrow" because of a "magnificent lockdown hairstyle" but managed to squeeze in a last-minute trim to ensure his barnet looked as fresh as his gear on screen.
How Alex Riley embraces the classic car scene
Alex Riley in front of a Datsun 240z. Picture: WISER FILMS
The 53-year-old, who writes for Classic Car Weekly, admits the late 1960s and early 70s are his "go-to years" for fashion and car design.
Driving iconic pieces of pride and joy from that period and others makes it a "dream show" for the funnyman to work on. And he admits that embracing every part of going back in time adds further enjoyment to being involved with the programme.
"For me one of the joys of classic cars is this sort of romance of 'you are a character'," he added ahead of the series' final two shows being aired on Monday August 2 from 8pm.
"If you've got a 1960s GT car and you're driving that, you want to be thinking that you are Michael Caine in The Italian Job in his (Aston Martin) DB4 driving into central London, jumping over the side and going into a fantastic apartment with this stunning sort of Swedish model girlfriend. In my mind, that's sort of what I'm doing.
"When I'm wearing this pigskin jacket and driving gloves I could be in Return of the Saint or I could be Roger Moore in the Persuaders! or The Spy Who Loved Me. I love all that stuff. Driving a classic car, part of the reason that you're doing it, is because you love the idea of the car when it was new and what it represented. Wearing the gear is another level of feeling that and making that come true in your own mind.
"We're using real clothes of the time and doing it properly because then it feels right. If you're trying to do it as a joke it looks ridiculous. We're living it and trying to be authentic on some level and have some fun too. We don't get to dress up very much these days. Informality and casual clothes are everywhere aren't they? And the opportunity to wear shirts, ties, cufflinks, velvet jackets, proper shoes, ankle boots – it makes you feel good."
How do I go about insuring my classic car?
Are you lucky enough to own one of the beautiful classics that will appear in The Car Years? Or perhaps you own another piece of motoring heritage from the past that could?
If the answer is yes to one, or both, then Adrian Flux can help. With over 45 years' experience of arranging tailored policies, we'll have classic car insurance cover to suit you and your treasured vehicle.