ITV4's The Car Years, back for its second series and sponsored by Adrian Flux, features among its judges classic car expert and Sotheby's auctioneer Will Smith.
Here we quiz Will about all things cars and discover which classics he owns, which is the most expensive classic he has auctioned and which is the greatest car he has ever driven.
What makes a classic car?
Beauty is in the eye of the enthusiast. One man's classic is another man's junk, so it makes for a diverse and fascinating collector's market.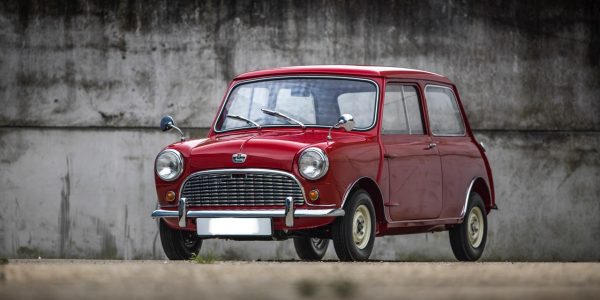 A well set-up Mk 1 Mini is "driving heaven" but Will makes do with his 1959 Austin Mini.
Tell me about the buzz when you flick the ignition on a classic car?
It's all about the anticipation of what comes next. How does the engine feel vibrating through the car? Is the steering light and direct? The amazing smell of the leather, the purr of the engine. Driving a classic can sometimes be testing but it is always a treat to the senses.
Are you lucky in that your passion for classic cars is also your profession?
Extremely. Not many people can get that much satisfaction from their job. I can't imagine doing anything else. I think genuine passion in one's field is crucial to experiencing longevity in any industry.
Which is the greatest classic you have ever driven?
I've been lucky enough to have driven some pretty decent stuff but driving the '66 Le Mans GT40 in Monterey was pretty special, even though it was a rather tight squeeze.
More realistically, give me a well set-up Mk 1 Mini and I'm in driving heaven.
Do you own classic cars yourself?
I'm lucky enough to be the proud owner of a 1959 Austin Mini, a 2001 BMW Z3 M Coupe and a 1970 Alfa Romeo 1300 Junior.
Which is the most expensive classic car you've brought the gavel down on?
The most expensive classic car? A beautiful BMW 507 which sold for €2m last year. I would have liked to have taken that for a spin, but I may never have come back!
Are fewer classic cars coming onto the market?
As production numbers have risen among manufacturers, spotting a future classic can be tricky. But classic cars have a way of distinguishing themselves among their contemporaries. It is nearly always driven by limited numbers versus demand.
The view looks great from here, and so does Will's 2001 BMW Z3 M Coupe.
Identify a car of today that will become a classic car of the future
The Toyota GR Yaris has had some rave reviews recently and I can see it easily becoming a collector's item in the future.
How do you regard the advent of the EV?
I welcome electric cars as I welcome all advances in motoring technology, but I think the manufacturers are a little bit lost at the moment. They don't have a clear sense of where they're going, especially when it comes to brands that are famous for incredible combustion products.
Can you see an electric being a classic in the future?
Certainly. The Tesla Roadster is probably already considered a classic. But I can't think of many just now!
How do you feel about replacing a classic's combustion engine with an electric powertrain?
I welcome any innovation in the classic scene. Especially when engines have gone bang and people are making good use of resto projects. But I object to converting classics that are all original.
Do you think classics like Minis and Beetles should be restored to factory spec or are mods acceptable?
I'm a fan of original aesthetics but have no issue with tuning a classic car.
Minis have always been raced, rallied, crashed and tuned to destruction, so it shouldn't stop people doing that now. I would personally tune brakes and suspension first on any classic car.
Will's very special 1970 Alfa Romeo 1300 Junior.
How do you think Gen Z and the next generation will regard combustion engines and classic cars?
It's very hard to make a judgement on Gen Z at this stage. I think personal transport is hugely important and combustion engines are a massive part of our cultural history but it's very hard to make a judgement on how Gen Z will perceive them at this stage.
Classic cars should be preserved and shown by those lucky enough to own them. If we can inspire future generations of petrol heads they will continue to be loved and adored worldwide.
Will's 5 tips for buying a classic car
Buy it because you love it, not for an investment

Have a specialist inspect the car before you buy

Check the paperwork fastidiously, it tells you how a car has lived its life

Don't buy the first car you see

Always try to drive before you buy. There's no better way to understand how a car feels and performs than from being behind the wheel.
Introducing the new series of The Car Years
Series 2 of ITV4's Adrian Flux-sponsored The Car Years launched on Monday, 19 July, and in each episode joint hosts and motoring experts Vicki Butler-Henderson and Alex Riley go head to head driving in, and arguing for, the merits of a host of classic cars. The series kicked off with a double header of two half hour episodes. You can catch up on episodes you've missed via the ITV Hub.
Episode 1
In Episode 1 the hosts picked the most technologically advanced sports cars of 1978. Vicki picked the revolutionary Mazda RX7 while Alex made a case for the Porsche 928. As in every episode a panel of judges, including Will Smith, voted on the winner.
Episode 2
Episode 2 harked back to the best sports saloons of 1986. Vicki went for a turbo powered touring car for the road in the shape of the Ford Sierra RS Cosworth. Alex picked Ford's arch rival on the race track, the BMW M3.
Episode 3
In Episode 3 the hosts picked their favourite GT released in 1969. Alex made a case for the Datsun 240Z, while Vicki drove a 70's TV detectives' favourite, the Ford Capri.
Episode 4
Episode 4 (to be aired on Monday, August 2), looks at supercars from 1975. Vicki champions the Ferrari 308 made famous by the Magnum PI TV series while Alex gets behind the wheel of one of his childhood heroes, James Bond's Lotus Esprit.
Episode 5
Episode 5 races forward to the year 2000 two rate rallying icons of the PlayStation generation. Alex argues the case for the Mitsubishi EVO 6 Tommi Makinen Edition while Vicki goes for the Subaru Impreza P1.
Episode 6
Episode 6 drops back to post-war motor manufacturing in 1948 to find the best car to mobilise the world following the end of hostilities. Vicki gets to grips with the Citroen 2CV, while Alex makes a case for the Series 1 Land Rover.
Episode 7
Episode 7 goes back to the 60s – 1962 in fact – to find that year's best British sports car. Vicki picks the ever popular MGB while Alex makes a case for the ultra-lightweight Lotus Elan.
Episode 8
Episode 8, the final episode, seeks to find the best car released in 1970. Vicki picks a Range Rover, the first luxury SUV, while Alex picks the Citroen SM, which at the time was said to be a vision of the future of luxury GTs.
Adrian Flux classic car insurance
If you're lucky enough to own a classic car you'll want a classic car insurance specialist to keep it well protected. That's where Adrian Flux, sponsor of ITV4's The Car Years, comes in handy.
With classic car insurance from as little as £56 a year, you'll be amazed at the benefits of an Adrian Flux policy, and the value for money extras you can bolt onto it.
Call 0800 369 8590 for a quote — 79.5% of all customers receiving an online quote in July 2020 could have obtained a cheaper quote over the phone, based on the information they provided.