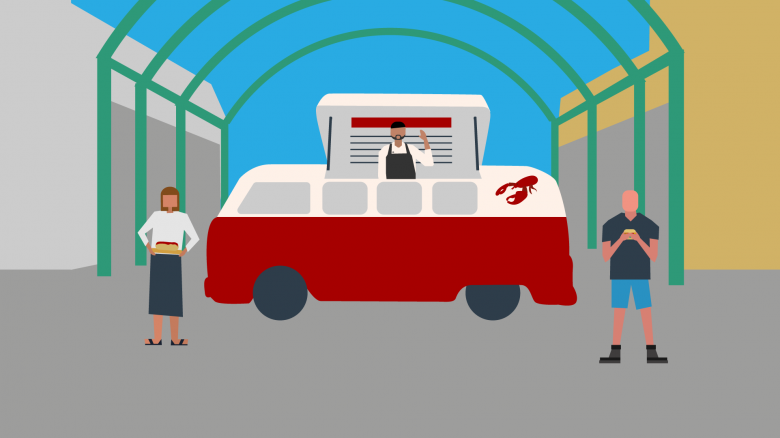 The rise in gourmet street food has prompted a revolution in the way food trucks and trailers are being built.
Nowadays the food truck and trailer has to look as tasty as the food and refreshments being served from it, and boy, haven't the coachbuilders been busy creating some fantastic catering vehicles.
The team at Adrian Flux have a healthy appetite for street food and the trucks and trailers that serve it and here they reveal some of their favourites.
Bob's Lobsters, London
The lobster is the undisputed king of crustaceans, so Roberto Dann's food truck, which serves lobster rolls as its signature dish, had to be rather special – and it is.
Bob's Lobsters photograhpy by Sagar Creative.
Bob's Lobsters food truck is made out of an immaculately restored 1957 VW split screen Kombi campervan. Roberto said he shelled out – pardon the pun – around £12k buying the van and importing it from the States.
However, the ground up rebuild, which took over 1,000 man hours to complete, added a further £85k to the project. Money well spent? We think so.
Roberto takes up the story: "The concept of Bob's Lobsters was born out of my time at culinary school in New York and many great memories devouring lobster rolls and oysters at various roadside seafood shacks on the East Coast.
"I wanted to share the experience back in London serving up quality ingredients such as lobster in a more casual and fun format. The campervan perfectly exemplified this fun and nostalgic seaside image. Of course it had to be an iconic 'splitty' and the van quickly became integrated in our logo too.
"I designed the custom conversion together with a recommended coachbuilder, Carrosserie in Darlington. It was originally a panel van before we opened it up with side windows and an open pop-top. "
Complete with a high spec kitchen built to Roberto's own design and sparkling retro paint-job, the food truck brings total joy to adults and children alike. Roberto said: "It's impossible not to smile when you see it. If I had £1 for every photo taken of the van I would be far wealthier than I am selling lobster rolls that's for sure!
"If our little van could talk… the stories she would have. In truth we've had a bit of a love hate relationship from day one. After 9 months and thousands of pounds invested the van was delivered the day before our launch but it broke down on its maiden voyage because no one had put any petrol in and it has no fuel gauge to alert you to that fact.
"Despite the breakdowns, our little splitty has given us access and front row seats at concerts and fashion shows, has become a regular feature at The Oval, Royal Ascot and Cowes and of course Borough Market in London.
"Despite being arguably the smallest kitchen in London, our camper has served literally hundreds of thousands of lobster rolls."
Find out more about Bob's Lobsters online or call 0207 407 7099 for booking inquiries.
Crêperie Oui, Brighton
As the name suggests, Creperie Oui serves up sumptuous sweet and savoury crepes and delivers a little extra gallic charm by operating out of not one, but two Citroen HY vans – plus they have a Citroen horsebox currently under conversion and set to join the fleet soon.
The original Creperie Oui food truck was a 1976 model and all the restoration and conversion work was done by proprietor Arnold Rose, who made the most of his considerable carpentry skills and a considerable amount of body filler.
The second was done by a rather "talented but troubled eccentric at the back of a car wash". Arnold confessed it was a painful experience, as it took the best part of two years. Various upgrades to both food trucks have since been completed by Custom Conversions.
The 76 model cost around £3,000 plus Arnold's own labour and "a few pots of paint". Subsequent upgrades have been completed at considerable cost.
The 67 Citroen cost £1,500 but the endless conversions that followed could have pushed the overall outlay up in excess of £15,000.
Arnold said: "Many people comment about our food trucks and of course our crepes. When you drive around Brighton you notice the heads turning and the huge smiles.
"Hopefully the vans make people feel happy and the crepes we serve make them feel satisfied."
The name of the business always raises a few eyebrows. "I imported the first Citroen but was not allowed to keep the French number plate so I found a Northern Irish one for £50.
"It was UUI 8789 which went well with the original, LUI 8785. It wasn't until I had bought it that I realised that Uui was not just a funny noise — it meant that we were now Oui Creperie" Arnold explained.
Find out more about Oui Creperie online or call 07806 776321 for booking inquiries.
Juniper Box, King's Lynn
What do you do with a second-hand horsebox when you don't have a horse to transport in it? Why, you turn it into a gin palace and launch your own hospitality business, of course. Well, that's exactly what Emily Holt did with a little help from her friends during the lockdown.
Emily explained: "It was all a bit on a whim. My friend put in a bid for me for the horsebox at auction and our bid won. Once collected, my dad and I spent a day sanding it down and repainting it as part of its transformation.
"It was a real team effort. I spent a lot of time doing research and getting the initial ideas. My friend Emma, who financed the project, put in creative concepts to pull the vision together. Another friend, Lucy, had the sensible head and sorted the logistics – getting power cables and electrics. Then other friends and colleagues pitched in, building the bar shelf and helping in various other ways."
The box cost £2,000 and Emily and the team have probably doubled that in renovation costs but the first two events almost recouped the entire outlay.
"Everyone loves the gin bar. We have a fun menu, it looks stylish with classy glasses. We have a great team – they're bubbly, fun and full of energy – and we're more than happy to mix things up; there's no cocktail we won't be willing to try to make".
And giving the Juniper Box a real shot in the arm, one of its first customers was none other than three-times champion jockey Frankie Dettori, who trotted up for a crafty snifter!
Find out more about the Juniper Box on Facebook or Instagram. For booking inquiries, contact 07500 432415.
Thinking of starting your own food truck business?
Looking to get into the food truck business? Download our complete guide to buying and operating a catering van. Our e-book includes:
how to find the perfect catering van for your needs and budget
how to convert a van into a food truck
how to get used to driving a catering van or towing a trailer
the licences you need for operating a food truck
tips for running a catering van
Adrian Flux insurance for catering vans and food trucks
If you have a catering van or food truck you will know just how fussy some people can be. Well at Adrian Flux we think you should be just as fussy about your catering van insurance.
Adrian Flux arranges insurance for a huge range of food trucks and mobile shops, meaning that whatever your business, we can help. From burgers and butties at the football to pizza and ice cream, mobile bars to baristas and everything in between, if you own a catering van, we will be able to come up with a tasty deal on your insurance.
Call 0800 369 8590 for a swift no-hassle quote that could actually save you money — 79.5% of all customers receiving an online quote in July 2020 could have obtained a cheaper quote over the phone, based on the information they provided.