Former catering student Ben Wilson is living the dream after hitting the road in his stylish catering trailer – a mobile pizza business in a converted vintage horsebox.
He has only just gone into business after the speedy renovation and rebuild, but the box and the piping hot pizza Ben is serving up has already received a right royal welcome at a number of village fetes organised to mark the Queen's Platinum Jubilee.
Ben actually bought the horsebox in September last year. It was rather dilapidated but he always had the vision of transforming it into a mobile pizzeria. Find out more about his journey in this blog.
Ben had a vision of what his vintage horsebox would eventually look like.
Vintage horsebox renovation costs ran to £7,000
Bwn explained: "In total the whole catering trailer project cost around £7,000, more than I had budgeted for because there were some unforeseen but unavoidable costs.
"It needed two new axles as the old ones were rusted through. The replacements were fitted by a trailer servicing specialist, but that's the risk of buying a vintage horsebox."
After collecting the box with new axles from the garage, the full catering trailer conversion took around four months. Ben did all of the work himself at weekends and in the evenings when he wasn't at his full time job with Greencore, a leading manufacturer of convenience foods in Selby, North Yorkshire.
He said: "I stripped the trailer down, rebuilt it with wood panelling, and completely rebuilt the inside with all the electrical wiring and plumbing and fitted the worktops and catering accessories.
"The biggest challenge with the catering trailer was getting my head around the wiring. I'm not trained in the trades at all so I was learning from scratch and had to conduct lots of research into how to do it."
The mobile pizzeria is wood panelled with sage green painted frame.
Pinfold Pizzas catering trailer is a dream come true
Despite the difficulties, Ben is delighted with the finished catering trailer and the launch of his new business, Pinfold Pizzas. The business was named by Ben's partner, Laura, and she chose it because there is an old fashioned pinfold – a pound in which to store stray animals – just 30 metres fom their home.
The finished horsebox has a wood panelled exterior with a sage green painted frame. There is a serving hatch on one side where customers place orders and the Gozney Roccbox ovens sit out on the trailer loading ramp.
Inside the catering trailer there is a sweeping worktop all the way down one side, along with two sinks at the nose of the trailer.
"It's a dream come true," the 29 year-old said. "It definitely lives up to my expectations. I set out with a vision of how I wanted the trailer to look, and how I wanted it to function, and I would say that it has stayed very close to that vision. It looks just as I had dreamed when I embarked on this project.
"I love it and other people love the vintage look of the horsebox too. It brings a very pleasant visual aspect when I turn up for events.
"We did a couple of Platinum Jubilee parties at villages near my home in Riccall, North Yorkshire, and sold out at both events. We are looking forward to getting busy at more events throughout the summer.
"We're planning some pop-ups and looking to use the catering trailer at a variety of private parties too."
The plaque commemorating the old world "pinfold" that gave Ben's pizzeria its name.
Catering trailer's tow car may need an upgrade
Ben has been using a Land Rover Discovery to tow the catering trailer from place to place, but he may need to upgrade to a newer model because it has started to let him down and he doesn't want to get stranded anywhere.
He will have no such trouble with the horsebox as it has catering van insurance cover.
Mechanical issues mean that Ben's Land Rover Discovery may need an upgrade.
As well as his now finished catering trailer and his new pizza business, Ben enjoys getting out on his bike when he can and loves to brew his own beer, but his main passion is food, hence the adventure into the pizzeria business.
Ben attended Reepham High School and then Wymondham College in Norfolk where he was an enthusiastic and talented food technology student. He studied the subject to A level before going on to do a degree in Food and Consumer Management at University College Birmingham.
Once graduated, he got the job at Greencore and he still works there while running Pinfold Pizzas in his spare time.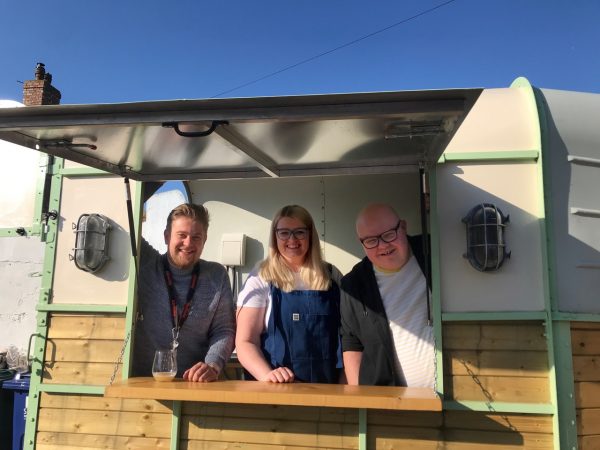 Ready for business: Pictured (from the left) are Ben, Sophie Powell and Lee Patrick, who all met while working for Greencore but are now hitting the road with Pinfold's Pizzas.
Looking to get into the catering business yourself?
We've got plenty of information to sink your teeth into in our e-book guide that can help you understand what you need to know before you go into the food truck or catering trailer business. Download our guide to find out more.