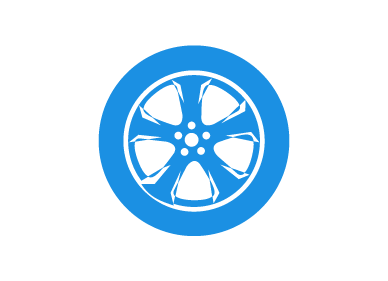 Run flat, low profile and large tyres are getting more and more expensive and very common on new cars, particularly those cars made by BMW or Mini. And if you use high quality tyres such as Pirelli P Zero or similar ultra high performance tyres, a sudden puncture could leave you looking at an expensive invoice. Adrian Flux tyre insurance policy means you can replace your premium-branded or specialist run-flat tyre with a like-for-like replacement without the huge bill.
Most insurance policies don't include tyre insurance as standard, meaning that you won't have any protection if a tyre needs replacing due to damage. Tyres can be at risk on any road because of waste or debris, and even from vandalism whilst parked up- damage that leaves you out of pocket and picking up the pieces.

Luckily, Adrian Flux now offers specialist tyre protection to help insure you against the costs of getting a flat. Perfect for cars of all makes and models, but especially those with expensive or rare tyres, the cost of repairing or replacing a tyre will be covered by us following any accidental or malicious damage. What's more, claiming on your tyre insurance policy won't affect your no claims bonus if you claim and doesn't need to be disclosed when you apply for vehicle insurance.
With tyre insurance offered by Adrian Flux you can drive without the worry of needing to pay for new tyres should the worst happen. All fitted tyres will be covered as well as all brands and types will be, including run flats and up to 20" tyres - helping you out whatever you drive, be it an old banger or a supercar.
Affordable Tyre Protection From Adrian Flux
From budget caravan tyres through to run flat tyre cover for BMW and Mini, or even the expensive tyres fitted to supercars such as Porsche, Ferrari or Lamborghini models, Adrian Flux can find you a tyre insurance quote to suit your vehicle and your needs. With over 40 years experience of finding the most suitable, most affordable quotes for our customers, the introduction of our new tyre insurance helps us to keep you as protected as we can, with as little cost as possible to you.
Just a few of the benefits and features of our new tyre protection policies include:
Cover for all makes of tyre, including run flat tyre insurance and low profile tyre cover

Protection against accidental damage to tyres

Insurance for malicious damage of your tyres

Tyres up to 20" covered

Insurance that covers all four fitted tyres under one policy

A low £20 excess per tyre for any valid claim
Can I get insurance for my tyres?
As long as your tyres have more than 2.5mm remaining tread and carry the European E mark they are eligible for tyre insurance cover. You won't receive any tyre protection for the first 30 days of the policy, and unfortunately we can't offer cover for off-road or military use, vehicles over 3,500kg in weight, stretched limousines or vehicles used by the emergency services.
From humble beginnings finding custom car insurance for kit car drivers, Adrian Flux insurance brokers has grown into the UK's largest specialist broker, helping to find thousands of customers the right insurance each year.
Using our panel of insurers and our staffs dedication and knowledge of the insurance marketplace, we can help find you quotes that provide the best cover for you, at a price that won't hurt your bank balance.
To find out more about our specialist tyre insurance and to get a quote for your tyre protection, call us today on 0800 369 8590 or complete a callback form online to ask one of our team to call you at a time that suits you.