Getting a caravan back on the road for the spring and summer is an excellent excuse to invest in some new gadgets. Caravanners are consummate hobbyists and always looking for new ways to make their holiday comfortable, fun and value for money.
Often a holiday offers the time to indulge in new activities, get into shape or just relax in the sun. Adrian Flux Insurance Services has looked at what is around to keep caravanners occupied on their precious time away from the demands of home life.
There is a new breed of inflatable canoes and kayaks that are a far cry from the old rubber dinghy. They are high performance models that are maneuverable and comfortable. Companies such as Inflatable Kayaks offer packages that include kayak, paddles, pump and free delivery in the price. The boats are perfect for loading into the caravan ready to be pumped up on arrival on site.
For the active holiday maker who likes to keep track of what they are doing the Garman Forerunner 305 wrist-mounted sports performance trainer is a must have device. It combines a high-sensitivity GPS receiver and watch with a heart monitor that records heart rate, speed, distance, pace, and calories. You can even download information onto your laptop to really analyse your performance. Sites like SatNav Discounts give the best deals round.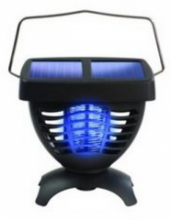 When you do relax you don't want to be bitten to death by mosquitoes and other flying pests. Posh Rosh stocks a solar power bug zapper that aims to kill the offending insects before they get to you. A full charge gives five hours of constant use.
Another device that makes use of the holiday sunshine is the solar powered sound system from RadioWorld. This is a docking station for ipod or iphone and has Stereo sound with full-range speaker drivers and bass boost.
If you want to be one step ahead of the game, keep your eye out for the stylish soul cell solar powered collapsible lantern designed by Jesper Jonsson. It's not on the market yet but it's sure to be a winner when it gets there. Based on the classic Chinese paper lantern it will look fabulous hanging from an awning.
And no self-confessed gadget freak can possibly go on holiday without a Swiss Army knife tucked into their pocket. SwissTool is a good place to start looking. There is a vast range from the mini penknife to the mega silver SwissChamp with 64 individual parts that apparently goes through an astonishing 450- step manufacturing process.