If you're looking for adventure this year, you can't go wrong with a 4×4 that can take you off the beaten track. In this blog, we explore our favourite SUVs and 4x4s you can buy in 2023 that can be used in both town and country.
1. Land Rover Defender
Price new from: £51,300
Price used: £10,000-£30,000 depending on model year and condition
No 4×4 or off-road vehicle list would be complete without a Land Rover – after all, they were made to drive on rough terrain. The Land Rover Defender is an excellent choice for those wanting a durable but comfortable vehicle they can use to go off the beaten track.
You probably wouldn't go wrong with many of the Land Rover Defender models produced, past or present. For many, the look of the Defender 90s from a couple of decades ago is unrivalled, whereas others might prefer the more modern Defender 90 with all the extra technology that it offers.
Either way, you can't go wrong with their all-wheel drive. The more modern Defender 90 offers extra mod-cons, such as 3D surround camera and Land Rover's clever Driver Assist Pack technology, which are useful features for driving in urban areas.
Take a look at our blog on the best Land Rover modifications if a Land Rover is at the top of your list and you want to customise it.
2. Jeep Wrangler
Price new from: £60,000
Price used: £10,000-£40,000 depending on model year and condition
Many are in agreement that Jeep makes some of the best vehicles for off-roading in the world, and the latest Wrangler is an excellent example of this. Whether you're climbing up rocky terrain or crossing muddy fields, the Wrangler can probably handle these with very little effort.
Originally built as the United States Armed Forces' answer to a four-wheel-drive vehicle that could handle off-roading during World War II, even the more modern models have retained the brand's historical robustness. When it comes to the car's exterior, the latest Wrangler model has also retained the vehicle's classic style, so you might be surprised to learn that the model includes plenty of the infotainment features found in other modern vehicles.
The car is almost completely customisable too, so those with deep pockets can really make their Wrangler bespoke.
3. Dacia Duster
Price new from: £15,795
Price used: £8,000-£13,000 depending on model year and condition
The Dacia Duster is without a doubt one of the cheapest options on this list, but don't think for one second that it's the worst because of its price tag. The Duster is arguably pound-for-pound the best 4×4 you can buy in the UK.
Dacia might not be the most well-known manufacturer, but as an entry-level introduction into the world of 4x4s, they don't come much better.
The latest model is marketed as a family SUV, and the vehicle is exactly this plus much more; it can withstand much of what a family could put it through – and all on difficult terrain.
You'd think the comparatively small price tag would make the Dacia Duster feel cheaper than other 4x4s on this list, but the vehicle is actually easy and fun to drive, and the model is robust and comfortable.
4. Subaru XV
Price new from: £33,195
Price used: £6,000 to £20,000 depending on model year and condition
This AWD is another relatively affordable option, especially for those who only use their vehicle for off-roading or green laning adventures every now and then. The Subaru XV – or Crosstrek as it is otherwise known – doesn't look like a typical 4×4. In fact, it looks more like a hatchback. Yet it can still do very well on tough terrain. Better yet, it'll keep you comfortable while you're off exploring.
5. Mercedes G-Class
Price new from: £127,000
Price used: £20,000 to £60,000 depending on model year and condition
If the Subaru XV was mid-range, then prepare to say hello to the highest range. The Mercedes G-Class will set you back over £127,000. So what are you getting for that kind of investment?
Well, you're picking up a luxury SUV that's fully equipped to take you on all kinds of off-roading and green laning adventures. Rugged, sturdy, and with 700Nm @ 1,200–3,200rpm torque, the Mercedes G-Class will surprise you with its ability to climb steep slopes and wade through deep water. And it looks great while doing it to boot.
Add to this the plush interior, with its comfortable seats and extensive leg room, and you've got yourself a winner – if you can afford the very high price tag.
6. Toyota Land Cruiser
Price new from: £47,675
Price used: £5,000 to £25,000 depending on model year and condition
As you'd expect from a Toyota vehicle, the Land Cruiser is a heavily reliable vehicle. Built to tackle the toughest of terrains, the Land Cruiser can endure just about anything, whether on-road or off-road.
This SUV offers not only great off-roading capabilities, but it's also a great vehicle for regular road driving. Granted, some claim that the off-roader can be a little unwieldy, but given the price tag and the off-roading abilities this little vehicle offers, we think we can overlook its cumbersome bulk.
The vehicle is also highly customisable, with five or seven-seat options. Plus, you'll find some very smart technology in the Land Cruiser – especially if you opt for the Invincible seven-seater grade – such as rear differential lock, which forces both wheels to spin at the same speed to help regain control if you've lost it. Torque for the Invincible model is also not to be sniffed at – 500Nm @ 1600-2800rpm.
7. Fiat Panda Cross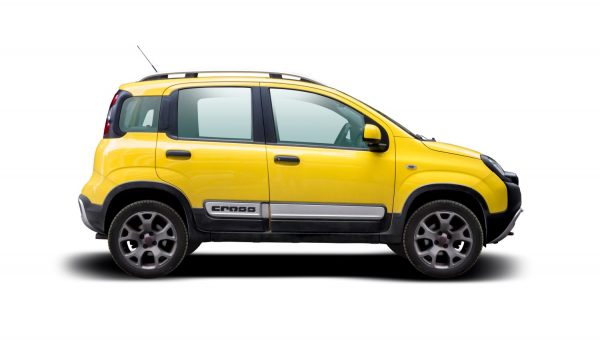 Price new from: £14,964
Price used: £8,000 to £17,000 depending on model year and condition
We know what you're thinking: you didn't expect to see a Fiat on this list. While the Fiat Panda Cross may not look like your typical rugged off-roading beast, don't let the design fool you.
Although Fiat is more well known for building vehicles that are better suited for use on road, the brand entered the 4×4 game in the 1980s and offers surprisingly sturdy and rugged off-roading four-wheel-drives.
And the Panda Cross is no exception. If you're looking for a small SUV, this might just be the one for you. However, if you're used to the sleeker appearance of most typical 4x4s, you might find this little vehicle fairly unappealing given its fairly bulky front and rear bumpers. Thankfully, those bumpers do serve a purpose: they help protect the vehicle from nasty bumps while off-roading.
If you only go on off-roading adventures a few times a year and you'll be using your 4×4 on the road for the rest of the time, the Fiat Panda Cross definitely won't disappoint. As the vehicle is based on the original Panda hatchback, you'll find the Cross version just as easy to drive in urban areas as most other Fiats.
If you're in the market for a compact SUV for occasional off-roading, the Fiat Panda Cross might be the best choice for you.
8. Suzuki Jimny
Price new from: £16,796
Price used: £3,000 to £30,000 depending on model year and condition
The Suzuki Jimny is a compact SUV that's been designed for off-roading – and off-roading it does. Built with a robust frame and fairly powerful torque for its price tag (130Nm @ 4000rpm), the Jimny can help you navigate some of the wildest areas in the world. One of the best features of this SUV is that it allows you to switch to a low-gear 4WD to maximise torque and gain better traction on the steepest slopes and roughest terrain.
For many, the Jimny is more substance over style – although it's kept its classic boxy exterior, many think that its interior is ugly compared to other 4x4s as the Suzuki model includes quite a lot of rough plastic. But considering its fairly affordable price tag, it's not surprising that this SUV doesn't match the superior build quality of pricier 4x4s like the Land Rover Defender or Mercedes G-Class.
What should I look for in a car for off-roading?
Depending on the terrain you're planning on driving on, you might want to consider getting a 4WD with high torque as this will offer better traction on uneven ground and slippery areas. A 4×4 in general is a good choice for off-roading as the seat position is higher, which offers you a great view of the terrain or road and your surroundings, and they are usually made to be tough and durable.
Add to this the extra storage and sitting space and you've got yourself a versatile vehicle that can be used for comfortable family trips and holidays.
Read our blog on the best 4×4 modifications for off-roading if you want to take your vehicle to the next level.
Get 4×4 insurance with Adrian Flux
No matter which 4×4 or SUV you choose, Adrian Flux offers 4×4 and off-road car insurance policies tailored to meet your needs, whether you want to take it off-roading, green laning, or you're happy to simply drive it around urban areas. We provide the best deals over the phone, so call us on 0800 369 8590 for a quote, or book a callback at a time that suits you.