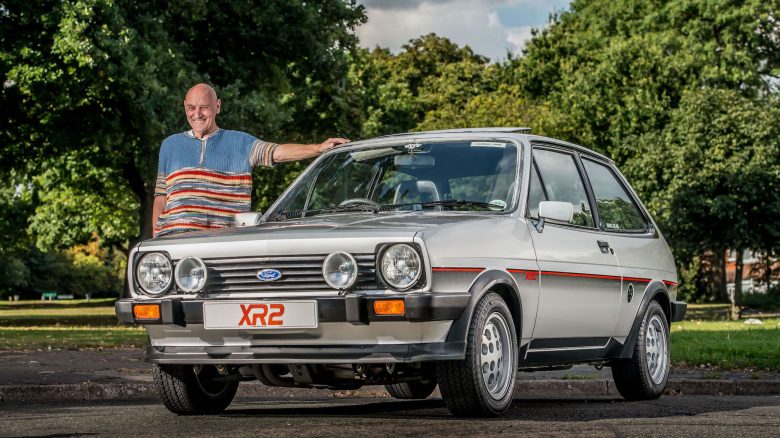 Cars are clearly built to be driven, and the Fiesta XR2 was built to be driven enthusiastically.
But there's also a place in the motoring world for cars like Bob Johnson's, a box-fresh XR2 from the golden era of the hot hatch that's covered just 205 miles from new.
Bob, from Shard End in Birmingham, has covered less than two of those miles since buying the 35-year-old car in 1992 for just £2,000. Its value could now top £50,000.
"It's a dangerous thing to say, but it's probably the best Fiesta XR2 in the world," he says.
Ford certainly agreed, displaying the car at its heritage museum from 1995 to 2001, and taking it to the Geneva Motor Show in 2005 for the launch of the Focus RS.
These days, the 1982 mark 1 car lives in an air-conditioned bubble in Bob's garage to keep this classic car looking as new as the day it left the showroom.
It still carries the original six-month tax disc from January 1983, along with the "assembled in Spain" sticker.
"I bought it with the intention of taking it out and using it very sparingly, but never did. I must admit I don't really like the look of the car, but it's unique, which is why I kept it," says Bob, a former race mechanic who worked on the Lotus 41 Formula 3 cars in the 1960s.
"I get a lot of pleasure out of owning the car rather than driving it, which may seem odd to some people."
When it was launched in 1981, the XR2 cost £5,500 and quickly won an army of fans for its lively performance, superb handling and sporty looks.
But Bob's car was never destined for a life in the hands of the boy racers of the Thatcher years, instead going straight from the showroom to the Patrick Collection, a motor museum in Kings Norton.
One of the museum's own vans put a small dent in the rear of the car, which remained for the next 10 years.
"They tell me that Alexander Patrick, who ran the museum, said 'I don't want to look at it, cover it up and put it in the corner', so the repair was never done," says Bob.
The museum, which was closing its public collection, advertised the car in Auto Trader as part of a rationalisation of its 240 cars.
"They were selling a lot of cars, Ferraris, Lamborghinis – and the XR2," says Bob. "I've still got the original advert that said it was 'damaged'. It had 163 miles on the clock. Ford have added all the miles since then.
"I'm a big believer in fate, and I'd been looking for a mark 2 XR2 when a friend of mine saw the advert and phoned me up.
"He said 'the mark 2 will never be worth anything – this is the one you want'. I was working as a plasterer in London at the time, so he went to look at the car and straight away left a deposit on it.
"He said 'you're not going to believe it when you see it', and he was right, it was absolutely unbelievable."
The car came with a new rear quarter panel, plus a tailgate and bumper – neither of which were required – and the stratos silver car was repaired back to original condition.
Its next stop was a six-year spell at Ford's heritage museum after Bob found out they were looking for a Fiesta XR2 to display.
"I phoned up Ron Staunton, the curator, and he didn't believe what I was saying," he says.
"A few days later he phoned back and said he would collect the car, but if it's not what I'd described he would leave it outside and I could come and pick it up under my own steam.
"So the truck came and took it away. I didn't hear from him for three or four days, so I rang him up and he said 'you are right, it's on show now. It's absolutely fantastic to have it down here. I'm over the moon with it, can't believe it. I didn't believe what you said because it was so unlikely.'"
The car remained in Dagenham until the museum closed to the public in 2001, and Bob had to fend off interest from one of Ford's own directors to keep hold of his car.
"One of the directors from Ford used to come over from America every month for meetings and always used to make a beeline for my XR2 in the museum," he says.
"I'd told Ron I didn't want to sell it and didn't want to be bothered, so he told this to the director, who went off in a bit of a huff. He wanted to take it to America and put it in a glass case in his living room!"
So the Fiesta returned to Birmingham, but Bob was persuaded in 2002 to put the car on eBay to see what sort of interest there was.
"I got talking to this lad who was into racing and he couldn't believe it when he saw the car – he said we should put it on eBay to see what we'd get for it," says Bob, 73.
"In a couple of days it got up to £22,500 and there were two bidders battling for it. I told him 'it's not for sale, take it down!' It was only meant to be an exercise.
"He took it down and came back half an hour later – one of the bidders, a company called Quality Items – told him if I wanted to sell it they would come down with £30,000.
"I think David Beckham might have been interested in it, and Frank Bruno, but I've got no proof of that."
Now Bob, who also owns a mint condition 1970 Austin 1300GT, along with a 1985 Porsche 911 Targa, 2004 Porsche Boxster and a 1997 Ford Escort, is looking for a new home for the XR2.
"I believe it should be on show to the public, so I'm looking for a museum or a collection to take it," he says.
"I've thought about selling it, but if push came to shove I don't think I'd be able to. It'd be a big wrench to sell it because once it's gone it's gone."
And there's certainly no way to replace a car that's very much one of a kind.
Ford Fiesta XR2 factfile
Engine: 1598cc Kent OHV pushrod
Power: 84bhp at 5,500rpm
Torque: 91.5lb ft at 2800rpm
0-60mph: 9.4 seconds
Top speed: 105mph
Gearbox: 4 speed
Fuel consumption: 43mpg at 56mph; 28mpg urban
Scroll down for more pictures.
Bob's other cars are just as spotless
You May Also Like …