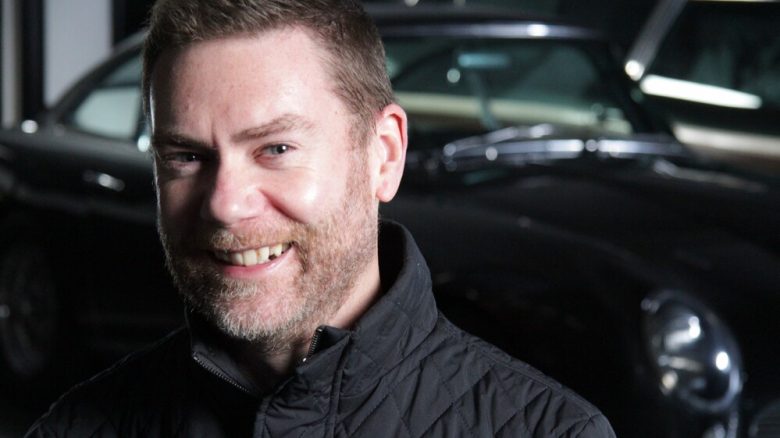 Richard Porter knows a thing or two about hit TV motoring shows.
For 13 years, he was the unseen driving force behind the humour, jokes and catchphrases that made Top Gear the nation's most loved automotive offering on television.
And when that all came to an end in 2015 thanks to Jeremy Clarkson delivering a famous hit of his own, the 'fourth brain' linked up with the heavyweight presenter and his colleagues Richard Hammond and James May once more on the Grand Tour.
After sprinkling more of his writing and script editing magic across Amazon Prime's flagship show, it was time for Porter to embark on some projects of his own.
He's now presenting the Sniff and Smith Podcast alongside Fifth Gear's Jonny Smith, has a YouTube channel of the same name, writes for a host of publications and is a judge once again on the second series of ITV4's Adrian Flux-sponsored The Car Years.
The thrill of being a scriptwriter on Top Gear
Alex Riley sits astride a BMW M3 for The Car Years episode focusing on 1986. Picture: WISER FILMS
For 22 series, Richard was the genius in the shadows while Clarkson, Hammond and May received all the plaudits.
That mattered little to Porter, who was just happy to be a cog in the massive BBC operation while letting the famous trio take centre stage.
"I preferred being in the background quite honestly because I could go home and get on with my life," said the 46-year-old father-of-two.
"Having seen the way in which the Top Gear and now Grand Tour presenters – who are massively, massively famous – find it very hard to just go into the pub or a shop without that strange sense that people are sort of pointing at them behind their backs, I quite like not having that eerie sense that you're being looked at wherever you go. 
"It was really good fun doing the script stuff for Top Gear and the Grand Tour because it was always a collaborative effort between me and the three presenters because they all write as well. Part of my job was to be the fourth brain on it and come up with the extra gags and thoughts and feed them in. You get to stand just behind the camera and listen to them as they regurgitate your material, and do it beautifully as well. 
"There's nothing nicer than writing for people you know are going to do your material justice. They would deliver lines and jokes in front of, towards the end, 700-800 people in that aircraft hangar, and a whole room of people laughing at a joke you've written is really thrilling. That thrill never goes away and that's the satisfaction. I couldn't deliver the lines as well as Richard, Jeremy or James, I'm a part of the machine."
'I appeared naked on TV', admits Richard Porter
The Car Years logo. Picture: WISER FILMS
After years of being behind the camera, the funnier than he gives himself credit for self-confessed car geek is a much more visible presence on ITV4 show The Car Years.
It isn't the first time the respected motoring journalist has been in front of the lens. But at least this time he's got his clothes on.
A throwaway remark while planning a Top Gear shoot in California many years ago came back to bite Richard on the bottom – almost literally!
"I still get messages from people going, 'did you know you're on the telly'? If they don't mention in what capacity my first thought is: 'Oh god, in what sense'," laughed the man who also judged in The Car Years' first series. 
"Many years ago I appeared naked on television so there's always a fear – not that you could see my face. I was a naked man walking down a dark road who was picked up by some car headlights. You never saw my face and yet weirdly an old friend of mine, who's never seen me naked, said to me: 'Was that you that I saw on the TV with no coat on'? She just assumed it was me because she knew I worked on that show. 
"We were out shooting a Cadillac that had a night vision system. In the hotel room the night before we were planning it with the director I made the mistake of saying 'what if you see the night vision pick up a heat map of a person and when the headlights catch them they're actually naked'? It was a throwaway remark but the director said 'that's a good idea, I can't do it, but let's do that'. So it was left to me. I remember it being humid and there were lots of mosquitos about."
What's it like to be a judge on ITV4 show The Car Years?
Richard Porter is all smiles about the return of the ITV4 motoring show. Picture: WISER FILMS
Richard is part of an expert panel of judges in the second series that includes former Top Gear Stig and Hollywood stunt driver Ben Collins, motoring presenter Rory Reid, former F1 driver and broadcaster Karun Chandhok, world-renowned car journalist Jason Barlow and journalist and presenter Erin Baker.
Three appear on each of the eight episodes which feature a classic motoring year with presenters Vicki Butler-Henderson and Alex Riley picking a car each they think is worthy of being crowned the best. 
The all-important decision of which car wins comes down to the trio of judges on that show.
"I'm old friends with plenty of people involved, I'm good friends with Jason, but I've never talked about the show with anyone like Alex when it gets to filming because I don't want to feel like my vote has been influenced," said the author of the popular And On That Bombshell book which details his Top Gear years.
"There was one show in the first series where I was a judge and Alex called me a bastard afterwards because I voted against him. He was like: 'Aaah mate, I thought you'd be on my side for that one' and I had to go 'I'm really sorry Alex, it was a hard decision'. It could get a bit awkward but it's all been kept quite civil.
"They don't bend our ear as I think they know I and the other judges generally try and play it with a straight bat. In terms of competitiveness, Alex and Vicki are both in it to win it – there's no question about that, hence Alex calling me a rude word when I voted for Vicki's choice in one show. 
"Vicki is extremely competitive, she's a racing driver, it's in her blood and she's programmed to win. In a polite way, it's very competitive. They can be as persuasive as they like but as a card-carrying car nerd who makes a living writing about cars I'm concentrating on the cars, not on 'well Alex owes me £10 so I'm not giving him the vote this week'. It's never personal."
Grand Tour guru on why The Car Years is a hit
Porter is a judge on episodes that cover the years 1962, 1975, 1978 and 1986.
He admits some of the cars involved, such as the Lotus Esprit, Ferrari 308 and Porsche 928, are "bang slap into my childhood fantasy garage" and that it was difficult to choose a winner for each show. 
But the Top Gear and Grand Tour guru feels that dilemma and stirrings of nostalgia ensures the classic car feast will remain a hit with viewers ahead of its return on Monday 12th July at 8pm.
"It's a beautifully simple idea," Richard added.
"It's ingeniously simple to the point that when Jim (Wiseman, producer) told me about it I said: 'Has that not been done before? It feels like it should have been as it's a damn good idea'. It's a talking point, it creates debate in person and probably more so online and it's got that simplicity of a one-on-one rivalry, there's nothing better. 
"Within it it's got the layers of information, with the advocacy comes the dispensing of information and trivia – stuff we used to call on Top Gear 'pub trivia'. Things that you'd hear on the tv and we hoped that the next time you were at the pub with your friends you'd go: 'You'll never guess what, did you know…?' There's a good smattering of that in The Car Years.
"It looks spectacular as well because they shot it in Northern Ireland on some incredible roads around the coast. It's going to look really dramatic and the cars will get your heart fluttering if you're of a certain age. To see them then going along some absolutely gorgeous empty roads is a treat in itself."
How do I go about insuring my classic car?
Are you lucky enough to own one of the beautiful classics that will appear in The Car Years?
Or perhaps you own another piece of motoring heritage from the past that could?
If the answer is yes or no to one, or both, then Adrian Flux can still help. With over 50 years' experience of arranging tailored policies, we'll have classic car insurance cover to suit you and your treasured vehicle.