Towing a trailer or caravan for the first time can be a daunting task but here the team at Adrian Flux have come up with 12 handy tips for towing a trailer to help you pack up and head off safely, whether you are pulling holiday equipment or using a trailer for work.
As a specialist broker we don't  just insure your vehicle, it also has a specially-designed insurance policy to protect your trailer and its contents, so if the worst happens, you know your trailer is covered.
1. Pack your trailer carefully
Always load the front of the trailer first and place 60% of the weight forward of the front axle, distributing it evenly. 
2. Don't carry spare fuel
Empty flammable material – such as petrol cans – and never hang anything over the tailgate or tie anything to the top or outside of your trailer.
3. Pack your trailer securely
If something is moving around in your trailer it could throw your vehicle out of balance. 
Ensure your trailer load is as low as possible and, if necessary, secure using ropes and tie-downs so that your gear is firmly anchored. 
Improperly secured items can affect your vehicle's balance and trailer stability. You can read our blog for helpful tips on towing a horsebox. 
4. Change your driving style
Once your trailer is attached to your vehicle, it will handle very differently. 
You will need to adjust the way you drive and the precautions you take: first of all, check the tyres on the trailer are correctly inflated and reduce your speed. This will improve your control of the trailer and your fuel efficiency.
5. Planning makes perfect
Plan your journey ahead and look for hazards that could cause problems. 
Leave extra time and distance between you and other vehicles on the road when you are towing so you can stop safely.
6. Take your time when manoeuvring
 When towing, allow extra time for changing lanes and overtaking other vehicles – the addition of a trailer adds weight and length to the towing vehicle, meaning it will take longer to speed up.
7. Make wider turns than usual
Remember the extra length of your vehicle when reversing or travelling round bends or corners. 
Your trailer won't follow the exact path of the vehicle that tows it, so swing out wider than usual when you make a turn.
8. Work the gearbox
When travelling up large hills or along gravel-lined roads, engage a lower gear to ease transmission. 
Similarly, slow down before going downhill and, if needs be, use the same low gear as you make your descent.
9. Stay alert to hazards
Be on the look out for potholes or obstructions in the road which can damage your vehicle or trailer and affect stability.
10. Don't panic, don't brake too hard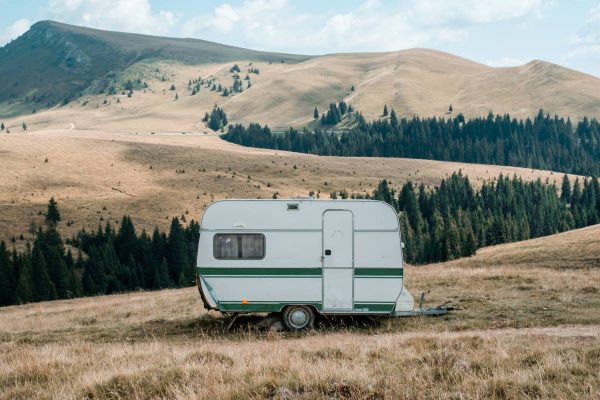 If your trailer begins to sway following a gust of wind or a larger vehicle driving past, gradually reduce your speed and steady the steering wheel. Never slam on the brakes or you are at risk of jackknifing.
11. If in doubt do not drive
Never tow a trailer that continues to sway. Stop, check tyre pressures and your towing gear. If they are OK, reload the trailer. If it persists, seek professional advice.
12. Park somewhere there is good access
When you park, try to find a place where you can pull forward to drive away so you don't need to perform a tricky reversing manoeuvre. 
Great insurance for you, your trailer and your cargo
Whatever trailer you need to tow, be it for work, holiday, or hobby, Adrian Flux offers a range of bespoke trailer insurance policies. 
Call 0800 369 8590 for a swift no hassle quote – 81.5% of all customers receiving an online quote in August 2022 could have obtained a cheaper quote over the phone. Alternatively book a callback at a time that suits you. 
If you're looking for something else to read, why not try our blog revealing eight ways to avoid breaking the law while towing a trailer?