Staying warm in your campervan during the autumn and winter months can be difficult, so if you have an out of summer trip planned it's a good idea to invest in a new campervan heater.
This blog answers all your questions about campervan heaters and which will be best for you and your van. 
What kind of heater will be best in my camper?
Before choosing a new heater for your van, you will need to consider what it is going to be fuelled by. You can choose between gas, petrol, diesel, electric or wood.
The heating system should work for, and in tandem with, your van. For example, if you want a diesel heater, it will help if your camper runs on diesel so you don't have to install an extra diesel tank. Similarly, electric heating is only suitable if you have access to a mains power supply as a vehicle battery will soon drain if it is used to power the heater.
The four main types of campervan heaters
The main types of campervan heaters are: 
1. Gas campervan heaters
A gas-powered campervan heater might be a good idea. You may well already have gas-powered appliances, such as a stove or fridge, so you will already have the fuel on board. 
However, it should be noted that campervans with gas heaters have to comply with many more safety regulations than those with other heating systems.
And not all gas heaters are suitable for use in enclosed spaces, so check the manufacturer's specifications before making a purchase. 
It's essential to ensure that the heater is correctly installed to prevent gas leaks and noxious fumes. For good measure and your own wellbeing, install a carbon monoxide detector in the van and ensure the batteries in it are working. 
Grasshopper Leisure has a good range of gas campervan heaters to choose from.
2. Petrol and diesel campervan heaters
If a gas heater is not an option for your motorhome, there are lots of other alternatives, including petrol and diesel heaters. A petrol heater can work if your campervan has a petrol engine, or a diesel one if you have a diesel van, as in each scenario it can be connected to the main fuel tank. 
A burner powered by petrol or diesel heats a heat exchanger and the warm air is circulated through the vehicle by a fan. A big advantage of petrol and diesel heaters is that you can buy fuel just about anywhere on your travels, at home or abroad. Every time you refuel your campervan, you are also refuelling your heater.
If you like the sound of a diesel or petrol campervan heater, Butler Technik has a wide selection. 
3. Electric campervan heaters
If you want to go eco-friendly, an electric heater might be the answer as it produces no CO2 emissions. The downside is that electric heaters are usually more expensive to run than gas, diesel or petrol heaters.
Electric heaters run on 230 Volts mains power and are not particularly energy efficient. Even if you have a built-in electric supply inverter in your van, the energy needed to power the heater for any length of time would exhaust your battery very quickly.
That means an electric campervan heater is only feasible if you always stay at campsites with electric hook ups.
Another benefit of electric heaters is that they provide a near instant source of heat. If you opt for a heater with a fan it will ensure heat generated is quickly circulated around the van. 
Propex has a good range of electric campervan heaters to choose from. 
4. Wood burning heaters
Wood burning heaters are becoming rather trendy in the camper community. That said, wood burning heaters are also the oldest and most traditional heating method. 
You'll need a wood burner that is small enough for a campervan but big enough to provide sufficient heat. Of course, cheap and sustainable fuel can be found everywhere and you can even harvest fuel for free if you have an axe or saw to cut up fallen wood.  
There are many reasonably priced wood burning heaters available and Vesta Stoves has a particularly good selection.
Safety: the number one priority with campervan heaters
Safety is crucial when it comes to installing any campervan heater and where possible that installation should be performed by a qualified tradesperson. 
Heaters should be fitted to the manufacturer's instructions, and safety kits – including a carbon monoxide monitor and fire alarm – are advisable. If you have a wood burning heater it would be a good idea to have a fire extinguisher and fire blanket too. 
There also needs to be distance between the stove and other objects in the campervan to prevent the risk of radiating heat from causing a fire.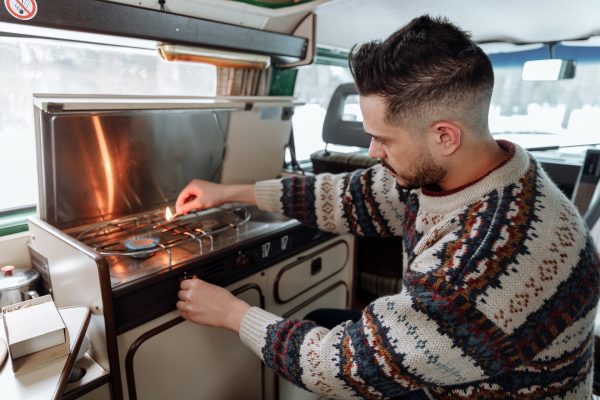 Is there anything else to consider about campervan heaters?
It will be a waste of money if you install a campervan heater without ensuring your van is fully insulated. Just like in the home, heat will escape through the roof and through windows so think about heavy curtains or even secondary glazing in the living area of your van and a layer of foam insulation for the roof. 
If you want some more useful information about motorhome and campervan ownership read our touring tips from seasoned campers. 
Looking for campervan insurance?
If you're looking for comprehensive campervan insurance you should go to a broker who is an expert in the field – pardon the pun – such as Adrian Flux. We have a range of bespoke campervan insurance deals and we can even provide insurance for your camping gear too with our personal possessions cover. Call 0800 369 8590 or book a callback at a time that suits you.