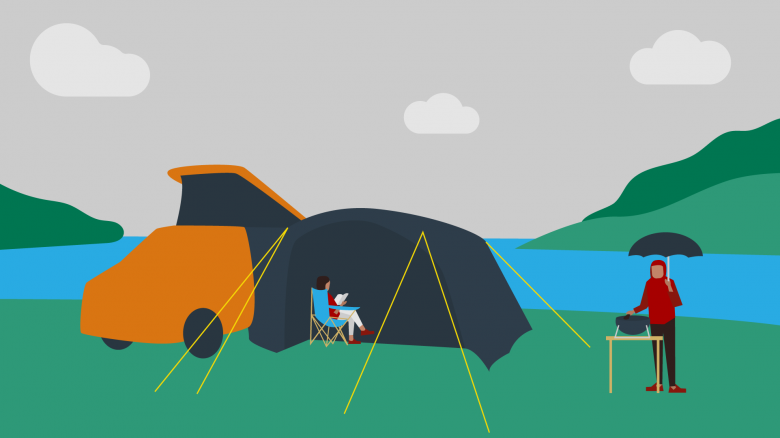 Many people are choosing to holiday in their caravan or motorhome this year. And we can see why; it offers travellers a safe place to rest their head at the end of a busy day seeing the sights. But what if it rains and you're forced to stay inside all day? In this blog, we give you a list of things to bring with you on your trip so no matter the weather, you'll have activities to occupy you.
Bring a barbecue
You never know when you'll be blessed with warm weather. And when great weather strikes, nothing beats gathering around the barbecue and enjoying tasty eats. There are plenty of compact portable barbecues you can take on holiday with you – or if you're staying at a campsite, you might find that there'll be open campsites where you can cook.
Bring your e-bikes or look into local bike hire companies
Image source: Jake Colling via Unsplash
Exploring the local area in your motorhome can get a little claustrophobic, which is why it's a great idea to bring your e-bikes with you on your trip. Of course, regular bikes will work too, but e-bikes will allow you to travel longer distances without getting as tired. Bikes are great if you're staying near a wooded or grassy area where you can't drive a campervan.
And if you don't own a bike, or you don't have space to pack them? There are plenty of bicycle hire companies local to most areas of the UK, and they're really convenient to use – it doesn't hurt to research these before you travel. You might need to register and reserve your bikes beforehand, so get in touch with the companies beforehand if necessary.
Bring a deck of cards and new board games
If you play games on a regular basis, you might think that this activity is too similar to your regular weekend activities when you're at home. However, it can be a relaxing and fun way of whiling away a few hours.
A great idea is to bring along a new board game or research new card games specifically for your trip. This will add a sense of novelty to your holiday.
Bring your paints
Image source: Kai Oberhäuser via Unsplash
You never know when inspiration will strike, so if you're going to be surrounded by gorgeous nature during your trip, you could bring along your paints. You might find that you want to paint some of the landscapes or creatures you spot during your travels. Even if you're stuck inside, you could draw everything outside your motorhome window, or draw from photos you've taken throughout your travels.
This is also a great hands-on activity for kids if you're travelling as a family.
Attach an awning to your campervan
If your campervan or motorhome isn't decked out with an awning already, it might be a great idea to attach one – especially if the weather is temperamental in the place you're staying.
Being cooped up inside your van for hours on end isn't ideal, especially if you're travelling with other people and space is limited. An awning is a great way of helping with this; it offers you protection from the elements and fresh air.
You'll probably need to pack a few other things to make using this space comfortable, including:
Chairs, preferably foldable ones to save space in your campervan
A table for your drinks or activities, preferably collapsible to save space
A light source, such as a lantern, LED awning lights, or a lamp
Bring books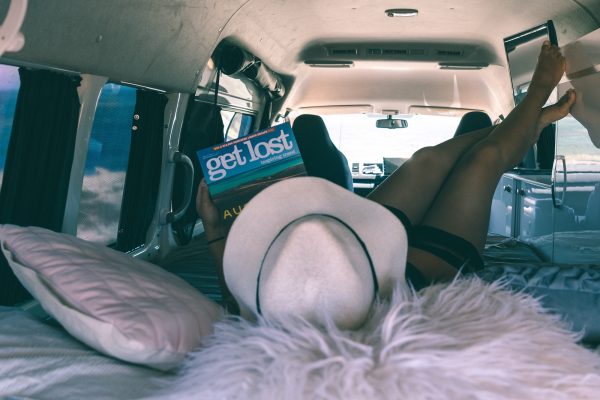 Image source: Jake Stone via Unsplash
There's nothing like getting stuck into a good book while the rain is pouring down outside. Doing so can while away a good couple of hours, especially when it's paired with a warm cup of tea and some biscuits. And if you have kids, you could turn this into a family activity – bring along your favourite childhood books and you could explore a new setting together.
Bring electronic devices – and remember your chargers!
Sometimes all you want to do after an active few days is put a TV show or film on and relax. Bring electronic devices such as laptops or tablets and you'll always have an activity to fall back on for those lazy evenings. Just be sure to pack your chargers too!
And if the rain doesn't deter you, you can also explore the local area
If the weather isn't supposed to be too bad, you might want to explore the local area. Here are a number of activities you can enjoy even if it's raining.
Explore local pubs and cafes
Image source: daan evers via Unsplash
You don't have to stay cooped up inside all the time even if the weather is bad. Instead, you could explore local pubs and cafes to get a taste of local life. You might even want to try regional food delicacies from your local area, such as stargazy pie in Cornwall, Welsh rarebit in South Wales, scotch eggs in London or black pudding in parts of Scotland and Northern England.
Enjoy some outdoor activities
The wildlife you see when it's raining is vastly different when compared to the wildlife you see when the sun is shining. If you're travelling with kids or you're a nature enthusiast yourself and you don't mind a little rain, you could travel down to a wooded area and explore the local flora and fauna. The trees should give you some cover from the rain too.
Alternatively, if you're by the coast you could explore some of the caves as this will cover you in the rain. Just make sure you're aware of tide times as this will affect what time you should set off and leave the cave.
Look into local rainy day activities
Let's face it: rain is pretty much a given on most UK holidays. Many local tourist websites cover rainy day activities in their local area. If you've exhausted our list and the kids are getting fidgety, it's a good idea to check activities in your local area. You might find that the area has a number of museums, resorts, aquariums or zoos you can explore too.
Make sure you're covered with motorhome insurance
Even the most carefully thought out plans for your holiday can go down the drain if you get into an accident or breakdown on your way to your destination of choice. That's why we offer affordable insurance for your campervan, caravan or motorhome that's tailored to your needs. Whether you've converted the van yourself or it's brand new and this will be your first journey, give us a call. Our cover can be tailored to your needs – we can include:
Breakdown cover
European travel
Imported vehicle cover
Personal possessions cover
Cover for any bikes you take with you on your trip