More than a fifth of travellers only fly with hand luggage for a fortnight break to avoid checking in a suitcase – but a third are fined because their bag is too heavy and airlines are increasingly cottoning on to the fee-avoiding ruse by introducing new charges for carry-on bags.
The benefits of only travelling with hand luggage are clear: it's quicker because you don't need to check in or wait for your bags on the dreaded luggage carousel, you can leave the airport faster to begin your holiday or get home faster, it's safer because your bag stays with you at all times and it's cheaper to travel with one bag.
Granted, you can't take as many of your belongings on holiday as you might like, but isn't going on holiday supposed to be about avoiding stress rather than creating even more for yourself with lost luggage and endless queuing?
Adrian Flux can not only help you find the right holiday insurance quote for you and your family, we can also help you with your packing – check out our list of 10 ways you can travel light and pack for a fortnight's holiday using just one carry-on bag.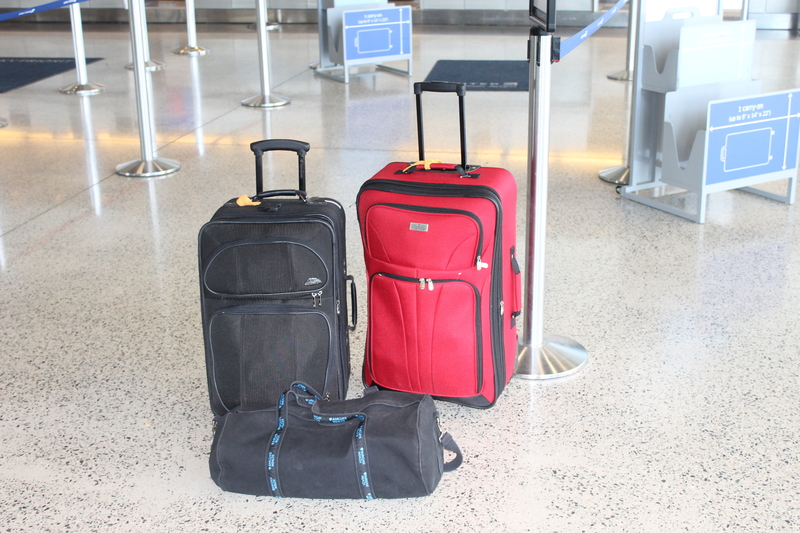 Travelling light: How to pack hand luggage for a two-week holiday:
Make sure you have the right-sized bag for your airline – sizes that are permissible can vary from 56cm x 45cm to 50cm x 40cm and if you get it wrong, you'll be fined. If you have a bag made of material you'll be able to fit more inside it than a case with a hard shell, but this can also encourage you to flout the weight limit, so keep an eye on the scales. If your bag has pockets on the front, you can use this area to store travel documents and liquids, especially if you aren't allowed to take a handbag in addition to your carry-on luggage.
On the day you travel, wear your heaviest items – walking boots, a coat, jumpers, hoodies, jeans – you may feel as if you're preparing for a trip to the Polar ice caps, but you can always remove coats and jumpers when you're through the gate and onto the plane.
Similarly, use the pockets in your jacket or coat to take heavier items on board which can be transferred into your bag once your journey begins – make sure belongings are safely zipped into place. This way, you can carry items such as your phone chargers, your camera and other tech items. You can also store your travel documents in zipped pockets.
When it comes to tech items such as iPads, phones and laptops, pare down what you need and make your technology work for you: download guides to the area you're travelling to and consider using your tablet as a camera and so forth.
Things not to take in your bag: every single beauty product you own (take the bare minimum – you can always buy when you're abroad and remember to find out if the hotel you're staying at offers complimentary toiletries), jewellery and valuables, unnecessary gadgets, more than one book and clothes for every single weather possibility (you can always pick up a cheap rain poncho).
When you choose clothes, pick a capsule wardrobe that coordinates to create multiple outfits. Remember that you can buy detergent at your holiday destination and wash t-shirts, underwear, socks and other smaller items in your hotel sink. If a piece of clothing doesn't work with other items, leave it at home.
Roll clothes rather than folding them. Not only will you be able to fit more clothes in your case, you'll also minimise wrinkles so that your outfits will arrive at your destination ready-to-wear (and if they're not, try hanging them in a steamy bathroom to steam out any creases!).
Don't overfill the front and side pockets of your hand luggage – if an airline uses a measuring rack for your case, overstuffed pockets may stop it from fitting. And on this note, if your case is on the edge of being overfilled, try putting it in the rack upside down – it's likely to be fuller at the bottom than the top which makes it easier to fit inside the rack if it's the wrong way up!
Fill in any gaps in your carry-on luggage with smaller items such as scarves or pashminas, socks, underwear and chargers for your electrical items.
Try using a vacuum travel bag. These are a great way to squeeze every last bit of air out of your hand luggage to give you more room to fit your gadgets and necessities for your journey.
Before you get packing, make sure you've got the holiday insurance that you need for peace of mind: Adrian Flux has a huge range of bespoke insurance policies to suit every holidaymaker, from multi-trip policies to single trip travel insurance. Call 0333 5555000 or visit Adrian Flux for a tailor-made quote.