All the major motor manufacturers are jockeying for position to be the No 1 EV supplier on the market – but which is the best electric car to buy for 2018?
Tesla led the field when in 2008 its Roadster was the first production car to use lithium-ion battery cells and the first production EV with a range of more than 200 miles .
Between 2008 and March 2012, Tesla sold more than 2,250 Roadsters in 31 countries.
Model S: best electric car sales for two years running
The company's Model S was the world's best-selling plug-in EV in 2015 and 2016 and global sales reached the 200,000 units by the end of 2017.
In September 2015 Tesla released the Model X, a crossover SUV and the Model 3 was released in July 2017. Tesla production passed 300,000 vehicles in February 2018.
Fierce competition to produce the best electric car
While Nissan sits on Tesla's shoulder with the highly popular Leaf, everyone from Hyundai to Aston Martin have now seen how lucrative the EV market can become and are developing their own ranges and trying to make up lost ground.
Here are the best electric cars on the market – taking into account price and performance – according to the switched on EV experts at Adrian Flux.
But be warned, three manufacturers seem to be getting their highly polished bumpers in front of the competition with two models each in our top 10.
The best electric car for 2018?
We have to start with Elon Musk's Tesla Model S. Tesla set the trend for a generation of motor manufacturing and most car makers are still playing catch-up. The Model S aimed to be the safest, most exhilarating saloon on the road. It accelerates from 0 to 60 mph in as little as 2.5 seconds.
The British-built New Nissan Leaf won Best Electric Car at the WhatCar? 2018 Awards. With Nissan Intelligent Mobility technologies such as ProPilot and e-Pedal, it didn't win just because it's electric it won because it "combines excellent performance with generous standard equipment and low running costs".
The BMW i3 was designed from top to bottom with sustainability, exceptional looks, outstanding handling, driving dynamics and battery performance in mind. It aims to "strike a balance of sharp, sporty lines on the exterior and an open and flowing interior". And a pretty good job it does too.
The Volkswagen e-up! GTI is a small hatchback with a great big heart and super smooth acceleration (0-62 in 8.8secs). It has newly designed body panels, a new range of colours, new wheels, redesigned interior and new infotainment system, all for under ten grand. It's the VW entry level model but its a bargain!
The Renault Zoe was Europe's number 1 selling EV last year and its popularity should not decrease this year. Renault has introduced an updated R110 motor delivering improved performance, as well as new Android Auto compatibility, and a new colour range. The Zoe Dynamique Nav starts ar £18,420 while the Signature Nav weighs in at £20,670.
Coming in fifth in our best electric car to buy for 2018 comes another VW, the e-Golf. It's a Golf so what's not to like? Everyone who's owned a Golf will feel at home in the driving seat of the new model, even though the dashboard display shows information like battery life instead of a fuel gauge and rev counter.
The Smart ForTwo ED promises more fun in the city and with a range of up to 99 miles that is exactly what it delivers. Incredibly cheap to run and costing around £21,000, the ForTwo tops at 80mph and will hit 60mph in 11.5sec from a standing start. It will charge in two-and-a-half hours on a dedicated charger of in six hours from a domestic socket.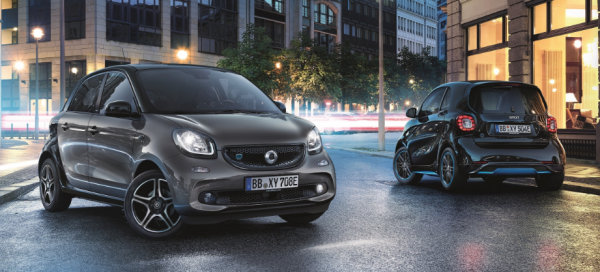 The Hyundai Ioniq comes in at 25k and is packed with sophisticated extras such as Blind Spot Detection, Autonomous Emergency Braking and Lane Departure Warning System. Sleek and aerodynamic in appearance, the Ioniq should take you in excess of 170 miles between charges. Charging takes a little over four hour or 30 minutes on fast charge.
Take a compact family MPV – versatile, well-equipped and with room for up to seven then add 100% electric power – that's the Nissan e-NV200. Start the day on a full charge for a range of up to 106 miles. It is packed with innovative technology such as the Intelligent Key and Hill Start Assist – features that make driving easier and safer.
We finish where we started with Tesla and the Model X, billed as the safest, fastest and most capable SUV in history. It has all-wheel drive and a 100 kWh battery providing a range of 351, and seating for seven. It accelerates from rest to 60mph in 2.9 seconds but it comes at a premium: 60 or 70k depending on the custom setup you opt for.