Last Updated on
Personalised number plates inspire a Marmite state of mind – you either love 'em or hate 'em.
No matter where you stand on private number plates, one thing's for sure, a small minority of motorists are shelling out an absolute fortune to get their hands on them.
The DVLA has been selling cherished number plates for 30 years and in that time they have knocked out almost six million and raised £2 billion for the Treasury.
Here the team at Adrian Flux insurance services provide the answers to some of the questions you have been asking about private registration plates.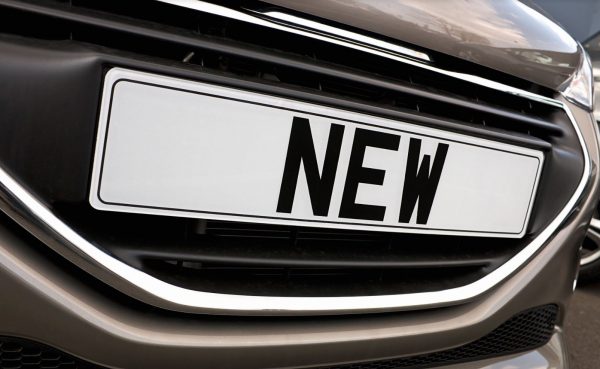 How much will a personal registration cost?
Last year the sale of DVLA registration plates brought in £116 million, most of which came from the thousands of more affordable registrations which cost from as little as £250.
However, some people are prepared to spend much, much more. The 12 most expensive personalised registration plates sold on the DVLA site are:
25 0 – £400,000 in November 2014

1 D – £285,000 in March 2009

51 NGH – £201,000 in April 2006

1 RH – £196,000 in November 2008

K1 NGS – £185,000 in December 1993

KR15 HNA – £180,000 in May 2015

1 O – £170,000 in January 2009

1 A – £160,000 in December 1989

1 OO – £156,000 in April 2006

2 O – £115,000 in March 2009

6 B – £101,700 in September 2008

25 OL – £100,500 in November 2007
Where can I find personal number plates for sale?
Most private car registration plates for sale are advertised on DVLA auctions – the first was in 1989 and the very first plate to go under the hammer was 99 MG, selling for £8,000. The most paid that day was £160,000 for 1 A.
You can also find personalised car registration plates for sale at motor and memorabilia auctions, by private dealers and by members of the public.
Do personalised number plates affect insurance costs?
While your personalised registration can help your car stand out from the crowd, it will not suddenly morph into a greater insurance risk.
Insurance weighting is worked out using statistical analysis and there are no stats that suggest you will become a worse driver, or have more accidents, or that your car will be a target for vandalism, simply because you have fitted a personal number plate.
Brokers are emphatic, it won't cost you more to insure a car fitted with a personal plate.
How can I protect my new plate from theft?
Number plates can be fitted to your car, motorcycle, trailer or caravan using tamper proof screws which are readily available from most DIY stores and garage workshops. They are not guaranteed to prevent the theft of the plate but they will certainly complicate and delay their removal if someone is determined to steal it.
How do I transfer a personalised plate to my car?
If you've already bought your cherished number plate and want to keep it when you sell your car, you can do this through the DVLA website for £80.
If you have the plate but no car to put it on, don't worry. The DVLA will let you keep the plate until you're ready to register it. When you do so you will need the new car's registration document (the logbook or V5C) and the transfer can be done online between 8am and 6pm, Monday to Saturday.
Transferring registration plates from car to car online is a very quick and simple process.
What are the laws concerning personalised registration plates?
While it's fairly simple to buy a personalised number plate if it is available for sale, there are a whole host of complicated guidelines and rules about how the plate can be displayed on your vehicle. And there are different rules for plates on motorbikes rather than cars.
The plate must be made of reflective material, front plates must have black text on white and rear plates must have black text on yellow. The font is standard as is the size and there can be no italics or strategically located fixing screws to disguise the registration number.
The police can issue a fixed penalty notice up top £1,000 for incorrectly displayed number plates and an incorrect plate could lead to an MOT fail.
Exact dimensions of plates and lettering can be found on the Government website.
Where can I get a plate that's truly out of the ordinary?
Some people, such as motorcycle enthusiast Paul Stewart from Hemel Hempstead in Hertfordshire, are quite fanatical about their personalised number plates.
To celebrate the making of the 25th James Bond film due to be released in spring 2020, he bought a very special 007-themed registration number.
It is AO07 HMS, which as far as he is concerned, stands for Agent 007 Her Majesty's Service. While the small print beneath the registration reads Q Division (MI6) – 85 Albert Embankment, London, which is the postal address of MI6.
He did a registration plate check with the DVLA which confirmed A007 HMS is completely street legal and could be registered for any car or motorcycle, though Paul reckons it would go a treat on a James Bond Aston Martin stuffed to the gunnels with gadgets.
If you are looking for new motor insurance you will be pleased to know that Adrian Flux has almost as many bespoke policies as Bond has gadgets. Eight out of ten Adrian Flux customers obtained a better insurance deal over the phone. Call 0800 369 8590 or book a call back at a time that suits you.