Car insurance for carers can get complicated, not least because more than one person may need to drive the vehicle and it may have to be adapted to be up to the job.
Nonetheless, many carers still choose to use their own cars to carry disabled people and to do odd jobs for them.
Adrian Flux specialises in insurance for people with disabilities, and for those who care for them. Here the broker's car experts answer your most frequent questions about car insurance for carers.
Do I need special car insurance for carers to carry those I look after?
In most circumstances, you will just need a standard policy, with personal business use added. This may increase your premium by 25 to 30%. If you are paid for the journey itself, as if you were a taxi, you will need to talk to your insurer as that will affect your policy too.
What happens to my insurance if I adapt my vehicle for disabled passengers?
You need to tell your insurance company about any modifications, including ones to help disabled passengers. Some insurers may refuse to cover an adapted vehicle. However, insurance specialists such as Adrian Flux, which has a panel of around 40 insurance providers to consult, should be able to find a suitable policy and, in many cases, the modifications will not affect the premium.
Will the modification be covered if it's damaged in an accident?
Again, your insurance should cover you for this. Most Adrian Flux policies cover adapted vehicles' modifications and parts on a 'new for old' basis.
Can other drivers use the car if it has been modified?
If there is more than one driver involved it will be worth talking to your insurance broker. Ask if they allow carers to be named drivers on policies, or if they can set up a policy that allows any driver to use the vehicle. This will help keep total costs down.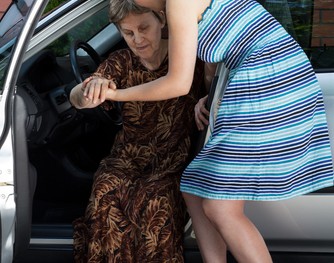 What if the other driver is a family member who is under 25?
Many insurance companies don't like named drivers on standard car policies to be family members under 25. However, if there is a valid reason for them to be on the policy, such as the need to transport people with disabilities, then companies like Adrian Flux can use common sense and will normally accommodate them.
Talk to an expert about car insurance for carers
It's always worth talking to an insurance broker who specialises in insurance for people with disabilities, since they will have expert knowledge and be able to offer specialist policies for most eventualities.
If you have a general inquiry about car insurance for carers and people with disabilities Adrian Flux will be able to help with some expert advice. Call 0800 369 8590 for a quote request a free call back at a time that suits you during business hours.
For more advice consult Carers UK or NHS Carers Information.