Have you been considering an electric car? Or maybe a classic car? Maybe a combination of the two – giving economical motoring in a retro package.  How much would such a solution actually cost?
Why would someone convert a classic car to electric?
As well as more economical motoring, an electric conversion will usually improve the acceleration and potential top speed of the classic cars. Engineers are able to get a better weight balance in the car too, by placing batteries front and rear giving better drivability. The maintenance costs will reduce too, as there are fewer moving parts.
It's an appealing mix. The electric car conversion industry sees a wide range of people of all ages showing interest in classic EVs. It claims to get people interested in classics that might previously have been put off by trying to maintain an old Internal Combustion engine (ICE). Furthermore, some classic car lovers are learning to embrace an alternative technology to keep their beloved vehicles drivable in the modern age.
It's possible you could attempt the conversion yourself if you had enough experience, training and know-how, but getting it wrong is incredibly dangerous and so it's best to get the conversion done by a reputable company.
We've featured vehicles from some such companies over on Influx, from diminutive cars like a classic Mini and a Fiat 500, up to supercars like the Porsche 911. But is there a way to try and calculate the cost of these conversions?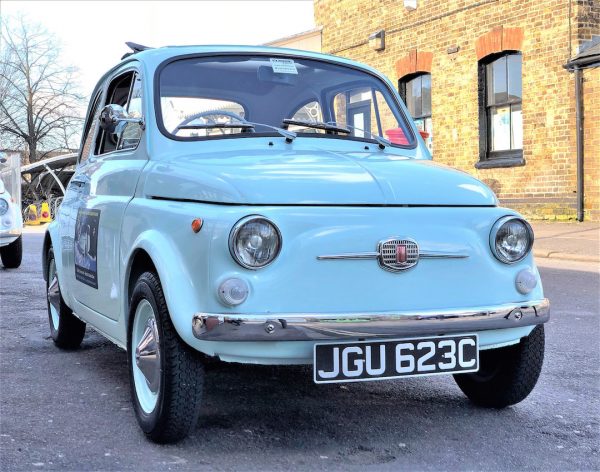 It's not an easy thing to do, but Jon Peck from Electric Classic Cars (ECC), the creator of two of the aforementioned cars, gave us a great insight about the process and what's possible – and plausible – as well as some idea about the costs involved.
A lot of the cost will come from the donor vehicle itself and any restoration work needed, but Jon advised us (slightly hesitantly) that any classic car could be considered for conversion, so you can try to keep that in mind when working out your overall budget. Some smaller vehicles may be cheaper but they might present issues when fitting motors and enough batteries. Having said that, ECC will be converting a BMW Isetta at some point later this year or early next year, and Jon admits this will be a challenge due to its size.
As the cost of the donor vehicle can range massively depending on condition, type of car etc. it's probably fair if we just consider the cost of the conversion itself.
The costs involved with converting your classic car to electric
Firstly, how do you get the extra parts? Where do the motors, batteries etc. come from, and what do they cost?
Some of the motors are newly manufactured, with engineers using motors that are made for the industrial market. As a cheaper solution, a popular source is insurance write-offs – currently mostly Tesla. The batteries ECC uses are generally these write-offs or ex-test batteries for the EV market, manufactured by Tesla and LG Chem.
MOTs are generally unaffected, most of the classics ECC do are MOT exempt, and obviously it won't need an emissions test, as there are no exhausts. Typically the conversion company does not interfere with the chassis or structural integrity of the car either so there's no need for an IVA test, just a registration with DVLA of the change to an electric drive unit.
Let's start looking at basic costs for all this to happen. According to ECC, a Fiat 500 conversion would cost around £16k in parts, £6k for their labour and you could buy a donor vehicle in good condition for around £10k with only minor work required.
If you have the donor Fiat 500 ready, this conversion would therefore cost around £22k. Some companies may be able to offer cheaper conversions than ECC, but this is the cheapest conversion that they could do.
If you want more than a basic Fiat 500 conversion, then you could easily spend over £75k for bigger cars with higher performance and longer range.
Don't forget there are savings to be made, though. According to research by ECC, the fuel cost can reduce by up to 17 times if you use the right overnight tariff and have home solar power. Even without this, the fuel cost is reduced by up to 5 times that of petrol or diesel. If you live in a city with restrictions based on emissions, too, you could save even more. And for vehicles that wouldn't have been VED-exempt, there's savings there, too.
Let's put that "17 times" into context. At Adrian Flux, we often see classic car policies for cars that do around 5,000 miles per annum. Doing those miles in a classic car (like the Lancia Fulvia that ECC converted recently) would have set you back around £970 (based on 29MPG and petrol at £1.24 per litre = £5.64 per gallon). This annual cost could drop to just £57 – meaning over £900 would be saved in one year on fuel alone.
Finally, after converting the car to electric you'll end up with a pile of parts you no longer need – engine, exhaust etc. These parts often have used value but again this varies greatly depending on the car & condition, and selling them on could help offset some of the cost of the conversion.
In summary, the cost starts from just over £20k – but with years of savings ahead of you, that cost is much lower in real terms.
What car would you like to convert?
Get insurance for your converted classic car
If you've decided to convert your classic car, you'll need modified car insurance. Call Adrian Flux on 0800 369 8590 for a free, no-obligation quote. 81.5% of all customers receiving an online quote in August 2022 could have obtained a cheaper quote over the phone, based on the information they provided.
And if you've decided to convert your classic motorbike to electric, speak to our motorcycle department, Bikesure, for more information.