Autumn is nearly upon us, and with it comes the changing of leaves and brisker weather. So what better way to enjoy all the glorious shades of orange and red than to take a trip in your car, where you can blast the heat if need be after a long walk through crunchy leaves? In this blog, we map out the best routes to drive this autumn.
Chepstow to Monmouth through the Wye Valley
The Wye Valley is home to a number of famously beautiful spots, including Tintern Abbey and the Forest of Dean. Many choose to visit simply to take a boat along the Wye River, which is certainly a great choice for those who love seeing autumnal foliage.
If you'd prefer to stay in your car, you can follow the B4293, then take the third exit on the first roundabout. From there, you can simply follow the A466 up to Tintern Abbey, where you can stop for a short rest to take in the gothic church surrounded by turning leaves (and perhaps to pen a few verses). You can visit the ruins, though please note you'll have to pay an admission fee to do so.
Follow the river (and the A466) up to Mayhill and you'll be just a few minutes to Monmouth. Note that if you follow the A4136 from here, you can also stop off for a walk at the Forest of Dean, which will be blanketed in autumn leaves. Staying at Monmouth or one of the guesthouses in Wye Valley will allow you to explore much of the valley during your stay.
King's Lynn to Great Yarmouth
Fancy a coastal drive? The coastal route from King's Lynn to Great Yarmouth offers some superb views across the sea, and there are plenty of beautiful villages along the way. Stop off to take in the autumnal colours and a rest from driving.
There are also a number of nature reserves along the way, such as Holkham National Nature Reserve and Scolt Head Island National Nature Reserve, both of which are great places to do a little birdwatching. You could also stop at Felbrigg Hall for a cup of tea and a wander around the vast estate. The estate includes a woodland and lake, making it ideal to take in the autumnal colours, and they also decorate the hall for harvest time.
Southampton to Bournemouth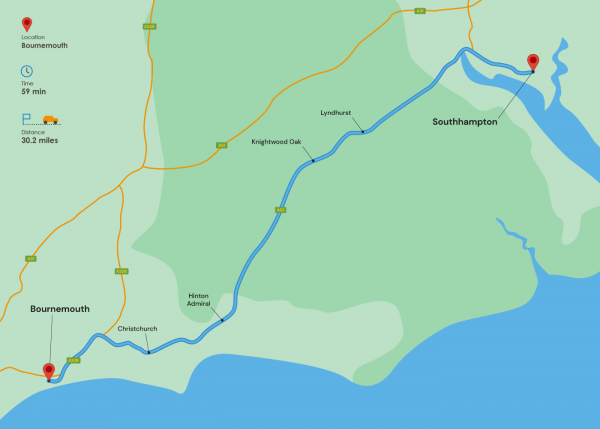 Journey from Southampton to Bournemouth (or the other way around) and you'll pass through the orange and golden trees in the New Forest National Park.
There are a number of car parks if you want to stop off for a walk – you could even stop by to visit the Knightwood Oak, otherwise known as the Queen of the forest, which is over 500 years old. If you take the A35 instead of the A31 then turn right at Bolderwood Arboretum Ornamental Drive, you should be able to park around here and take a walk to see the tree.
Kendal to Keswick, Lake District
Driving through the Lake District allows you to see a great deal of the national park without having to hike, making it a great option when the weather's changing.
Many consider the A591 the pinnacle of scenic driving routes, and thankfully the journey from Kendal to Keswick (or vice versa) is mainly on the A591. There are plenty of great places to stop here, including Kendal Castle, Lake Windermere – where you can swim or simply take in the gorgeous views – and Thirlmere reservoir.
Bear in mind that the road can get fairly busy, but it's well worth the trip. The Lake District can be a little less busy over the autumn months so it's well worth a visit! And with Borrowdale right near Keswick, you'd be remiss not to visit. Borrowdale is the most wooded valley in the Lake District, so autumn usually brings with it a vibrant range of colours, from reds, auburns and oranges to greens, yellows and golds.
Perth to Pitlochry, Scotland
Perthshire is arguably best seen in autumn. With many mountains and forests, the scenic route from Perth to Pitlochry will provide you with some great views. It's best to avoid the A9 even though that's the fastest way to get from Perth to Pitlochry – we much prefer taking the A93 and then the A924.
If you have the time, a trip up to Cairngorms National Park would be well worth the extra journey as it's covered in a diverse range of trees that turn all sorts of colours in autumn.
Remember your car insurance
Whether you're going for a day trip or you're off on a staycation, make sure you've got the right car insurance in place before you travel. At Adrian Flux, we offer short term car insurance for your time on the road. Whether you're travelling in your standard car, your classic, converted campervan or motorhome, give us a call on 0800 587 5422 to find out more.