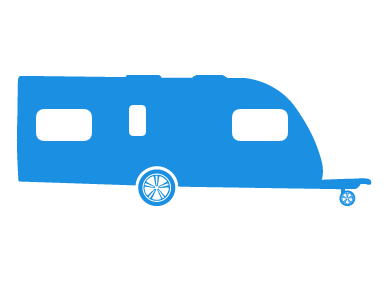 Get great value for money with comprehensive caravan cover from Adrian Flux. So whether you have a 2 berth touring caravan, an 8 berth static caravan, a large European van or a folding caravan, we have a suitable, affordable caravan insurance policy for you. We search a wide range of specialist schemes to find the most appropriate policy for your needs, for a price that won't break the bank. So why not give us a call for free on 08000 83 88 33 and get a no hassle, tailored quote today.
Static, Touring and Folding Caravan Insurance from Adrian Flux
Caravan Insurance Policy Features
Free legal expenses cover included on every policy
New for old cover available on newer caravans
European cover up to 120 days FREE
Public Liability Cover £1,000,000
Weather damage to awnings covered
Monthly instalments available
Imported caravans including Hobby - for import caravans we offer special schemes for high quality, yet surprisingly cheap caravan insurance
UK static caravans can take advantage of optional cover for hire & reward lettings
Up to 25% discount for No Claims Bonus
Cover available for high-value touring caravans with no upper limit on car van value, subject to suitable security precautions
Agreed value option for caravans over 5 years old
Combined cover available for caravans and contents
Finding Cheap Caravan Insurance Quotes
It is not a legal requirement to insure your caravan, so you may be wondering to yourself " Why do I need caravan insurance?" But caravans cost a lot of money to replace, and insurance can be surprisingly inexpensive, so skimping here can prove to be a false economy.
All our policies are designed especially for the out of the ordinary and our staff have a high degree of knowledge in this field, which means they can find you cheap caravan insurance, whether you have an imported Hymer or Tabbert van, or if you have a trusty Bailey or Abbey. We offer cover for all manner of unusual and individual caravans, so if you have a classic Airstream, a folding caravan, or a larger imported caravan from Europe, we can help you find the right policy, for the right price.
With discounts for members of touring, camping and caravanning clubs, as well as great deals when you obtain your car and caravan insurance together with Adrian Flux, we are confident that we offer some of the best insurance services for UK caravan owners, whether you own a UK model, European or US import.
Specialist Caravan Insurance
As specialists, our team of caravan insurance experts are able to help with all types of caravan including:
Static Caravan Insurance
Touring Caravan Insurance
Folding Caravan and Trailer Tent Insurance
Fifth Wheeler Insurance
Imported European Caravan Insurance
Imported American Caravan Insurance
Classic Caravan Insurance
Park Home Insurance
The Adrian Flux team assesses every quote individually, unlike online computer rating systems we calculate each risk and provide you with a quote that is tailored to your specific caravan insurance needs. When you call, your quote will be handled by an experienced underwriter, not just a button pusher, who will search tailor made caravan insurance schemes to find the best policy for you.
Quick, cheap quotes by phone - Simply call 08000 83 88 33.
Or, if you would like to request a convenient call back, please complete the call me form for an immediate touring or static caravan insurance quote.