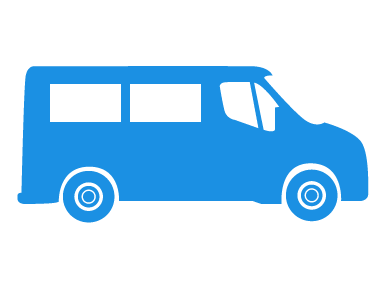 Whether you live in a bustling city, quiet suburbs or remote countryside, minibuses are practical because of their capacity to transport people and luggage from place to place. If you hire your mini bus for private use, you'll want to make sure you find a reliable and good value insurance policy to keep your running costs as low as possible.
Perhaps you hire your minibus for:
Large taxi hire
Airport transfers
Hen and stag dos
Community help
Parties and weddings
Adrian Flux is the go-to insurer for minibus taxi insurance and can quickly compare policies which are suited to your needs and budget, providing you with a time and money saving service.
Adrian Flux guarantees great quality service and provides
Price checks across the UKs leading insurers for a policy to suit you
Experienced insurance experts dedicated to finding you a great value deal
Free 24 hours claim line dedicated to all customers
Great savings available with all major insurers
Payment installments available for policyholders
To find your perfect policy for your minibus taxi call now on 0800 369 8590
Private minibus insurance
Adrian Flux can provide insurance for private minibus owners who are looking for a reliable, established and professional service. If you use a minibus as a family vehicle, transporting kids to and from school and sports events, and going to see family, having an insurance broker who takes the time to search through hundreds of policies available to find you the right one, is a great time and money saver. We make sure that your policy suits your requirements and is cheap whilst not compromising on quality.
Adrian Flux's policy can keep your costs low by offering great discounts for No Claims Bonus, limited mileage and mature drivers. Contact our team of insurance experts on 0800 369 8590 for an insurance quote and find out why we are the UKs leading specialist in insurance.