Temporary Motorhome and Campervan Insurance
If you only use your motorhome for a couple of months a year, call us for an affordable short-term motorhome insurance quote that's tailored to your needs. Travel in Europe is included as standard.
Existing customers please call:
What is temporary motorhome insurance?
Short-term motorhome insurance covers you for a short period of time to drive a motorhome. This is perfect if you own a motorhome and only drive it during the summer months for family getaways.
We also offer temporary insurance for campervans if required.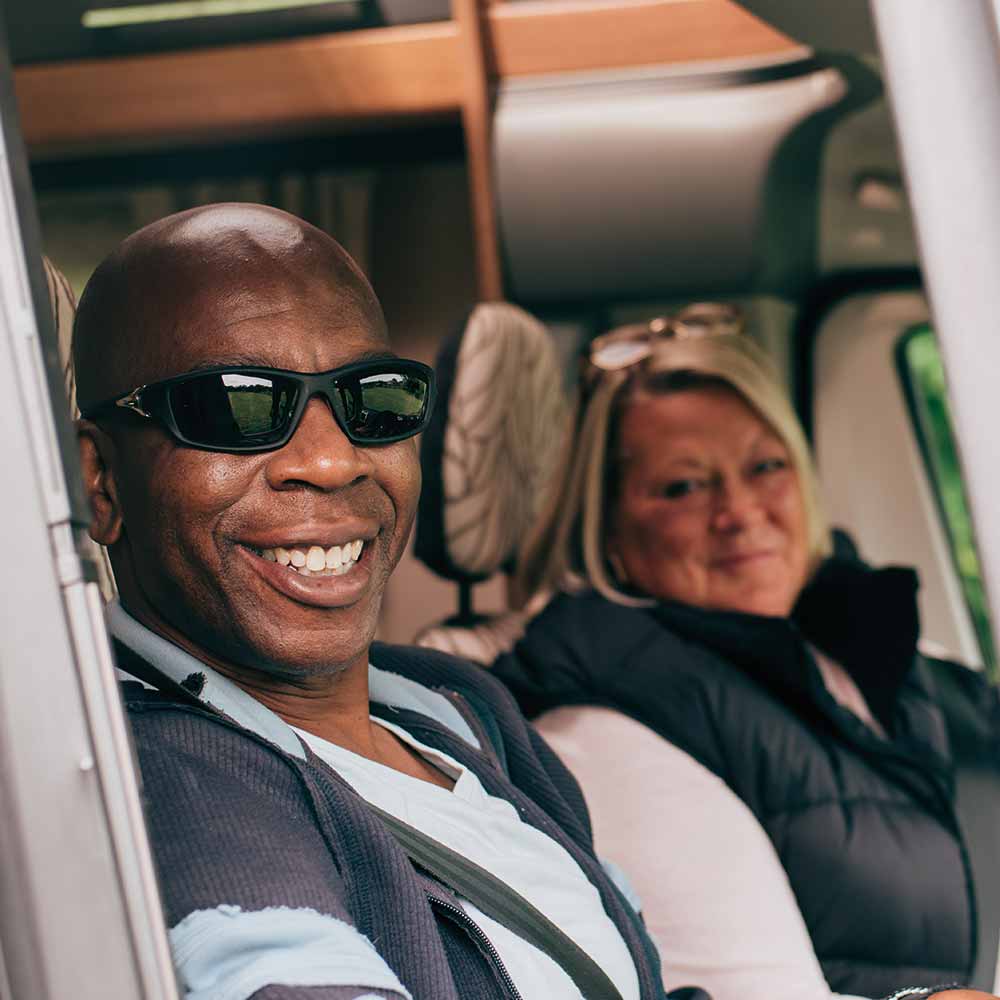 Do I need short-term insurance for my motorhome or camper?
Taking out insurance is a legal requirement, even if you're only going to use your vehicle for short periods of time.
Note that if you only drive your motorhome or camper for short periods, you might need to declare your vehicle as off the road (SORN) for the rest of the year. This is particularly important if you don't want to take out an annual insurance policy and only want to get cover when you use the vehicle.
If you make your vehicle SORN, it's a good idea to take out laid-up insurance, which protects your motorhome or campervan against damage from fire or theft.
How much does short-term motorhome insurance cost?
Temporary motorhome insurance can be more affordable than you might think, especially if you've got previous experience driving a similar vehicle or you've built up a no claims bonus (NCB). Taking out cover for just a month or two instead of a full year can also be a more affordable option if you don't use your motorhome all year around.
We compare quotes from over 30, meaning we're able to source affordable cover where other provider cannot.
Which motorhomes and campers can I get temporary cover on?
Temporary cover is available for all makes and models of motorcaravan. We have classic and modified policies for VW campers all the way through to modern motorhome policies for a top-spec American fifth wheeler RV.
How long can I take temporary motorhome insurance out for?
We offer temporary cover for as long as you need, all the way up to a year. This is when you'd then need to take out our regular annual motorhome or campervan insurance policy.
Note that if you need instant comprehensive cover, you can take this out for between seven and 30 days.
FAQs
Our temporary motorhome insurance includes the following as standard. We're also able to tailor the cover to suit your needs.
Audio cover for equipment with a value of up to £400 as standard

Up to £1,000 windscreen cover on selected policies

Includes up to 90 days' cover for travel in the EU

Contents cover can be included on your policy

Some schemes can include non-standard content cover
Not only does our short-term motorhome insurance provide you with the ideal platform for motoring holidays and short-term ownership, but it also offers all the benefits and protection that you could expect from any of our full policies.
Seven to 30 days' instant comprehensive cover

Claims on temp cover don't affect your NCB on your annual

motorhome insurance

policy

Instant cover from the moment you take out a policy

We compare deals from a panel of over 30 insurers

Cover for all types of motorhomes

Discounts of up to 15% for club members

Insurance for drivers aged 22 to 74

Covers vehicles valued up to £25,000

Versatile cover for either comprehensive or TPFT

Cover available for left-hand drives
If you need short-term cover, chances are we can help you. Just some of the reasons you might need cover include:
You don't use your motorhome often enough to justify all-year-round protection

You're taking your motorhome to an event or rally and are only planning on using it for a few days
We're one of very few insurance providers that can offer short-term campervan and motorhome insurance to under 25-year-olds. Our temporary cover can be taken out by drivers as young as 22, meaning your next motorhome holiday could be closer than you think!
Yes, you can take out either separate temporary motorhome insurance for your family member or add them to your policy as a named driver.
What's the difference? If your family member gets into an accident while driving and needs to make a claim, taking out separate cover for them helps protect your NCB. If, on the other hand, you've put them down as a named driver on your own policy, you'll have to claim on your own insurance and risk your own NCB.
We also offer self-drive hire insurance, which covers you when you hire a motorhome or caravan. Note that this is a different policy from our short-term motorhome insurance, so will include different features – call us for more information.
Yes, our motorhome breakdown cover includes access to European roadside assistance and recovery specialists. This makes it ideal for those who are travelling in the EU on holiday.
Your motorhome will likely not be covered by your car insurance policy. Even if you have a multi-car policy, most other companies don't tend to cover different kinds of vehicles on the same plan.
If you're looking for a multi-car policy that covers a range of vehicles, we're one of very few companies that cater to this. Give us a call, tell us your situation, and we'll do our best to help!