Triumph Classic Car Insurance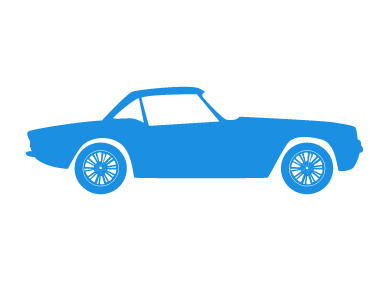 At Adrian Flux, we've been offering Triumph classic car insurance for over 40 years. This experience means we can tailor a policy for your Triumph insurance that's as unique as your car itself, whether it's a '73 Stag Mk II or a '57 TR3A.
Get cheaper Triumph classic car insurance from Adrian Flux

We can offer cover for every possible Triumph model from pre-war to the 80's models. Our experience in insuring Triumphs and other classics over the years speaks for itself and we know all about the quirks that classic car ownership bring.

Whether you bought your Triumph as a project or for everyday use, we know that classic car owners use their pride and joy for particular reasons.
Benefits of Triumph Classic Car Insurance
Agreed value cover

– many insurers will only pay out the 'market value' of your classic Triumph if you suffer a total loss. We could assess your car and agree cover for its true value, so you won't get a nasty surprise if you need to make a claim.

Laid up policies

– so your Triumph project is fully protected from theft or mishap.

Limited Mileage discounts

– the fewer miles you drive, the more you can save, from as little as 1,500 miles. Because Triumphs tend not to be driven every day, most schemes include a limited mileage element. We can also offer Triumph classic car insurance if you use your Triumph more often.

Wedding Hire cover

– could be arranged on application.

Track Day/ Rally cover

– could be arranged on application, depending on the policy taken.

Owner's Club Discounts

– If you belong to a recognised Triumph owners club or enthusiasts' forum, you may receive a discount of up to 15%, depending on the policy taken.

Modified Classic Insurance

– Almost all modifications could be covered on a like for like basis
Triumph classic car insurance quote
Our experienced staff are knowledgeable in Triumph classic car insurance and will calculate your premium individually, using their expert knowledge of the many classic insurance schemes on offer. When you call us you will be speaking to a knowledgeable enthusiast, based in the UK, rather than a computer rate from a foreign call centre, which doesn't know a Gloria from an Acclaim.
Quicker & Cheaper rates by phone, please complete the call me form during office hours 9am to 7pm Monday to Friday & 9am to 4pm Saturday for an immediate Triumph classic car insurance quote.
* On a like for like basis, subject to normal underwriting acceptance.